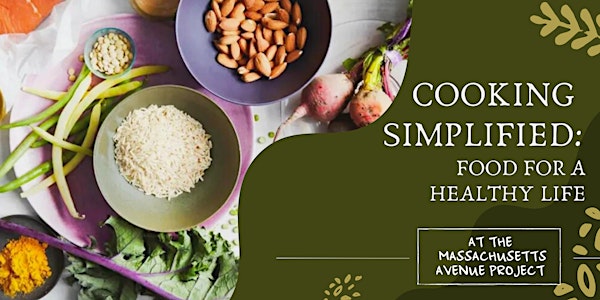 Cooking Simplified: Food for a Healthy Life
Learn simple ways to improve your diet while making easy-to-prepare, delicious food in a fun and supportive environment!
When and where
Location
387 Massachusetts Ave 387 Massachusetts Avenue Buffalo, NY 14213
Refund Policy
Contact the organizer to request a refund.
Eventbrite's fee is nonrefundable.
About this event
Cooking Simplified: Food for a Healthy Life
Improving your diet can be as simple as adopting a few guidelines: Eat more fruits and vegetables, more whole and unprocessed foods, and more healthy fats. Beginning with an easy-to-prepare meal idea, we'll uncover "hacks" to make the experience of preparing meals as stress-free and enjoyable as possible. In this class, you will build a collection of recipes to go back to again and again. Instead of drastic change, you'll learn how to easily add healthier food choices a little at a time, to the level you are comfortable with. I am here to encourage you to be your best self while giving you the tools to succeed on the road to healthier eating. My hope is to form a community where we can support one another in this journey.
In some classes I'll demonstrate and prepare a recipe, while one of you lends a hand. In other classes, we will all prepare the recipe together. We'll share the meal at the end of the class, at which time we can spend some time getting to know one another better, sharing stories and talking about what brought you to this class. Each participant will leave with a recipe to prepare at home, as well as a handout of a subject we cover in class.
Schedule of classes:
February 2023
Prepare a winter soup from your pantry. I will introduce a basic formula for creating a winter soup from scratch, using foods and seasonings you are likely to have in your pantry. We'll use vegetables that are in season for maximum freshness, taste and value for your money. We'll talk about how to stock your pantry for healthier eating choices. This class will primarily be me demonstrating.
Handout: Building a Healthy Pantry plus copy of recipe.
March 2023
Sheet Pan Dinner. I will teach you to create a one-sheet pan dinner that is quick to prepare and utilizes heart-healthy salmon (or tofu) and seasonal vegetables which you can swap out to your liking. I provide a generic formula for creating and roasting pretty much anything on a sheet pan. Sheet pan dinners come together quickly with a minimum of prep and cleanup. We'll talk about what tools are essential for a working kitchen.
Handout: Essential Kitchen Tools, plus suggested options and a copy of the recipe.
April 2023
Late Winter/Early Spring Salad. Build a hearty, main-dish salad using fresh produce and pantry items (canned beans, cooked grains, etc.). A volunteer will create a vinaigrette from ingredients representing acid, fat, herbs/seasonings, and optional heat. During this class, we'll all participate and create our own individual salads.
Handout: Creating a Vinaigrette, plus copy of recipe.
About the Instructor
Barbara has years of experience working as a professional cook but started out as an enthusiastic home cook looking to expand her options. She has been a professional food service worker for 20+ years, working in retail store kitchens and restaurants as a cook. Barbara owned and operated a personal chef service providing families with 2-week's work of heat-and-eat meals; as well as developing recipes for a diabetes focused website. She remains a passionate home cook as well.
Barbara loves encouraging people to cook for themselves to improve their health while creating delicious meals to share with family and friends. She also loves introducing people to new flavors and cuisines for a wider variety of options.
This class is donation-based for participants under 18 years old!