Description
Cooking from your CSA box, garden, or local farmers market is like cooking from a mystery box of produce--you never know what you'll get!
In this class, we'll sample some of the common (and not-so-common!) seasonal vegetables and fruit you might find in your CSA box or garden. Then we'll make some sample dishes to help you plan your meals around what's in season and help you feel comfortable improvising in the kitchen!
Not a Community Supported Agriculture member? No problem! All are welcome at this class.
This class is partnership with Nichols Farm and Orchard.
Demonstration; tasting samples will be provided. Class is vegetarian-friendly and BYOB.
ABOUT THE INSTRUCTOR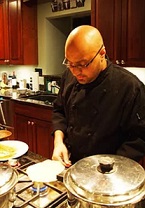 Ronak Patel is the owner, chef, and instructor of his own private dining company, Chef Ronak. He attended Le Cordon Bleu in Chicago and has worked for numerous catering companies including Chef Daniel Private Dining, Creme Catering, and Gourmet Gorilla. Ronak started teaching cooking classes at Peterson Garden Project Community Cooking School in July 2015, and he continues to share his knowledge about cooking and food in a diverse range of classes.