Description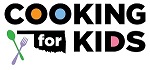 Cooking for Kids Skill Development Training is a comprehensive, three-day culinary training program for child nutrition professionals. Priority will be given to kitchen managers and head cooks with enrollment of up to five representatives per school district.

Skill development training covers learning how to:
Review and taste new recipes
Strengthen focus on food safety, knife skills and mise en place
Effectively use flavor-enhancing herbs
Improve results with whole grains and vegetables
Implement national best practices
Create smarter lunchrooms
Use special culinary and production techniques and USDA commodity products
Training will take place on Tuesday, Wednesday, and Thursday from 8:30am-4:00pm each day.
For more information visit cookingforkids.ok.gov or contact Cass Ring at cookingforkids@okstate.edu or 405-744-2438.