Description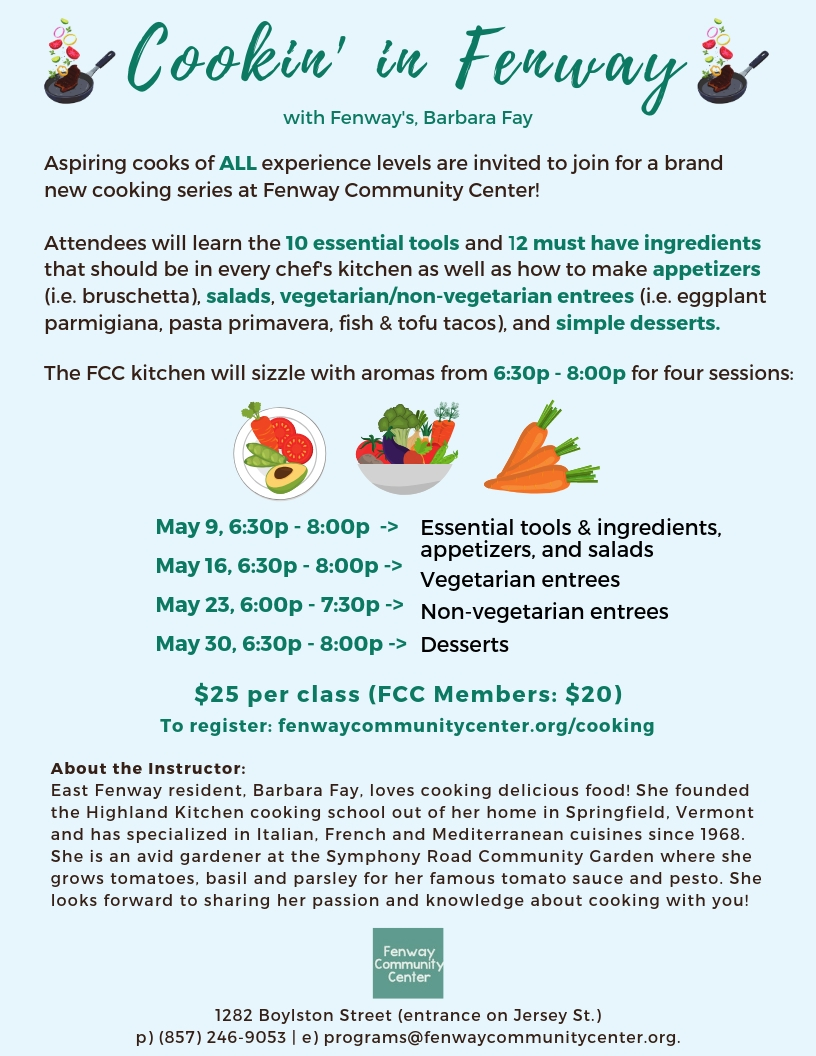 Aspriing chefs of all experience levels are invited to join Fenway's, Barbara Fay, for a series of interactive cooking classes! Attendees can look forward to learning simple and delicious recipes, grocery shopping tips, and cooking etiquette. And of course, everyone will enjoy the final products together!
About Barbara:
"Cooking from scratch, using quality, fresh ingredients is insurance for staying healthy," says Barbara Fay of East Fenway where she has lived for more than 20 years. Barbara's passion is cooking. She has been exploring the gastronomical world for fifty years testing the values of several cuisines: Italian, French, Mediterranean, vegetarian, and macrobiotic.
Barbara has been a gardener of the Symphony Road Community Garden for more than 8 years, growing tomatoes, basil and parsley. She loves pesto and ran a small business selling homemade, ready to order pesto with basil grown in her garden.

Barbara founded a cooking school in her home, Highland Kitchen, when she moved to Springfield, Vermont. Students attended weekly classes that featured a complete meal prepared by Barbara and served, Julia Child style, at a well-set dining table replete with wine, of course.

Demonstrating and teaching comes naturally to Barbara with ten years experience as an elementary school teacher. As a regular participant of the Peterborough Senior Center she often brings homemade meals or cookies to share with visitors and staff. Be sure to say hello to Barbara if you see her at Whole Foods or Star Market in Fenway. You'll know it's Barbara if you see an elederly woman wearing a red beret. She's always happy to share what fresh produce is best to buy that day!