Cookbook Club: Extra Helping: Recipes for Building Community One Dish at a...
Description
Author JANET REICH ELSBACH will be joining us at this month's CookBook Club!
Cook through EXTRA HELPING: RECIPES FOR BUILDING A COMMUNITY ONE DISH AT A TIME by JANET REICH ELSBACH during the month of JUNE and drop by with your favorite dish on JUNE 26th—all are welcome! It's a potluck party! It's mad civilized! It gives us a monthly dose of hope for the universe! Come by Archestratus to pick up the book for 20% off now.
There is no more essential place to show up for people than on the plate. Extra Helping is for anyone who wants to respond to the challenge of baby announcements, PTO meal chains, and CaringBridge alerts with compassion and creativity; who wants to send something to a niece overcome by finals week or a neighbor who is grieving; and whose limits of time and other resources leave them feeling more confused than inspired. With recipes tailored to meet many of the dietary modifications that illness and recovery (not to mention modern life) often entail, Extra Helping walks you, the helpful friend, through cooking for people who are dealing with illness, recovery, and loss, or celebrating babies, birthdays, and new homes. Personal stories from the front lines of care, shortcuts for the time-strapped, and sidebars full of tips and embellishments round out a collection of over 70 recipes, aiding readers in developing a style of caregiving all their own. Extra Helping frames a philosophy of support, a personal identity of tending, a creative and unique-to-you style of saying "I am here for you"—one delivery at a time.
"Reading through Extra Helping, it's clear that Janet Elsbach understands that cooking is not just a way to support people who are doing important work, it's also an act of love."—Julia Turshen, author of Feeding the Resistance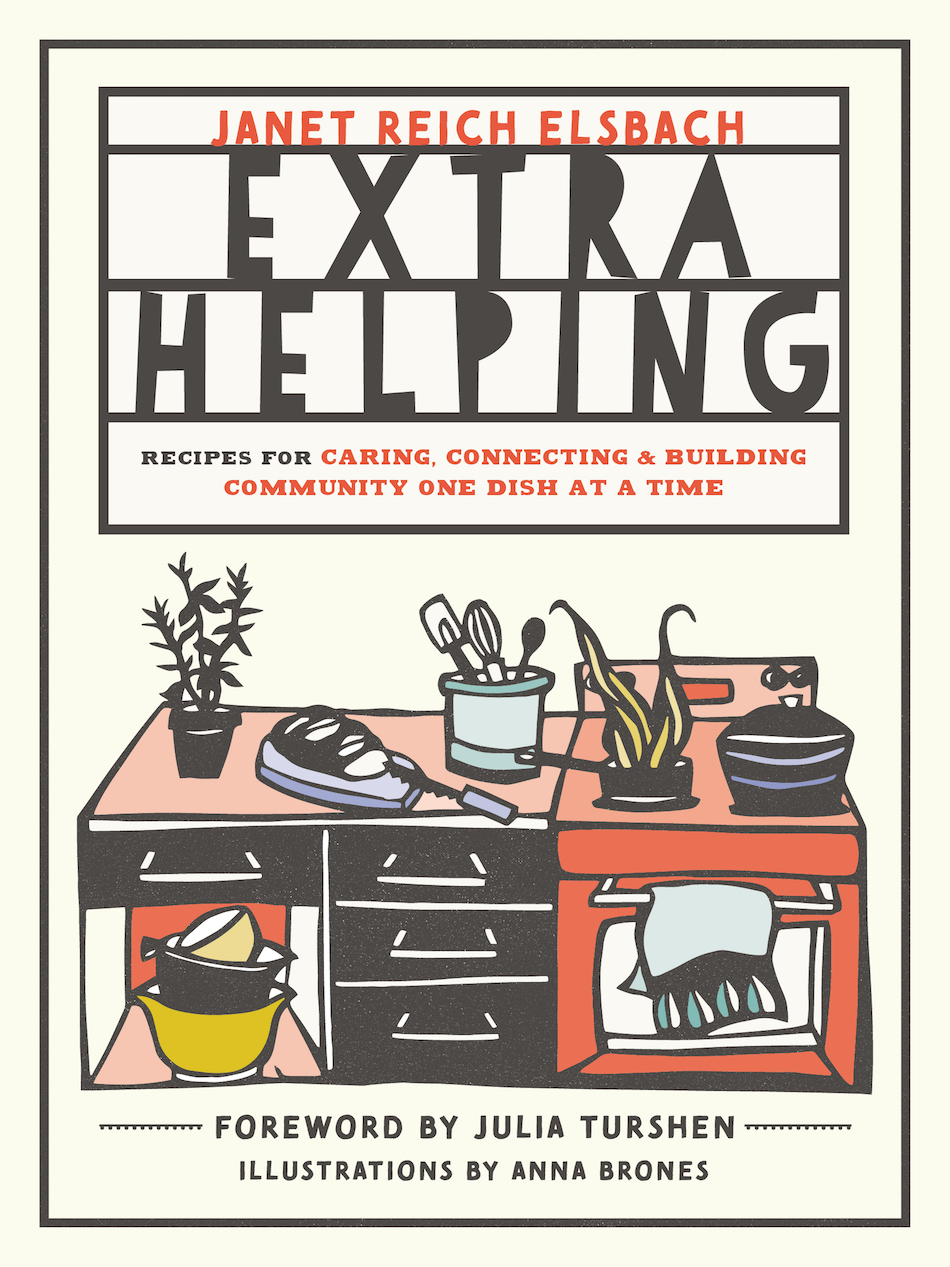 "Extra Helping is a generous, nourishing, and luminous work. More than a cookbook, it's a reminder of the role food can play in connecting and healing us, especially during difficult days."—Dave Isay, founder of StoryCorps
"Truthfully, [Extra Helping is] is not so much a cookbook as it is a manual about how to nurture with recipes as the supporting actors. But those recipes happen to be quite alluring."—Sara Moulton, host of Sara's Weeknight Meals and author of Sara Moulton's Home Cooking 101
"Extra Helping is the definitive guide for those of us who express love through the gift of food."—Alanna Taylor-Tobin, author of Alternative Baker: Reinventing Dessert with Gluten-Free Grains and Flours
JANET REICH ELSBACH lives in a rural community in Western Massachusetts. She teaches writing to high school students and to adults with developmental disabilities and, for over ten years, was a counselor to new and growing families. She writes about how all the numerous things going on in the average life collide with making dinner on her blog A Raisin & a Porpoise. She has chased strange ingredients, healing nutrition, and good food all her life and is a regular contributor to the Berkshire Festival of Women Writers. Her writing has appeared on Food52, Modern Loss, Manifest Station, Role/Reboot, and Verily Magazine. Connect with her at araisinandaporpoise.com.
___
Archestratus community events are free of charge! Beer and wine for sale.