Location
508 Town Bank Rd
508 Town Bank Road
Lower Township, NJ 08204
Sales Have Ended
Ticket sales have ended
Thank you so much for joining us!
Get ready for baking in a post pandemic world. A time saving, versatile and delicious "No Knead" technique!
About this event
Many of us started baking during the long lockdowns. Now that the world is opening up again, how can we keep baking the breads we love? There is a way - it's the "No Knead" bread baking technique based on the Zoë François & Jeff Hertzberg book "Artisan Bread in Five Minutes"
Imagine being able to mix, shape and bake beautiful breads in an almost fool proof way whenever you want with a minimal amount of effort. You can make boules, baguettes, ciabattas, hoagies, buns and pizza, all with one recipe. That's only the tip of the iceberg. This dough is so versatile you will never want to buy supermarket bread again!
In this class we will discover how easy it is to bake artisan breads when you want. You don't need a fancy oven or gadgets. Your home oven, plus a dutch oven or cast iron pot and a mixing bucket is all the equipment you'll ever need. Flour, water, yeast & salt are the only ingredients you need to make your artisan bread a success. Of course it's not really just five minutes, but you will be amazed at how easy it is.
This class is a bit shorter but it will be the new standard.
*Minimum 4 guest or full refund
Class Description:
I will demonstrate how to mix one batch of artisan "No Knead" dough. While you watch it rise to completion, I will demonstrate with a finished dough a number of breads you can make with it. You might just get your hands in some dough as well. No baking experience needed. Bring an appetite. When the bread is ready we will taste everything, pairing the breads with local delights and spirits.
Included with the class:
Detailed instructions on how to make your own artisan bread at home
A large dough bucket to make your own dough with
Smaller containers to help you mix and store your dough
Products from featured local businesses including olive oils, local honey, jams, peanut butter, herbs & produce to taste with our creations
Glass of local wine, beer or soft drink during a Q&A (must be 21 or older to drink alcohol) served with our pizza, toast or sandwiches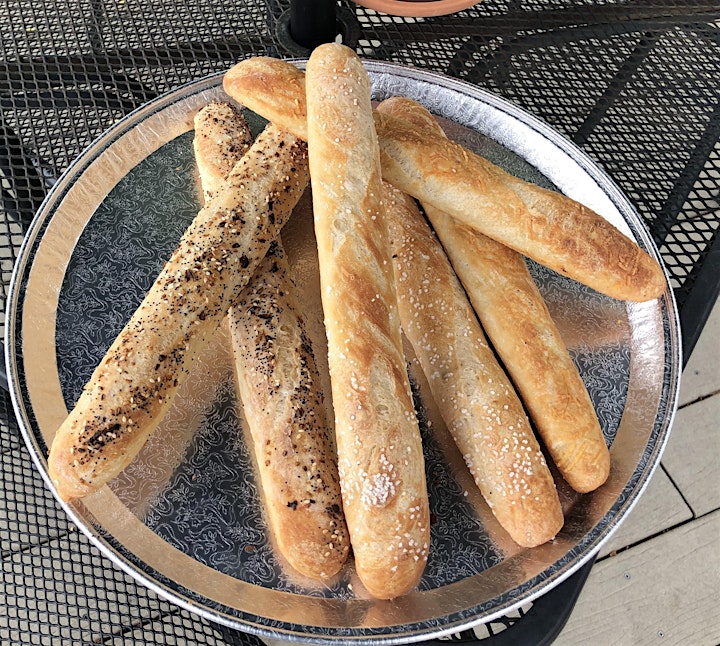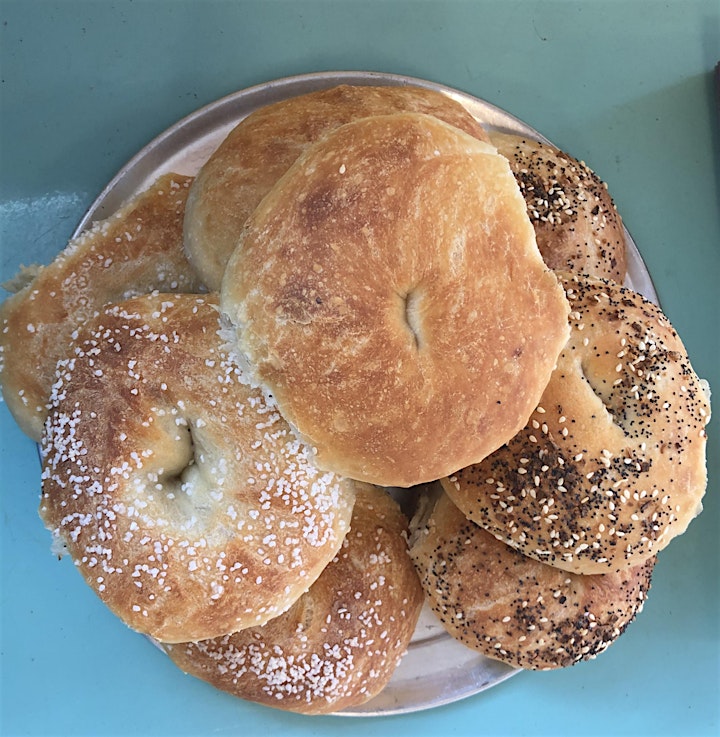 "Bagulettes" a bagel shaped baguette. Choose your favorite topping salt, everything, onion, or just plain.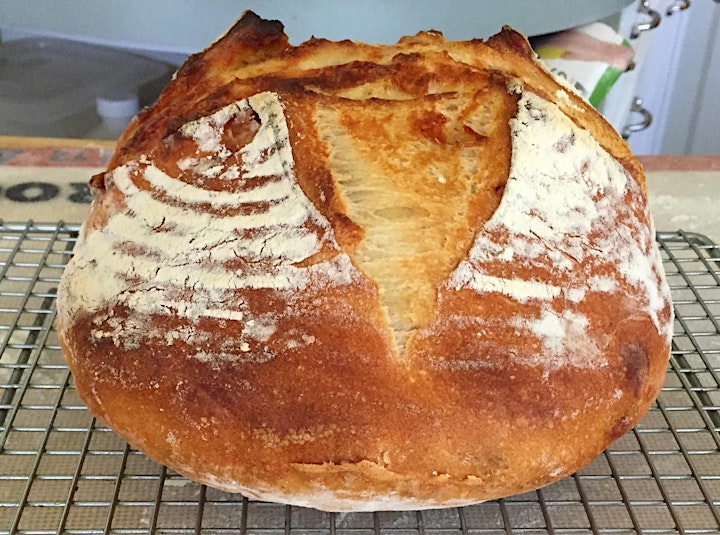 Boules, bowl shaped , You can add, cheese, roasted garlic, olives, herbs or whatever you like! This bread can be ready in under 90 min.
A short video on shaping ciabattas