Cook like a Wok Star

Monthly Event - Last Saturday of every month: 12:30 PM to 3:00 PM (EDT)
Event Details
Join me for a unique experience in a beautiful design showroom...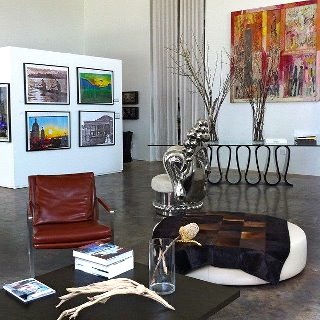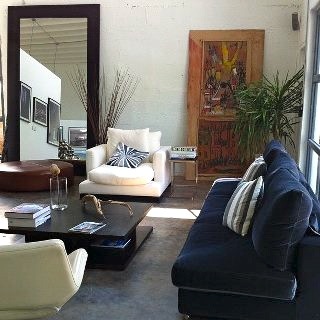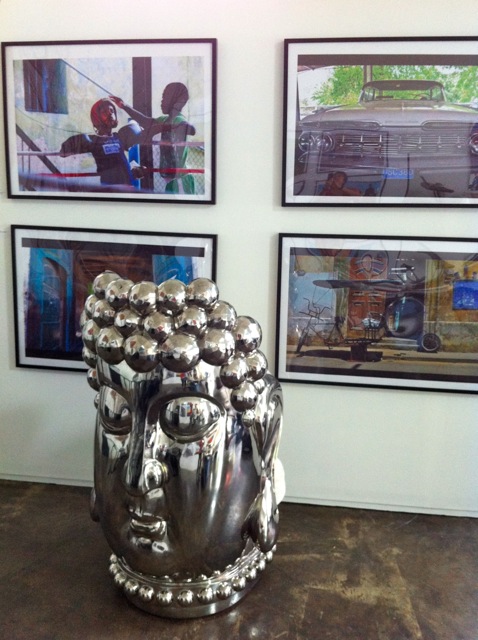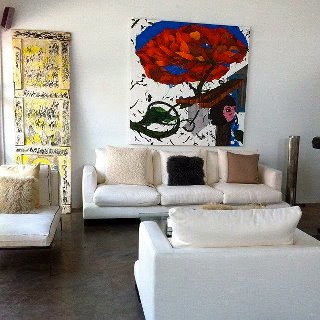 Meet cool people, get tons of tips and learn to
Cook Like a Wok Star with Eleanor Hoh!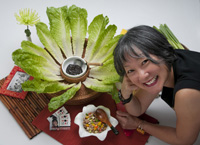 My simple, NO-recipe technique for weeknight dinners using fresh ingredients & only 4 seasonings is perfect for busy lifestyles.

I'll share tips to successful wok cooking in my popular class.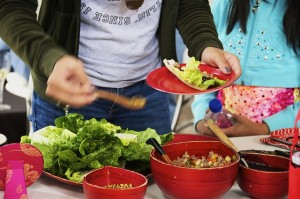 On arrival, you'll meet, mingle and enjoy a Rainbow Lettuce Wrap Appetizer with ground turkey & crunchy veggies topped with hoisin sauce and toasted pumpkin seeds and paired with Barton & Guestier's Vouvray wine and Fiji Water.  After introductions, I begin the class by explaining my simple NO-recipe technique.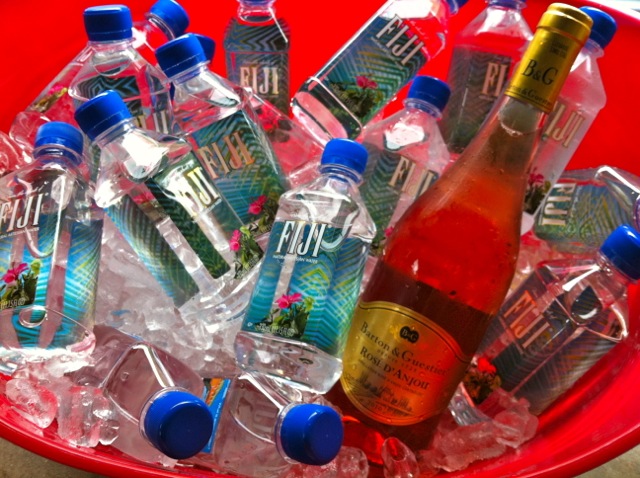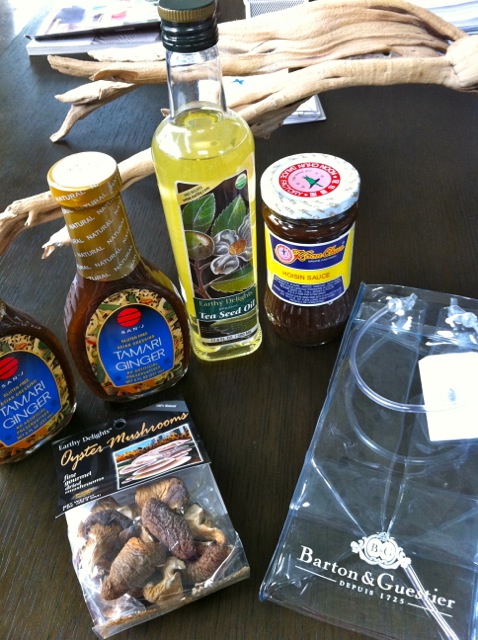 There'll be lots of drawings for Giveaways from premium sponsors!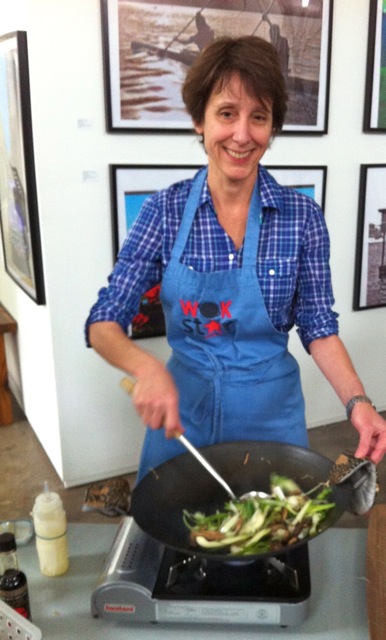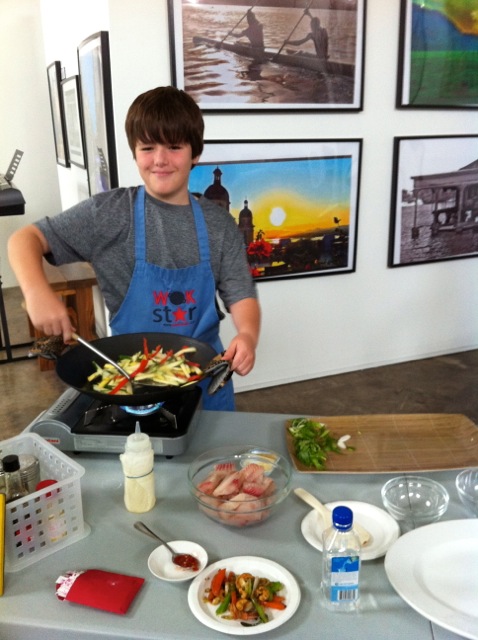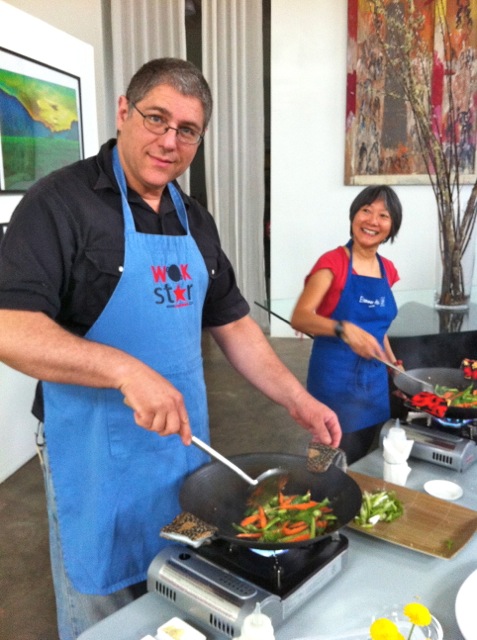 Busy attorney & mom, Laura and her 11 yr. old Zeke; Fire Captain Eric get a chance to Cook Like Wok Stars!
This is not a hands-on class but it's very interactive and engaging.

Many will get a chance to stir-fry in my lightweight cast iron wok and portable butane gas stove setup. You'll savor each dish fresh and hot after it's cooked.
I'll  share tips and techniques for the most common complaints.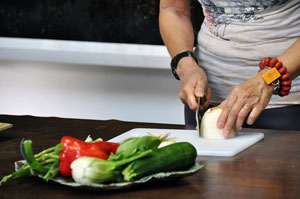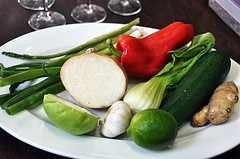 We'll explore new ingredients, learn Asian cutting techniques and I'll provide handouts with brands and Asian markets together with a handy stir-fry crib sheet.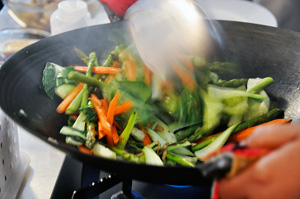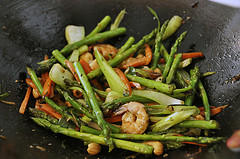 Second dish: we'll cook a typical one-dish wok dinner with shrimp & seasonal vegetables like asparagus or Chinese broccoli and bok choy.

I'll explain why you get 'soupy' stir fries and demystify common mistakes and complaints.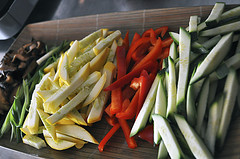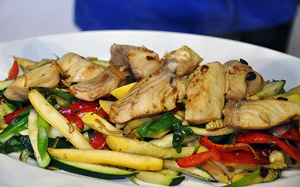 Third dish:  Tilapia cooked in a spicy brown bean sauce with zuchinni and squash to show the versatility of a wok.
I'll show how easy it is to wok up healthy, one-dish meals in 30 minutes and with very little clean up.
The most rewarding part of what I do is hearing from happy and successful Wok Stars!   
    •    families who cook and eat together
    •    those who have lost weight
    •    busy professionals who love simple dinners
    •    picky kids who now eat their veggies
    •    single guys who like to show off to their dates while keeping it healthy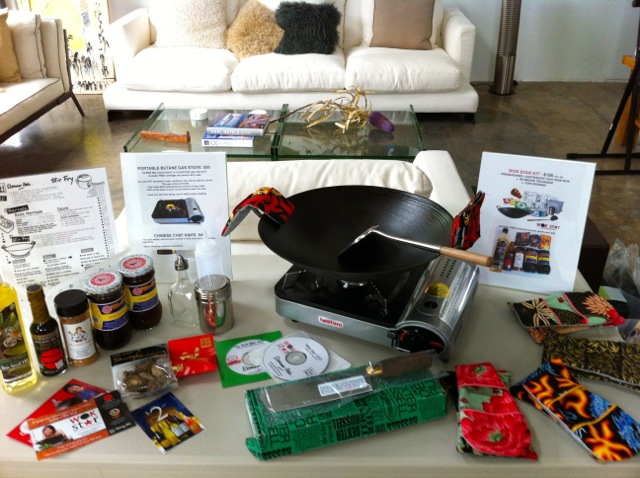 Then purchase your own Wok Star Kit and put into practice what you learned!
Be a Wok Star to your family, friends or dates and watch your popularity soar!!!
Ready to Cook Like a Wok Star?
Prepayment guarantees your space(s).

Complete details here.

Please fill out ALL registration questions so I can introduce you properly and make the event more sociable and personal, thanks.
Look forward to meeting you then...

Where

Pepe Calderin Design
7500 NE 4th Ct
Miami, FL 33138


Monthly Event - Last Saturday of every month: 12:30 PM to 3:00 PM (EDT)
Add to my calendar
Organizer
Wok Star Eleanor Hoh
Hi, I'm Wok Star Eleanor Hoh, cooking teacher and creator of Wok Star Kit.  Ready to Cook Like a Wok Star? Take a class or if you're out of town, my Wok Star Kit includes video cooking instructions and all the tools to make you a Wok Star right in your own home. You can also subscribe to my free newsletter so you'll never miss special offers and get the inside scoop on all things Asian and beyond, enter your email on right sidebar here.