About this Event
Chef Guillaume is The Family's chef, and he's yours for a special moment!
With a diploma from the prestigious Ferrandi culinary institute, Chef is incredibly passionate in his love for French cuisine, especially the haute cuisine of chefs such as Paul Bocuse.
A world traveler, Chef has gone far in his search for new flavors. For example, a recent trip saw him come back home with Piti, a recipe he discovered in the mountains of Azerbaijan, which he then reinvented in his own way, to the pleasure of everyone around the table.
For the past 3 years, he has been cooking savory meals that put a smile on the face of everyone who is invited to dinner at The Family. From lunches on the lawn to large banquets, for investors in the UK and CEOs in San Francisco, and with a few members of Parliament thrown in for good measure, everyone remembers their meal with Chef Guillaume!
And because his cooking is generous and his knowledge is unique, he decided to open his kitchen to you, the very heart of The Family.
So, are you ready to come and learn with Chef?
12 people will have the privilege of cooking a meal together with Chef.
12 guests will learn his techniques, discovering the ingredients that hide behind his latest flavor discoveries.
12 happy learners will savor 2 hours of pure gastronomy!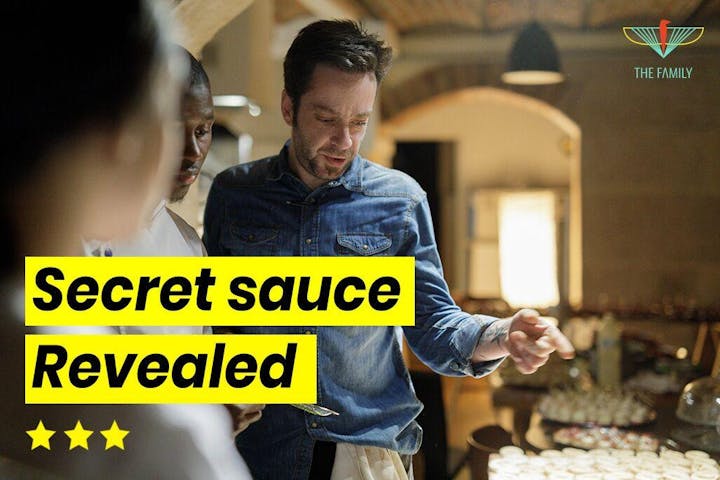 🔥A TIGHT SCHEDULE
11:00 - Rendezvous in the kitchen! Put on your apron, and everyone into position!
11:05 - The big menu reveal - a secret up until right now!!!
11:10 - Chef gives you your instructions and the cooking begins.
12:50 - Time to wash up! We can FINALLY eat.
👑A MARVELLOUS MENU
Chef wants the menu to stay a secret for now. But he has agreed to reveal that we'll be cooking a main dish and dessert centered on… truffles!
The recipes will be distributed at the end of the workshop, so that the guests can cook them all on their own, savoring a true chef's menu… right at home!
"One cannot think well, love well, sleep well, if one has not dined well."
― Virginia Woolf, A Room of One's Own