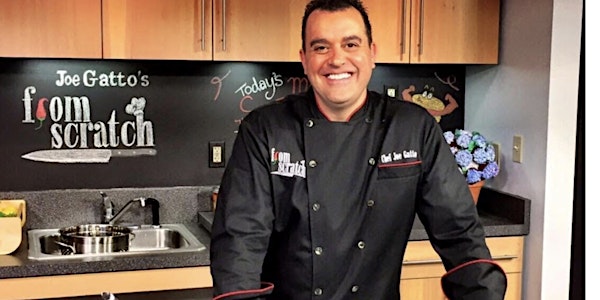 Cook it UP with Chef Joe Gatto: BRUNCH SPECIAL
Join us in the Urban Park (UP) Roof Garden for a special BRUNCH cooking demo with Chef Joe Gatto!
When and where
Location
Urban Park Roof Garden 90 Broadway Cambridge, MA 02140
About this event
Chef Joe Gatto will be conducting cooking demos in the kitchen space of the newly remodeled Roof Garden. The August 20 demo will be a special brunch edition!
Space is limited, if you can no longer attend please cancel your ticket so others can register.
The Urban Park Roof Garden is atop the Kendall Center Green Garage at 90 Broadway in Cambridge. Roof Garden is accessible via stairs or elevator at either elevator vestibule in the garage.
About Joe Gatto:
Chef Joe Gatto is an author, host of the hit cutting-edge cooking show, Joe Gatto's From Scratch currently airing on Pluto TV and Roku. He is a renowned private Chef to A-list clients including Celtic and Red Sox players. Chef Joe is best known for his ability to bring people together with cooking by making it accessible, fun and highly memorable.
Joe also hosts prestigious food events such as Boston Magazine's The Cue, private cooking classes and demos, and is regularly featured on radio shows such as NPR's On Point for his culinary expertise and vibrant energy.
In Joe Gatto's From Scratch, Joe successfully melded his unbridled passion for scratch cooking, entertaining personality and filmmaking background to create a unique cooking show with heart. From making charcoal to hand forging knives to milking cows to making his own bacon, Joe takes food to its origins, and in doing so, showcases the fascinating farmers and food artisans behind it all.
In 2019, Page Street published his book, Seriously From Scratch.
He is now in development for his new show WTF - Where's the Food? Where he and his co-host Bryan Callen (Eddie in The Hangover, Ride Along, MadTv) take some of the biggest stars in Hollywood on an unforgettable culinary adventure then go back to the kitchen where Chef Joe shows them how to make unforgettable dishes from scratch.