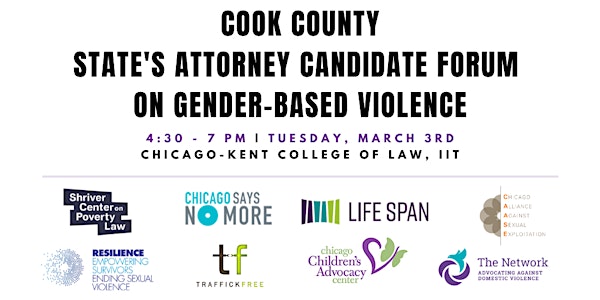 Cook County State's Attorney Candidate Forum on Gender-Based Violence
Location
Chicago-Kent College of Law at Illinois Institute of Technology
Downtown Campus
565 West Adams Street
Chicago, IL 60661
Join us for a forum on how candidates for Cook County's State's Attorney plan to address gender-based violence!
About this event
Sexual and domestic violence are epidemic throughout Cook County, affecting people from all walks of life - particularly women and girls, people of color, immigrants, people with disabilities, and the LGBTQ community. The Cook County State's Attorney's Office is the second largest in the country and is responsible for the prosecution of all misdemeanor and felony crimes committed in Cook County. The State's Attorney's Office assists thousands of victims of domestic violence, sexual assault and human trafficking each year. The Cook County State's Attorney has wide ranging authority in the prosecution of these crimes as well as the ability to serve as the voice for victims of crime in Cook County.
Forum questions will be informed by candidates' responses to questionnaires formulated by leaders and experts on gender-based violence. To learn more about where the candidates stand on these issues, read their responses here: https://the-network.org/cook-county-states-attorney-2020-election-guide/
Audience members will also have the opportunity to submit questions in advance as well as during the event.
To let us know about any accessibility needs you may have for this event and/or to submit a question for the candidates, please fill out this form: https://forms.gle/Zxa8V1o7jyLT6gax9
We hope this forum will help inform your vote for the March 17th primary election.
Stay tuned for more details about this event! Eventbrite registration is required.