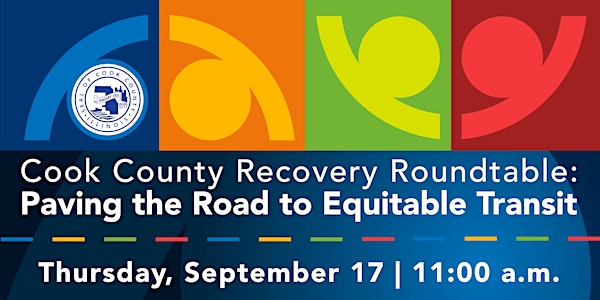 Cook County Recovery Roundtable: Paving the Road to Equitable Transit
Join us for a discussion about the impact of COVID-19 on transit and essential workers and how to achieve an equitable transportation future
About this event
Cook County Board President Toni Preckwinkle and the Active Transportation Alliance in collaboration with the Chicago Community Trust are convening a virtual roundtable discussion on transportation equity in the time of COVID-19, with a spotlight on Cook County's Fair Transit project. The discussion will center on how COVID-19 has impacted transit and highlight that it is more important than ever to make transportation accessible to essential workers, who are predominantly people of color.
Moderated by:
Jacky Grimshaw, Vice President of Government Affairs, Center for Neighborhood Technology
Presentation by:
Audrey Wennink, Director of Transportation, Metropolitan Planning Council
Panelists:
Cook County Board President Toni Preckwinkle
Illinois Sen. Bill Cunningham, 18th District
Illinois Rep. Marcus C. Evans, Jr., 33rd District
Illinois Sen. Ram Villivalam, 8th District
Cook COunty Commissioner Donna Miller
Mayor Rick Reinbold, Village of Richton Park
This event will be held on Facebook Live, with presentations and a panel discussion. View the discussion at www.facebook.com/presidentpreckwinkle.
This event is part of Cook County Racial Equity Week, a series of events held the week of September 14-18, 2020. Learn more and find other events for Racial Equity Week at www.cookcountyil.gov/service/racial-equity.