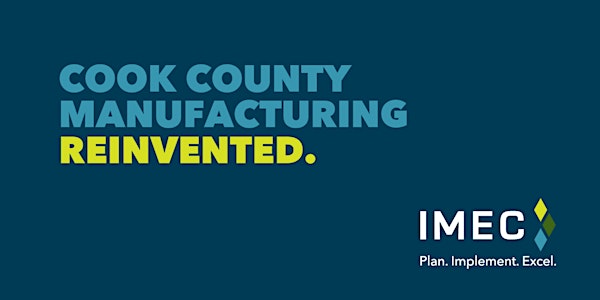 COOK COUNTY MANUFACTURING REINVENTED: Informational Webinar
Join us for an informational webinar to learn more about Cook County Manufacturing Reinvented program and how to apply.
About this event
Cook County Manufacturing Reinvented Grant Opportunity is Now Available!
Cook County Bureau of Economic Development has released a grant that provides full reimbursement for projects that will help suburban Cook County Manufacturers. Rebound and reinvent by spurring innovation and taking advantage of this limited-time opportunity.
Over 20 projects available that address four critical areas of improvement:
Improve Your Operations
Lead Your Company
Grow Your Business
Focus on People
Join us for an informational webinar to learn more about Cook County Manufacturing Reinvented program and how to apply. This session features:
A welcome by David Boulay, President of IMEC
An overview of the Cook County Reinvented Grant program and how to apply
A summary of the 4 project categories with examples
An overview of frequently asked questions