Description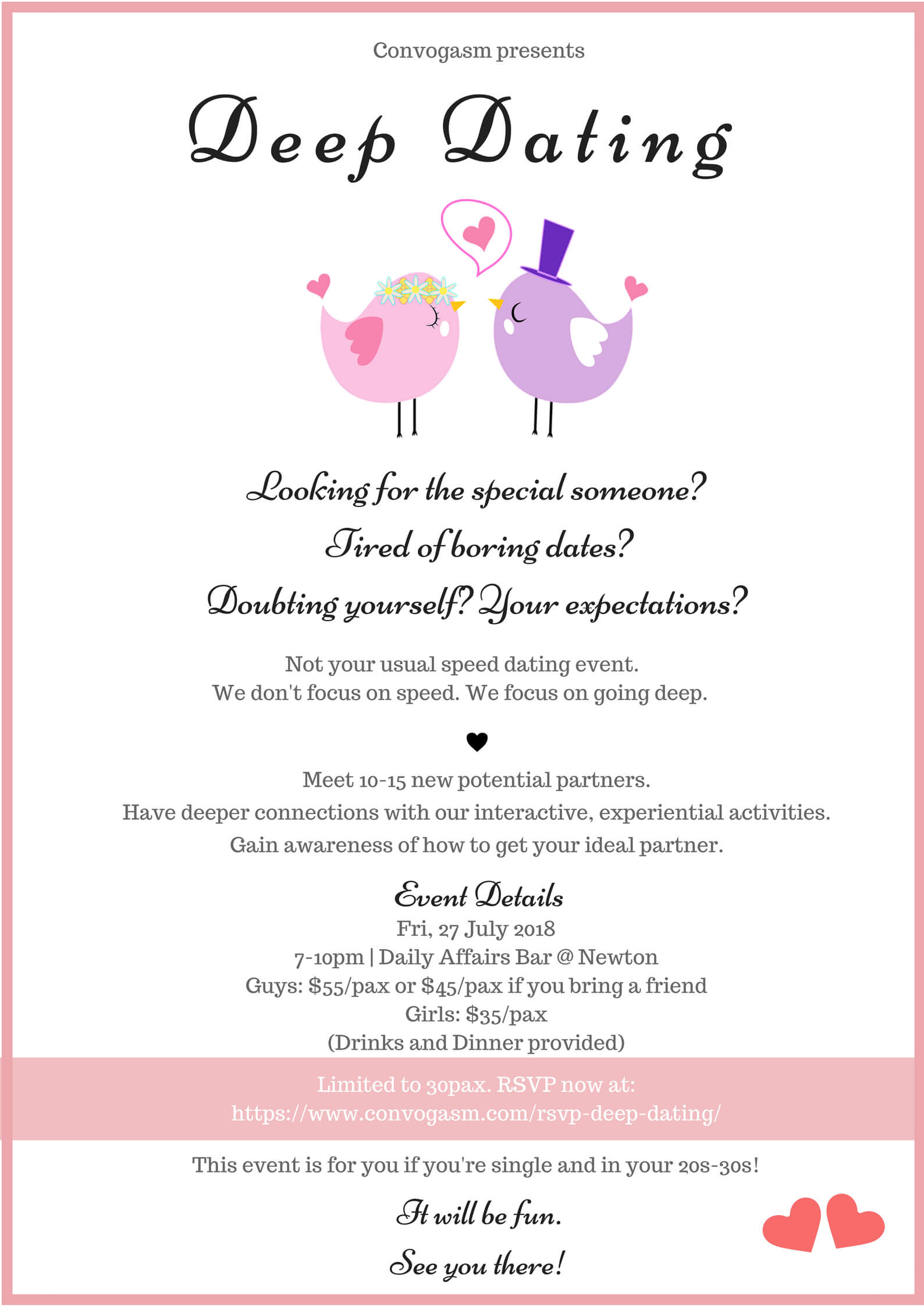 Situated at cozy Newton, the 4.9 star rated Daily Affairs Dining Bar is where Deep Dating takes place.
We created this event to bring singles to have meaningful and genuine connections together out of our own frustration of finding a partner in Singapore in conventional settings.
You may walk away from this event with a date. And you'll also gain a deeper understanding of yourself in dating situations and needs in a partner.
– Are you looking for love, depth, intimacy and connection?
– Are you finding it difficult to meet the right person?
– Have you tried OkCupid, Tinder, CMB, typical dating events and got nowhere?
– Are you tired of looking but yet not sure how to find the right one?
We all know it can be a real challenge to make heartfelt & authentic connections in Singapore. Our fast and busy pace of life in this big city that we love, can take it's toll. And the pubs, clubs and dating scene can feel like a real marketplace.
So where and how do we find and meet each other in a fresh new way?
Deep Dating is the solution.
When: 27 July 2018, 7 – 10 pm
Where: 4.9 star rated Daily Affairs Dining Bar, situated near Newton MRT.
Guys: $55/pax, $45 if you bring a friend
Girls: $35/pax
*Note we are booking the whole cafe. Dinner and drinks are provided.
Timetable:
7 pm – 7:15 pm arrival and tea
7:15 welcome and introduction
Please arrive on time so that so that you can join in the warm ups and icebreakers. These will help you arrive and feel more comfortable in the space.
"It's always the same questions "Where do you come from?" "What do you do?" etc"
Other "dating" events throw you into the deep end of the pool. Meeting strangers often makes one nervous, shy – and perhaps a bit guarded.
How then can you – or the people you're meeting – show who they really are?
Deep Dating does away with banal conversation, replacing it with exercises that invite a deeper, more truthful connection, including team games and communication exercises.
These can reveal, in a short space of time, the things you might want to know about your potential partner:
"Can they be present? Can they listen? Are they able to talk about their feelings? What is their direction in life? Will they accept me for who I am?".
Our way of meeting each other is respectful, sensitive to how we all feel when attending an event as a singleton. After some light icebreaker exercises and warm-ups, we will invite you into your first meeting. These are gentle, respectful and playful meetings that will bring out your most comfortable self.
Deep Dating helps people take down their masks. In doing so, you don't just understand them better. You start to understand yourself better as well.
Deep Dating is the perfect playground for opening up towards love and profound, intimate relationships.
No matter whether you will meet the love of your life at this event or not – the evening will leave you with more openness, freedom, awareness and be ready for love.
We would love you to join us!
We've worked with hundreds of people in the various events we organized.
Ticket cost includes awesome dinner provided by Daily Affairs Bar:
Smoke Duck with Soba
German Potato Salad topped Bacon Bits
Baked Tilapia with Hollandaise Sauce, Fritter dough Dust
Sauteed White Clam and Mussel with Irish Ale
Baby Chinese Greens with Oyster Sauce
Flamed Torch Chicken Yakitori with Bonito
Crispy Chicken Katsu with Japanese Mayo
Aglio e olio Pasta
Dessert
Panna cotta with berries
Mini French Pastries
Drinks
Coffee/tea
Fruit punch
Alcohol
Questions? Contact Yan @ 8522 8054
RSVP here at: https://www.convogasm.com/rsvp-deep-dating/