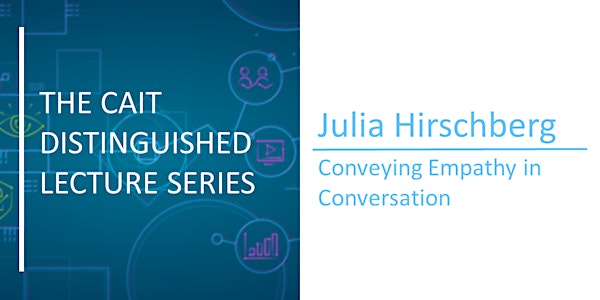 Conveying Empathy in Conversation
Dr. Julia Hirschberg will discuss prior research on the importance of empathy in conversation as well as current, ongoing work in her lab.
About this event
Empathy is the ability to understand another's feelings as if we were having those feelings ourselves. Conveying empathy in human-human interaction as well as conversational systems can encourage users to like a speaker more, to believe the speaker is more intelligent, to actually take the speaker's advice, to want to speak with the speaker longer and more often, to like the speaker and to trust it more. It can also be used to improve success in health-care advice-giving, as well as in negotiations and conflict resolution. Much research has been done in the past 20 years on creating responses that can convey empathy to one's conversational partners in text, facial expression and gesture in conversational systems. However very little has been done to identify the speech features that can create an empathetic sounding voice. In this talk I will discuss some prior research on the importance of empathy in conversation as well as current, ongoing work in our lab on identifying acoustic-prosodic as well as lexical features characterizing empathetic speech, and how these features can be used to create empathetic voices.
Julia Hirschberg is Percy K. and Vida L. W. Hudson Professor of Computer Science at Columbia University (department chair from 2012-2018) and an Amazon Scholar. She previously worked at Bell Laboratories and AT&T Labs on text-to-speech synthesis (TTs) and then created the first HCI Research Department. She has served on the ACL executive board, the ISCA board (2005-7 as president), the CRA-WP board, the NAACL executive board, the CRA Executive Board, the AAAI Council, and the IEEE SLTC as well as numerous awards committees. She was editor of Computational Linguistics and Speech Communication and is a fellow of AAAI, ISCA, ACL, ACM, and IEEE, and a member of the NAE, the American Academy of Arts and Sciences, and the American Philosophical Society. She received the IEEE James L. Flanagan Speech and Audio Processing Award, the ISCA Medal for Scientific Achievement and the ISCA Special Service Medal. She has worked for diversity for many years at AT&T and Columbia. She studies speech and NLP, currently TTS, false information on social media and its intent, multimodal humor, radicalization in videos, and deceptive, trusted, emotional, charismatic, and empathetic, speech.
The CAIT Distinguished Lecture Series seeks to promote education and learning on the state of artificial intelligence technology through lectures from both academic and industry researchers and experts. Lectures are held throughout the academic year and are open to the public.

The mission of the Columbia University Center of Artificial Intelligence Technology in Collaboration with Amazon is to better society through the development and adoption of advanced AI technology contributing to a more secure, connected, creative, sustainable, healthy and equitable humanity.
Connecting and channeling the broad strengths in SEAS and related disciplines through collaborative projects, student fellowships, and outreach programming, the Center will establish a world-class center of knowledge discovery and talent training for broad societal impact. Through a partnership with Amazon - a leading industry collaborator, the Center will also leverage the deep insights and extensive experiences in developing robust, scalable AI systems meeting various stakeholder's needs in critical applications and objectives. Such insights play an essential role in cultivating new research ideas and validating academic research results.