Description
DATE: Wednesday, October 18th, 2017
LOCATION: 11 E. 18th Street, 13th Floor // New York, NY 10003
TIME: 6:30-8:30PM (on-site registration begins at 5:45PM)
Join us on October 18 in conversation with Mathew Shurka. A survivor and leading advocate in ending conversion therapy. He will discuss the impacts of conversion therapy and how it is having the greatest impact on suicide deaths in the LGBTQ community. A vital discussion for the Trevor Project on how we can support our community and prevent suicide.
Sponsored by Trevor NextGen NY, a community of volunteers dedicated to supporting The Trevor Project's mission to end suicide among LGBTQ youth. To learn more about how you can help, email abelaflint@gmail.com
Panelist Bios: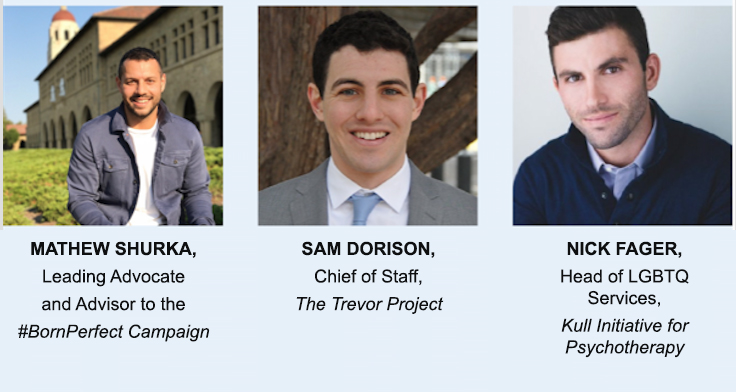 Mathew Shurka (Leading Advocate and Advisor to the #BornPerfect Campaign): Mathew Shurka is the leading global advocate for ending conversion therapy. Driven to prevent others from being subjected to this therapeutic abuse by licensed practitioners, Mathew boldly posted his personal story on Youtube in 2012. As a result, organizations nationwide sought Mathew's support to protect LGBTQ youth. In conjunction with the #BornPerfect campaign Mathew's work has passed legislation in nine US states, more than a dozen cities, including Washington DC, and introduced US federal legislation to prohibit the use of conversion therapy amongst minors. What makes Mathew's work evermore remarkable, is his approach to work directly with his oppostion to create social justice.
Sam Dorison (Chief Of Staff, The Trevor Project): Sam Dorison is currently the Chief of Staff at The Trevor Project. Before joining in this full-time role, Sam served as a volunteer crisis counselor for three years and also led Trevor's DC fundraising. Throughout his time with Trevor, he has seen the dangerous effects of conversion therapy and broader discrimination on LGBTQ youth. Prior to joining Trevor, he was an Engagement Manager at McKinsey & Company in Washington, DC. He came to Trevor to help the organization expand its services at this crucial-but-challenging time for LGBTQ young people.
Nick Fager (Head of LGBTQ Services, Kull Initiative For Psychotherapy): LGBTQ specialized psychotherapist practicing in Manhattan. He graduated from Columbia University with a degree in mental health counseling and started his career at the LGBT Community Center. He is now the head of LGBTQ services at the Kull Initiative for Psychotherapy. For the past few years, Nick has run the popular Instagram account @gaytherapy which provides daily affirming messages to the queer community. Most recently, Nick founded Lighthouse (www.lighthouse.lgbt), a rapidly growing startup, which matches people with nearby, LGBTQ affirming healthcare providers. Having experienced discrimination in healthcare settings from an early age, Nick has always felt passionate about making sure that the LGBTQ community gets the right care.
Panel Organizer: Juan Luis Fernando Serrano-Badrena
Senior Event Planner, AS/COA
Trevor Project NextGen Programming