Conversatorio: Paréntesis a cargo de la artista Vicky Barona
Conversación junto a la artista plástica colombiana radicada en Houston, Vicky Barona
About this event
En el marco de la Exposicion Colectiva Arte Vivo, el Instituto de Cultura Hispana de Houston junto a Ar7seven te invitan al conversatorio titulado Parentesis a cargo de Vicky Barona.
Al final del evento se ofrecera un coctel y algunos refirgerios.
Arte Vivo corresponde a una seleccion de obras a cargo de Curadora Patricia Rojas Barbosa (Colombia) reúne el trabajo reciente de estos destacados artistas latinoamericanos. En la selección de obras cuyo hilo conductor es la vitalidad incluye fotografias y pinturas que destacan la figuración y la expresión.
La exhibición se podrá visitar los días jueves y viernes de 5:00 a 7:00 PM y los sábados y domingos de 2:00 a 4:00 PM. Exclusivamente con previa reserva. Agenda una cita ahora: https://arte-vivo.eventbrite.com
La ceremonia de inauguración se realiza el día viernes 7 de mayo a las 7:00 PM en el Instituto de Cultura Hispana de Houston localizado en 3315 Sul Ross St., Houston, TX 77098. Exclusivamente con reserva previa. Realiza tu reserva ahora: https://arte-vivo.eventbrite.com
Conversatorio:
Transformación a cargo de la artista Katya Du Pond
Jueves 14 de mayo a las 7:00 PM
Reserva un cupo ahora: https://conversatorio-katya-dupond.eventbrite.com
Todos los eventos son gratuitos y abiertos al público pero se recomienda realizar una reserva previa para asegurar su participación.
Para más información envía un mensaje a info@ar7seven.com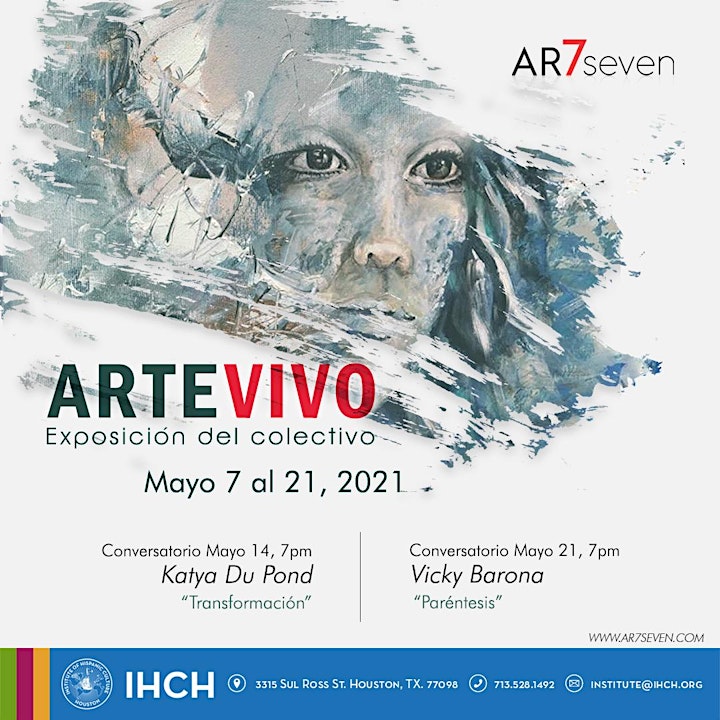 Organizer of Conversatorio: Paréntesis a cargo de la artista Vicky Barona
The Institute of Hispanic Culture of Houston (IHCH) is a 501(c)(3) Non-Profit organization, founded in 1965 by a group of professionals living in Houston interested in preserving, enhancing and promulgating the Hispanic culture and language inherited from Spain and Latin America. The IHCH mission is to disseminate and preserve the rich Hispanic culture, and to highlight the historical, linguistic, scientific, and artistic achievements of Hispanics or Latin-Americans, particularly Hispanics and Latin-Americans residing in Houston, Texas.