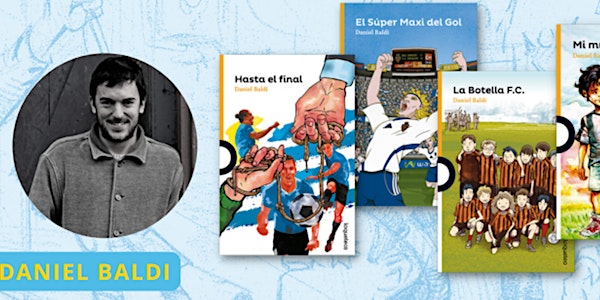 Conversatorio con Daniel Baldi, autor del libro "Mi Mundial"
Conversatorio con Daniel Baldi, autor del libro "Mi mundial"
When and where
Location
CCCM Mexican Center for Culture and Cinematic Arts 2401 West 6th Street Los Angeles, CA 90057
About this event
Conversatorio y proyección de fragmentos del largometraje "Mi mundial" basado en el libro del autor uruguayo Daniel Baldi.
La película narra la historia de Tito, un maravilloso jugador de futbol, que proviene de una familia pobre e un pequeño pueblo y es cambiado a un gran equipo de la ciudad.
Evento co-organizado con el Consejo Consultivo de Uruguay en Los Ángeles.
Daniel Baldi
Nacido en 1981 en Colonia del Sacramento, Uruguay. Es escritor y ex futbolista. Actualmente gerente de la Fundación Celeste (fundada por el fútbol uruguayo). En 1998 se mudó a Montevideo para unirse al Club Atlético Bella Vista. Durante En su carrera deportiva, jugó en clubes como: Plaza Colonia, Peñarol, Cerro, Danubio, y en el exterior en Cruz Azul de México, Nueva Chicago de Buenos Aires, Mineros de Venezuela y Treviso de Italia. Además de amar su profesión, siempre disfrutó la lectura y con el tiempo, comenzó a crear sus propias historias.
Publicó en Loqueleo Santillana: Mi mundial (2010); El Súper Maxi del Gol (2011); La Botella FC (2011); Los Mellis. Un verdadero equipo (2012); la botella F.C.La diez a la cancha (2012); Entre dos pasiones (2013); La Botella FC La 11 se la juega (2013); Mi mundo 2 (2014); La Botella FC El salto a los 12 (2014); Estadio lleno (2015); La Botella FC El desafío final (2015); El muro (2016); El rey (2018) y Los visitantes (2019); Los Mellis. El cuaderno azul (2021). Mi mundial fue publicado en Argentina, México, Paraguay y Perú. El muro se publicó en Argentina y El Súper Maxi del Gol en Paraguay.
En 2017 su libro "Mi mundial" fue adaptado como película. El camino es la recompensa, dirigida por Carlos Morelli. En septiembre de 2022, Daniel Baldi publicó con Loqueleo Santillana "Hasta el final", una novela conmovedora, donde los personajes se enfrentan a situaciones difíciles de resolver, pero ante todo, prevalece el amor entre padres e hijo.
Evento en persona
Síguenos:
@ConsuladoGeneral.Mx.LA
@CultureMexLA
PROTOCOLO COVID-19: uso de cubrebocas en interiores.
Estacionamiento público sugerido:
Athena Public Parking
611 S Carondelet St. 
Los Angeles, CA 90057