Event Information
Refund policy
Contact the organizer to request a refund.
Eventbrite's fee is nonrefundable.
Episodes 1-16 of Conversations with The Calico Club
About this event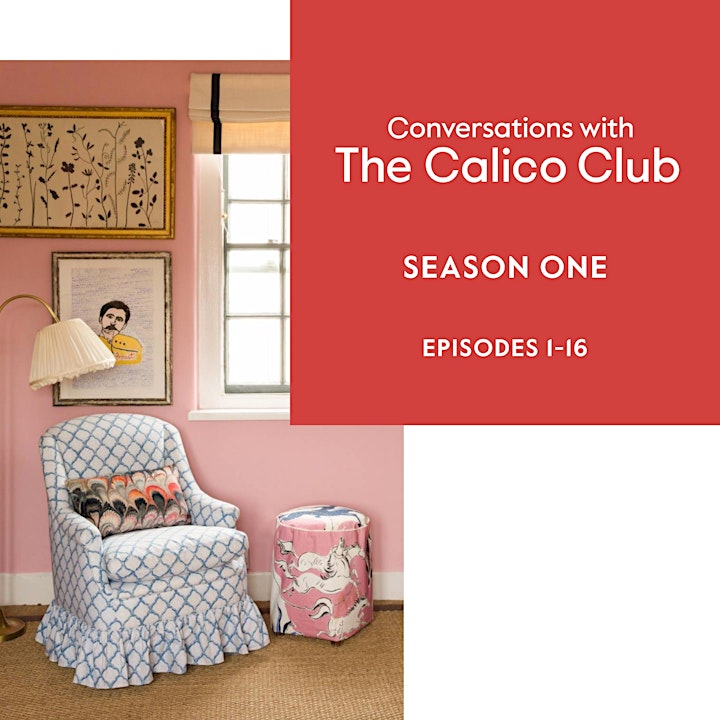 Catch up on all episodes of Conversations with The Calico Club: Season One
Episode One: The Power of Print: Five Fabrics That Changed The Way We Decorate with Gabby Deeming
From English chintz, to French textiles and Indian block prints, pattern has long been a vital form of expression in decorating. Gabby Deeming tells the story of textile design in five fabrics.
Episode Two: Creating a Successful Cutting Garden with Clare Foster
Growing flowers that you can cut and bring into the house is one of the most satisfying things you can do – and it's not rocket science. Garden Editor Clare Foster explains how to get the most out of a cutting garden by planting bulbs and sowing seeds, and gives us her 10 must-have cutting flowers.
Episode Three: Beg, Borrow, Steal: How to Furnish a House with Rita Konig
There is a particular alchemy involved in creating a successful room and often the magic lies in the most unexpected pieces. Interior designer Rita Konig discusses how to decorate with what you have and how the simplest of changes can reinvigorate a space.
Episode Four: Growing Fruit and Vegetables in Pots with Aaron Bertelsen
Aaron Bertelsen of the acclaimed English garden at Great Dixter will talk you through growing vegetables in containers, whether that be a window box or a terracotta pot on a balcony. This talk will show that lack of space is no barrier to growing what you want to eat and that cooking food you have grown yourself is a total pleasure.
Episode Five: Cooking in Quarantine: Rediscovering the Cookbooks I Love with Skye McAlpine
Author and cook Skye McAlpine delves into her cookbook collection and shares the recipes and dishes that have inspired hope and delight during this time. Skye lives between Venice and London and loves good, simple mostly Italian food.
Episode Six: Fashion & Interiors: Exploring The Way We Dress & Live with Alexandra Shulman
Alexandra Shulman was editor-in-chief of British Vogue for twenty five years. In this episode of Conversations with The Calico Club she explores the relationship between clothes and interiors; examining the power of colour, the importance of texture and the social implications of a particular garment. Does a white shirt imbue the wearer with the same feeling as a sparse, luxurious white room?
Episode Seven: Finders Keepers: How to Decorate Using Salvaged Materials with Maria Speake
Maria Speake has long set the pace for sustainable design with her judicious and creative use of reclaimed materials. She was named House & Garden's Interior Designer of the Year in 2019. She and her husband, Adam Hills founded the architectural salvage company Retrouvius in 1993 and have been creating inventive, beautifully crafted rooms ever since. In this week's episode, Maria will focus on a house she designed in west London using reclaimed timbers and textiles.
Episode Eight: How to Buy Antiques with Drew Pritchard
Almost every interior can benefit from a well chosen antique. Old pieces bring atmosphere, interest and tell stories but starting the search can be daunting. In this week's episode of Conversations with The Calico Club antique dealer Drew Pritchard discusses where to go, how to look and what to ask.
Episode Nine: Design Ideas from the Homes of Modern British Artists with Simon Martin
As director of Pallant House Gallery, Simon Martin is responsible for its significant collection of Modern British paintings. In this episode Simon will explore the creative impact of artists' houses such as Charleston, home of the Bloomsbury Group and Farleys House, the home and meeting place of the Surrealists.
Episode Ten: Unlocking Your Imagination with Beata Heuman
Interior designer Beata Heuman's projects are packed full of personality and confidence. She creates beautiful, comfortable rooms with playful, considered and sometimes unexpected elements. In this episode, she will discuss how to make a room sing by unlocking your imagination.
Episode Eleven: Print, Pattern, Colour: The Story of My House with Cath Kidston
In this episode Cath Kidston takes us on a tour of her home revealing her decoration tips and showing how to use print, pattern and colour to great effect.
Episode Twelve: Slow Decorating: How to Create a Considered Home with Classical Architect George Saumarez Smith
George Saumarez Smith is one of the leading classical architects of his generation. Much of his inspiration comes from the appreciation and study of historic buildings, combined with a keen interest in the continued use of the classical design techniques handed down through history. In this episode of Conversations with The Calico Club he examines the idea of slow decorating, taking us on a journey through his own house. George will provide practical design advice and thoughts on where to source antiques and pictures.
Episode Thirteen: A Holistic Approach to Design with Shalini Misra
Architect and interior designer Shalini Misra is known for her global portfolio of glamorous projects. In this episode of Conversations with The Calico Club she examines the vital role of craftsmanship, collaboration and wellbeing in design. She will also discuss her garden in Delhi which was designed by the late landscape architect and godfather of postmodernism Charles Jencks.
Episode Fourteen: A Room to Live In: Inside Kettle's Yard with Andrew Nairne
Kettle's Yard is a renowned house and gallery at the University of Cambridge. The house, which opened in 1957, was created by ex Tate Curator, Jim Ede. In this episode of Conversations with The Calico Club the director of Kettle's Yard, Andrew Nairne, will talk about a number of the unique arrangements of art and objects which make Kettle's Yard so special, offering insights into such questions as how to hang art in a home, the importance of light and why pebbles matter.
Episode Fifteen: To Hold: Collecting and Curating Craft with Peter Ting
Collecting is a wholly personal experience. For some people it is intentional, for others it is a happy accident. Ceramicist Peter Ting, who is a passionate and knowledgeable advocate of craft skills, has played a vital role in nurturing talented makers. In this episode of Conversations with The Calico Club he shares the delight that can be found in collecting and curating craft.
Episode Sixteen: The Bold and The Brave: Rachel Chudley's Guide to Colour
Interior designer Rachel Chudley is known for her instinctive and exuberant use of colour. In this episode of Conversations with The Calico Club she shares her tips on how to use colour with confidence at home. Rachel's work is fresh, creative and cleverly combines high drama and comfort which is why she was the winner of House & Garden's Rising Star Award in 2019.
Once you have purchased your ticket you will receive an email a link to the online event page.
Follow @the_calico_club on instagram for updates on new episodes.
Location
Refund policy
Contact the organizer to request a refund.
Eventbrite's fee is nonrefundable.
Organizer of Conversations with The Calico Club - Season One: All Episodes