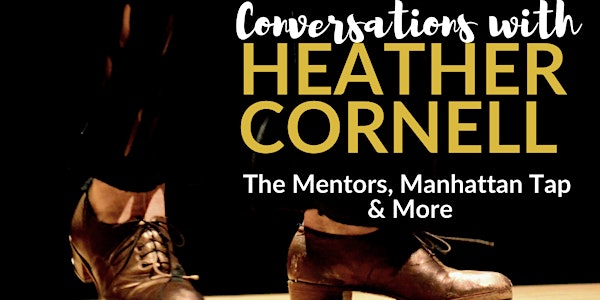 Conversations with Heather Cornell: The Masters, Manhattan Tap & More
An intimate look at Tap Dance through the lens of one of the movers and shakers of the tap dance renaissance, Heather Cornell.
Refund Policy
Contact the organizer to request a refund.
About this event
The next episodes are on Sunday, March 7, 14, 21 and 28, 2021.

About Conversations with Heather Cornell: The Masters, Manhattan Tap & More

An intimate look at Tap Dance through the lens of one of the movers and shakers of the tap dance renaissance. During each show, Heather Cornell will invite a guest to join her for a lively discussion on Instagram at noon EST.   Then she'll hold a community gathering on Zoom at 2:30 PM where she will show private footage and hold a Q&A, joined by the guest of the week.  Come ready to learn about this uniquely North American art form and ask all those questions that you've always been dying to ask.  

March Schedule:

Mar 7: Featuring excerpts of Manhattan Tap on WNYC's Around NY Radio Show in 1993.

Guest Panelists: Keith Saunders (music director, pianist), Max Pollak (performer)

Mar 14: Featuring footage of Manhattan Tap at the Ambassador Auditorium with Dianne Walker and Buster Brown

Guest Panelists: Eddie Ornowski (drummer), Max Pollak (performer), Dianne Walker (guest artist), Michela Marino Lerman (protege Buster Brown)

Mar 21: Featuring footage of Manhattan Tap and the Hard Bop Trio at Alice Tully Hall in 1995

Guest Panelists: Eddie Ornowski (drummer), Keith Saunders (music director, pianist), Julia Boynton (performer), Jeannie Hill (performer), Josh Hilberman (performer)

Mar 28: Featuring footage of Excursion Fare, Manhattan Tap, and Crosspulse at the Joyce Theater in 1998.

Guest Panelists: Olivia Rosenkrantz (performer), Parris Mann (performer), Charon Aldredge (performer), Stephen Quandt (lighting collaborator)

About this week's panelists

About Olivia Rosenkrantz

Olivia Rosenkrantz spent her childhood in France performing with poets, actors and musicians. She moved to New York City to study modern dance with Murray Louis and Alvin Nikolais, tap dancing with Brenda Bufalino, Barbara Duffy and Savion Glover. She was very fortunate to be around the masters and some of the most influential tap dance artists of the NYC tap scene from the early 90's on. Olivia was part of Savion Glover's "OM" at the Joyce Theater in NYC, a member of Brenda Bufalino's American Tap Dance Orchestra and Heather Cornell's Manhattan Tap. She choreographed and danced for Ka-Tap (North Indian music and dance crossing with tap and Jazz), Tap Express, Mad Theatricals. With longtime dance partner Mari Fujibayashi, she founded the duet Tapage. "The Mysterious and poetic dance of Tapage" (NY Times). Tapage has toured full-length performances internationally. Musical collaborations include the Colorado Music Festival Chamber Orchestra, and a long lasting project with Latin Emmy Award winner Cuarteto Latino americano dedicated to string quartet music of contemporary Latin composers and tap dancing. Performance Highlights include the New York City Center Fall for Dance Festival, 92nd street Y, Alice Tully Hall and Lincoln Center "out of doors", the Joyce Theater (NYC), The Colorado Music Festival, Carnegie Mellon (Pittsburgh), ALTI Hall in Tokyo, Musica y Escena Festival and Teatro de la Danza in Mexico City... www.tapage.org Olivia has taught internationally and was faculty of Steps, Broadway Dance Center, Woodpeckers, Ballet Arts, The New York City Tap Festival, Tap Kids, Tap University ... She has been assistant to mentor Brenda Bufalino in the recreation of her masterpieces within the New Tap Dance Orchestra and the New York City Tap Festival. She recently joined the faculty of Sitan Tai Chi under the guidance of Master Chen Sitan and Master Lynn Lin, taking her path to the world of Tai Chi.

About Parris Mann

Parris D. Mann has toured the United States, Canada and Europe as a principal dancer in productions of BLACK & BLUE, WILD WOMAN BLUES, RIVERDANCE/THE SHOW and JUST 'n TIME. Parris' Broadway credits include performances in RIVERDANCE on Broadway at the Gershwin Theater and THE JOINT IS JUMPIN' at the Supper Club.

Parris has been privileged to have performed with the legendary Lionel Hampton, Linda Hopkins, Mercedes Ellington in conjunction with being a company member of both New Jersey Tap Ensemble and Manhattan Tap. Tap dance legends Buster Brown, Jimmy Slyde, The Rhythm Queens, Lady Dianne Walker, Heather Cornell, and a host of other Tap Dancers legends he has also had the pleasure of working with, mentored and trained by. Parris also participated in The Stardust Road Concert, a musical tribute to jazz legend Hoagy Carmichael, Tap City, LA Tap Festivals. He also participated in the production of a movie based on the life and music of the acclaimed Billie Holiday.

Parris produced, choreographed, and directed JUST 'n TIME and THINGS AINT WHAT THEY USED 2 BE. "Here's II Lyfe!" is produced alongside his wife, Rashida Khan-Mann. The production features such talents as Freda Payne, Rogelio Douglas, along with co-choreographer Rashida Khan-Mann and the additional stage direction of Barbara Montgomery and Mercedes Ellington, granddaughter of the legendary Duke Ellington. Both shows have toured internationally and premiered in Los Angeles as well as New York. JUST 'n TIME had the distinction of making history during its Russian tour as the first African American tap show presented at the Kremlin Theater. His final version of THINGS AINT WHAT THEY USED TO BE premiered on January 7th, 2012 in Los Angeles under the title, "Here's II Lyfe!"

In 2002-04 Parris served as an advisor and Adjunct Professor at the Dance Theater Department of Norfolk State University and collaborated in its stage production of FOOTPRINTS IN TIME. Parris has also taught at Newark Community School of the Arts (Newark, NJ), ACES/Educational Center of the Arts (New Haven, CT), Broadway Dance Center (New York, N.Y.), Ocean Center for Performing Arts (Howell, NJ), Westside Dance Academy (Los Angeles, CA), Lula Washington Performing Arts School, Los Angeles (CA), Louisiana State University (as adjunct professor) and is co-director of the tap teams at Elevation Studios (Long Beach, Ca.).

Parris is the Co-Founder of KhanMann Productions LLC, a company which is dedicated to the developmental process of Artists and their vision of Arts Production. He is a charter member of New Jersey Tap Ensemble (founded and directed by Deborah Mitchell).

About Charon Aldredge

Charon Tap Star aka Charon Aldredge has been captivating audiences across the globe since age three, including performances with Savion Glover, Honi Coles, Debbie Allen, Gregory Hines, Riverdance, Disney, and more. This dancer, singer, actress, INSPIRER, fundraiser for the arts, has been featured at some of the world's finest theatres, including Hollywood's "Dolby Theatre". Charon made history being one of the first female tap dancers to ever perform at Russia's prestigious "Kremlin Palace Theatre". Charon joined Heather Cornell"s Manhattan Tap Company after a six-year break from Tap dancing, upon completing her education at New York University. She saw an ad for an audition and decided to just go, and it was a perfect move. After a six-year break, she was pretty rusty and didn't remember how to improvise, yet Cornell was so patient and encouraging while Charon's brain clicked back on. Charon had a blast training in the company and shared many beautiful & exciting experiences touring, performing, and training under the direction of Heather Cornell. Charon's mission is to inspire billions across the globe. She is the founder of "The Inspire Campaign", "Tap Star Academy™", and "Kiddie Rhythms™ Performing Arts Programs & Workshops", which were all created to help fill the void in Arts Education & Beyond. Charon wrote, produced, and directed her first Children's play "Dancing Dolls A Christmas Story" as a Free show for foster kids, and in need and youth. Charon Tap Star is a proud part of the Legacy of Paul & Arlene Kennedy. She was mentored by Honi Coles as a child, and has trained with, and been graced with performance tips, by just about every Tap Legend there is, including Gregory Hines, Fayard Nicholas of The Nicholas Brothers, Eddie Brown, Jimmy Slyde, Chuck Green, Steve Condos, Dianne Walker, Sandman Simms, Sammy Davis Jr, Savion Glover, Ivery Wheeler, and many, many, many more. Charon is proud to announce the release of her first children's early read picture book "Kiddie Rhythms™ The Show". She continues to perform and choreograph professionally in Tap, Jazz, Hip-Hop, Modern, African, and Ballet. Master Classes, Private Lessons, and Book Signings available. Be sure to Look out for Charon and her future works at www.Charonis.com.

About Stephen Quandt

New York City-based designer Stephen Quandt designs lighting for Theatre, Dance, Opera, and Industrials, and has worked On Broadway, Off Broadway, regionally (including LORT) and internationally.

Some productions and companies he has designed for include (NYC) The Pirates of Penzance (Off B'way), Always...Patsy Cline (Off B'way), Manhattan Tap Dance Co., The Joyce Theatre, Lincoln Center, Symphony Space, HERE!, The Samuel Beckett Theatre, Merkin Concert Hall, Circle in the Square/Bleeker St., The Naked Angels, Columbia University, Aaron Davis Hall, The Variety Arts Theatre. (Regionally) Capital Rep. Co., Albany NY, The Kennedy Center, Washington DC, North Shore Music Theatre, The Court Theatre at the University of Chicago, Stamford Center for the Arts, Gettysburg College, Bennington College, The State Ballet of Missouri. (Internationally) He has worked in France, Australia, Canada, and in South America.

He is a graduate of The College of Wooster and received his MFA in Design from NYU's Tisch School of the Arts in 1989, and is a member of United Scenic Artists Local 829.

About Heather Cornell

Heather Cornell is a Canadian artist based in Valley Cottage, NY. She is Assistant Professor of Dance Instruction at Hope College and Artistic Director of a number of music/dance companies, most notably Manhattan Tap and CanTap. Recent projects: "Making Music Dance" with Andy Algire, "Finding Synesthesia" with Andy Milne (commissioned by London Jazz Festival), "Tap & Traps" with Jessie Stewart and "Conversations (commissioned by Capilano Univ). A leader of the rhythm tap renaissance in NYC in the 80's and 90's; dubbed "the Oscar Peterson of hoofing" Globe & Mail, Toronto; known for her collaborations with world-class musicians; mentored by jazz icon Ray Brown; choreographed for Broadway and numerous shows and companies worldwide; featured internationally at jazz, music festivals, theaters, clubs, TV, annual live radio on WNYC; her love is to teach artists to be bilingual in music and dance. Heather is grateful for her mentors who inspired her with their living history and their passion, keeping them vulnerable in a difficult world. If music is the universal language, then improvisation is the conversation that heals.