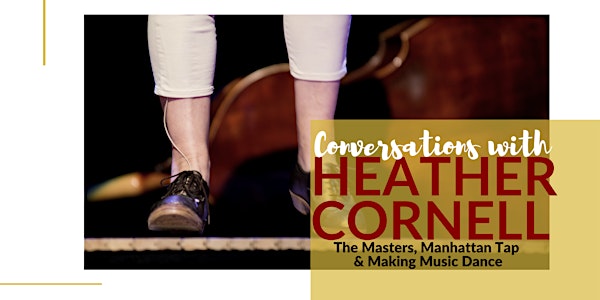 Conversations with Heather Cornell: The Masters, Manhattan Tap & Making Music Dance
An intimate look at Tap Dance through the lens of one of the movers and shakers of the tap dance renaissance, Heather Cornell.
Refund Policy
Contact the organizer to request a refund.
About this event
An intimate look at Tap Dance through the lens of one of the movers and shakers of the tap dance renaissance. During each show, Heather Cornell will invite a guest to join her for a lively discussion on Instagram at noon EST.   Then she'll hold a community gathering on Zoom where she will show private footage and hold a Q&A, joined by the guest of the week.  Come ready to learn about this uniquely North American art form and ask all those questions that you've always been dying to ask.  
The next show will be Sunday, July 26th with Jim Donica.
Footage will include 20 years of Manhattan Tap, including shows with mentors Charles "Cookie" Cook, Chuck Green, Buster Brown, Eddie Brown, Steve Condos and internationally acclaimed musical collaborators, most notably bassist Ray Brown and the Manhattan Tap group, The Hardbop Trio.  
Heather will also be showing selections from her shows Finding Synesthesia (with Andy Milne and Malika Zarra), CanTap (with Travis Knights, Matt Shields, Dayna Szyndrowski, Tasha Lawson and Danny Neilson), Conversations (various casts), and Making Music Dance (with Andy Algire, Antonio Vilchez, Bobby Moses and Tony Romano) as well as clips from Manhattan Tap's annual radio appearances on "Around NY".  She may even throw in a few cuts from her CD.  Don't miss this incredible opportunity to engage in living tap history.
About Jim Donica
Jim Donica is a bassist, composer, sideman, and bandleader who has performed and recorded with some of the finest artists in the world. He can be heard on landmark recordings such as Maynard Ferguson's, "Big Bop Nouveau"; the soundtrack recording of 'Permanent Record", by Punk Rocker Joe Strummer and with MCA recording artists the David Becker Tribune, on "Long Peter Madsen" and "Siberian Express". His long standing and ongoing gig as bassist for the legendary, Chita Rivera has taken him around the world playing for audiences who just can't get enough of Broadway royalty.
On Broadway, he's held the bass chair in Chita Rivera's, "The Dancers Life'; Kander and Ebb's, "The Visit" and in "Allegiance" with George Takei and Lea Salonga. Donica has also been in the pit on the Broadway productions of "Avenue Q", "Evita", "If Then", and "Cats'.
Donica completed a Jazz Studies degree and received the coveted Performance Certificate from the Jacobs School of Music at IU, Bloomington in 1995. While there, he played in the 20th Century Bee Bop Band for Jazz Legend, David Baker. Afterwards, Donica set out for New York where he continued his professional pursuit of Jazz and improvisation, creating his own groups and collaborations such as, Urban Survival that produced two recordings and toured nationally as well as the Jim Donica Group (Apria Records), featuring, Peter Erskine, Randy Brecker, Bruce Barth, Frank Kimbrough, and Tim Armacost and the group, Quantum Mechanics.
Jim Donica lives with his family in the beautiful Hudson Valley. He is an official endorser of Overwater Basses, UK. More about Jim can be found at www.Jimdonica.com.
About Heather Cornell
Heather Cornell is a Canadian artist based in Valley Cottage, NY. She is Artistic Director of a number of music/dance companies, most notably Manhattan Tap and CanTap. Recent projects: "Making Music Dance" with Andy Algire, "Finding Synesthesia" with Andy Milne (commissioned by London Jazz Festival), "Tap & Traps" with Jessie Stewart and  "Conversations (commissioned by Capilano Univ). A leader of the rhythm tap renaissance in NYC in the 80's and 90's; dubbed "the Oscar Peterson of hoofing" Globe & Mail, Toronto; known for her collaborations with world-class musicians; mentored by jazz icon Ray Brown; choreographed for Broadway and numerous shows and companies worldwide; featured internationally at jazz, music festivals, theaters, clubs, TV, annual live radio on WNYC; her love is to teach artists to be bilingual in music and dance.   Heather is grateful for her mentors who inspired her with their living history and their passion, keeping them vulnerable in a difficult world. If music is the universal language, then improvisation is the conversation that heals.