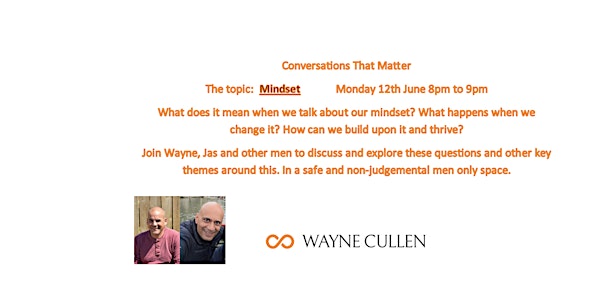 Conversations That Matter
Join us for "Conversations That Matter" - an online event where we'll discuss the topics that really count - starting on June 12th at 8pm
By Wayne Cullen and Jas Dhaliwal
Date and time
Mon, 12 Jun 2023 12:00 - 13:00 PDT
About this event
What is mindset?
What does it mean when we talk about our mindset? Can we change it? What happens when we change it? How can it help us improve our mental well being? How can we build upon it and thrive?
Join Wayne, Jas and other men to discuss and explore these questions and other key themes around this. In a safe and non-judgemental space.
To book search Conversations That Matter
This is a free online event. This is a men only space.
Hosted by Wayne Cullen and Jas Dhaliwal