Conversations that Matter: Identity Formation in the Digital Age
Description
Identity Formation in the Digital Age
A Conversation with
Dr. Eli Gottlieb, GW

Visiting Associate Professor and Israel Institute Scholar
Reception: 5:00-5:30pm in Marvin Center, Room 310
Lecture: 5:45-7:00pm in Marvin Center, 3rd Floor Amphitheater
The internet has revolutionized how we communicate and left almost no area of our everyday lives untouched - from how we shop and entertain ourselves to how we debate political questions and tend to our most intimate relationships. Discussions of what these changes mean for education tend to focus on students' cognition - how they think, learn, acquire and evaluate knowledge. In this talk, Dr. Eli Gottlieb will focus instead on what they mean for students' identities - their sense of who they are as individuals and members of communities.
Is the ideal of a stable, integrated self still feasible? And if not, what are the alternatives? Are the internet and social media making young people more self-obsessed, conformist and fragile? And if so, what, if anything, can we do about it? What are the effects of simultaneous participation in multiple, virtual communities on personal virtues such as commitment and consistency? And how, in the digital age, might we help young people develop a healthy sense of who they are and where they belong?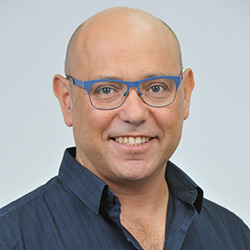 About Dr. Eli Gottlieb:
Dr. Eli Gottlieb is a cognitive psychologist. His research examines links between cognition, culture and identity, and their implications for education and leadership. He has taught at the University of Washington and at the Hebrew University of Jerusalem and led many initiatives in Jewish and Israeli education. For over a decade, Dr. Gottlieb directed the Mandel Leadership Institute in Jerusalem, in which capacity The Marker Magazine ranked him joint twelfth in its list of the 100 most influential people in Israel. He is currently writing a book about identity in the digital age.
---
The Marvin Center is located 3 blocks from the Foggy Bottom/GWU metro stop on the blue, orange, and silver lines. In addition, parking is available in the garage below the Marvin Center. The entrance to the garage is located on H Street, NW, between 21st and 22nd Streets, NW.