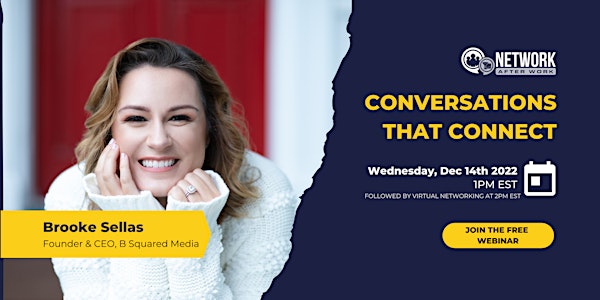 Conversations that Connect
Network After Work is proud to present a special webinar on Wednesday, December 14th | 1pm EST.
About this event
On Wednesday, December 14th learn from Brooke Sellas on Conversations that Connect: How to Connect, Converse and Convert through Social Media Listening & Customer Care.
Today's consumers expect it all: a rewarding experience at every digital touchpoint; a lightning-fast response when asking pre-purchase and post-purchase questions on social; personalization and a sense of belonging. Add to that a pandemic that forced even the most hesitant users online to make purchases (and complaints) and it's mandatory that brands get on board with digital transformation. And, from experience, they're all asking: "Where do we start?"
In this session, I'll answer the question of "where do we start" by looking at five critical customer-centric factors that drive connection, conversations, and conversions through social media channels (and show you exactly why your social media strategy is so stale).
You can't be a 9-5 brand in a 24/7 digital world. Online, means all the time. Social-led customer care can help you stay engaged -- even surprise and delight – at all hours.
The flywheel, revisited. Becoming customer-centric for growth isn't predicated on retention efforts alone, it includes acquisition/conversions too (sometimes 35% more than the C-suite expected!).
Using the Social Penetration Theory (obviously named by psychologists, not marketers!). Consumers are starved for connection, not more content. Focusing on conversations that connect means moving past content marketing tactics with predictable clichés and uninspiring facts and engaging with audiences using feelings and opinions.
CARE Squared. How to operationalize social-led customer care efforts to identify and measure the conversations happening around your industry, brand, and competitors, and then innovating with the voice of the customer (VoC).
Small changes lead to BIG wins. Real-word case studies from middle-market brands to enterprise organizations that showcase how all the above pays off AND can benefit nearly every department within organizations (not just sales and marketing).
Effectively, to compete in 2023 and beyond, you must know your customers inside and out. You also must meet them where they are. And increasingly, they're asking questions and filing complaints through social media. Join Brooke B. Sellas, Founder & CEO of B Squared Media, for a conversation on creating highly effective customer experiences that elevate your brand and encourage customer loyalty. She'll provide real-world examples of how to use high-tech tools -- while still being high-touch.
Space is Limited! RSVP FREE NOW
A Virtual Networking event will follow at 2pm EST.