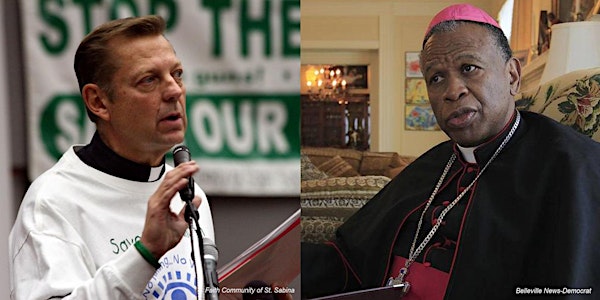 Conversations on Racial Justice: Fr. Pfleger & Bishop Braxton
When and where
Location
Saint Xavier University - McGuire Hall 3700 W. 103rd St Chicago, IL 60655
Description
Join us for two incredible presentations by local leaders in our Catholic Faith. Fr. Michael Pfleger of St. Sabina parish, brings his firsthand experience as a pastor, adoptive father, and founder of several social service agencies in the African-American community on the South and West sides of Chicago. Bishop Braxton has authored several books and many articles on Pastoral Theology, including two recent pastoral letters on the Black Lives Matter Movement, the Racial Divide in the United States, and the role of the Catholic Church in these issues.
THESE EVENTS ARE FREE AND OPEN TO THE PUBLIC!
---
Sunday, July 17, 2016 | 7:00-8:30 pm

Rev. Michael Louis Pfleger, St. Sabina Parish, Archdiocese of Chicago

"Breaking the Silence of the Church"
In this opening keynote, Rev. Pfleger will address the silence of the Church on some of the most devastating issues such as racism, poverty, and violence affecting our communities today. These ever increasing problems have been met with increasing silence from the Church. Rev. Pfleger will talk about how the Church can become the Moral Conscience to society once again in which every member of the Catholic Church can take responsibility for these issues and become a loving presence that can radically transform our communities for positive change.
TRADUCIDA EN ESPAÑOL: Padre Michael Louis Pfleger, "Rompiendo el silencio de la Iglesia"
En este discurso, el Padre Pfleger abordará el silencio de la Iglesia sobre algunos problemas más devastadores, como el racismo, la pobreza y la violencia que afecta a nuestras comunidades hoy en día. Estos problemas cada vez mayores se han cumplido con el aumento de silencio por parte de la Iglesia. El Padre Pfleger hablará sobre cómo la Iglesia puede convertirse en la conciencia moral para la sociedad, una vez más, en la que cada miembro de la Iglesia Católica puede asumir la responsabilidad de estas cuestiones y llegar a ser una presencia amorosa que puede transformar radicalmente nuestras comunidades para el cambio positivo.
---
Thursday, July 21, 2016 | 7:30 - 8:30 pm
Bishop Edward Braxton, Diocese of Belleville, IL
"The Catholic Church and the Black Lives Matter Movement:
The Racial Divide in the United States Revisited"
Bishop Braxton has noted that his Pastoral Letter, "The Racial Divide in the United States: A Reflection for the World Day of Peace, 2015," was written before the Black Lives Matter Movement attained the high visibility and considerable influence it has today. Yet, in anticipation to his SASI Keynote, he encourages audience members to first read the Pastoral Letter so that his presentation can help attendees "…ponder how the new awareness of the racial divide urges Christians to break their silence and discuss these matters."
TRADUCIDA EN ESPAÑOL: Obispo Edward Braxton, Diócesis de Belleville, IL
"La Iglesia Católica y el Movimiento de Black Lives Matter:
la división racial en los Estados Unidos Revisitado"
Obispo Braxton ha señalado que su carta pastoral, "La división racial en los Estados Unidos: una reflexión para la Jornada de la Paz, 2015," fue escrito antes de que el Movimiento de Black Lives Matter alcanzó la alta visibilidad y considerable influencia que tiene hoy. Sin embargo, en anticipación a su tema de SASI, él anima a los miembros de la audiencia que primero lean la Carta Pastoral por lo que su presentación puede ayudar a los asistentes "... reflexionar sobre cómo el nuevo conocimiento de la división racial insta a los cristianos a romper su silencio y hablar de esos asuntos."
---
These events bookend the Social Action Summer Institute (SASI): "Who is My Neighbor? Discipleship in the Year of Mercy." This five-day national Catholic conference will explore the theological, spiritual, and practical connections between our Catholic faith and work to achieve racial, social, and economic justice in our neighborhoods and larger communities. To learn more and register (deadline: Monday, July 11, 2016) visit: www.chicagopeaceandjustice.org/SASI.