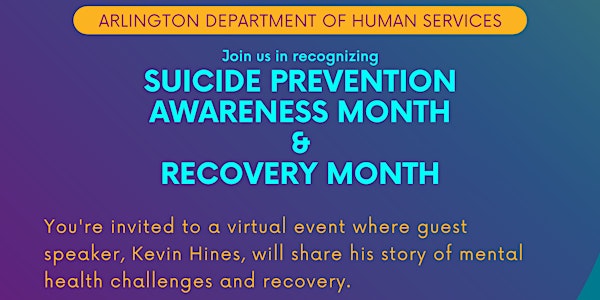 Conversations on Hope, Healing and Recovery with Kevin Hines
Join us in recognizing National Suicide Prevention Awareness Month and Recovery Month.
About this event
Join members of the community as the Department of Human Services hosts a viewing of Kevin Hines's presentation to Arlington from September 28, 2022.
Kevin Hines is a storyteller and best-selling author, global public speaker, and award-winning documentary filmmaker. In the Year 2000, Kevin attempted to take his life by jumping off the Golden Gate Bridge. He now travels the world sharing his story of hope, healing, and recovery while teaching people of all ages the art of wellness & the ability to survive pain with true resilience.
Kevin's compelling story has touched audiences across the world. The recording is from his September 28 presentation to Arlington audience, when he focused specifically specifically on prevention, recovery, and maintaining mental wellness.
NOTE that the topic of suicide will be discussed which some viewers may find triggering.
If you are not available for the live virtual event, consider joining us for an in-person viewing of the recorded presentation on September 30 at 12n, or October 3 at 7p. Register to view the recorded presentation here.