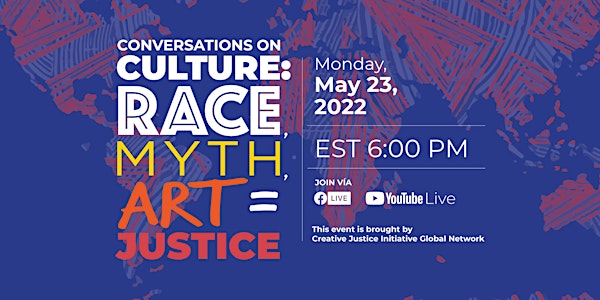 CONVERSATIONS ON CULTURE: RACE, ART, MYTH = JUSTICE
RELATIONSHIP BETWEEN ESTABLISHED AND EMERGING CULTURAL ARTS ORGANIZATIONS
About this event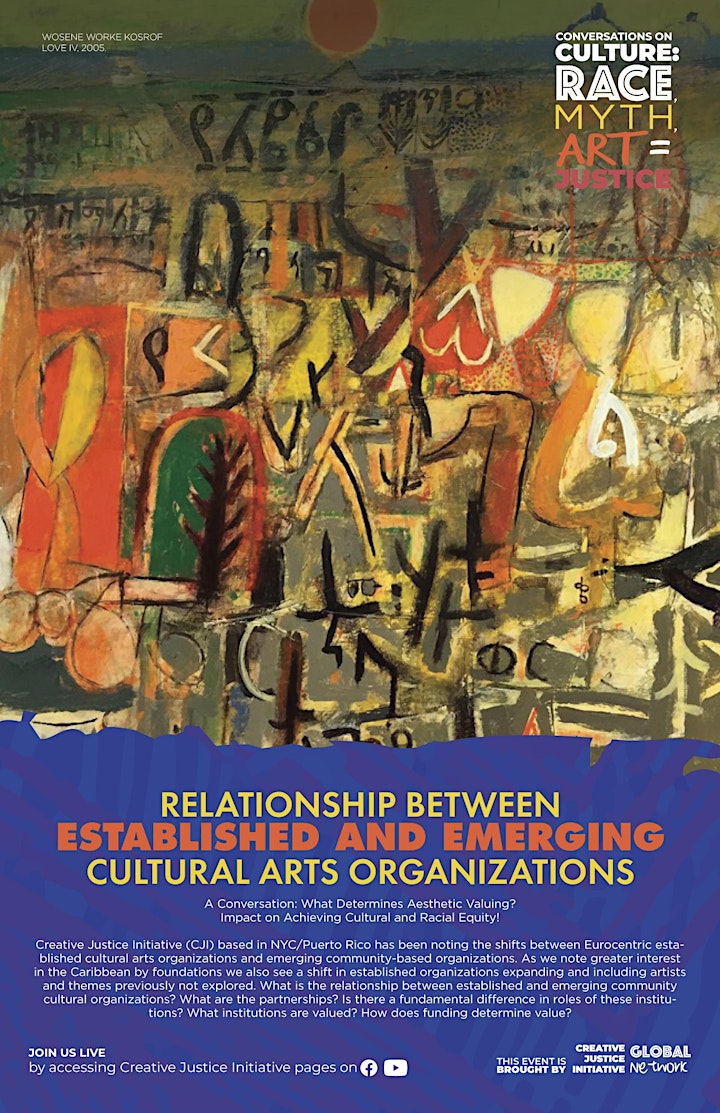 Relationship Between Established and Emerging Cultural Arts Organizations
Creative Justice Initiative (CJI) based in NYC/Puerto Rico has been noting the shifts between Eurocentric established cultural arts organizations and emerging community-based organizations. As we note greater interest in the Caribbean by foundations we also see a shift in established organizations expanding and including artists and themes previously not explored.
Our Conversation centers on discussing what determines the aesthetic value of our cultural production and the impact it has on Achieving Cultural and Racial Equity!
As we navigate our new realities and the relationships between emerging and established organizations we ask ourselves the following questions:
What is the relationship between established and emerging community cultural organizations?
What are the partnerships?
Is there a fundamental difference in the roles of these institutions?
What institutions are valued?
How does funding determine value?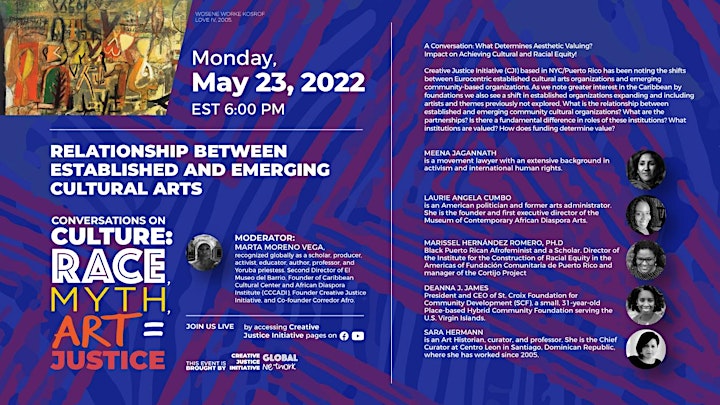 JOIN THE CONVERSATION!
Monday, May 23, 2021
3:00 PM California (PST)
6:00 PM New York, Puerto Rico (EST)
JOIN THE CONVERSATION IN THREE EASY WAYS
The conversation will be transmitted via Facebook Live, YouTube Live, and the Creative Justice Initiative Website. Our conversation will work just like watching a TV Show, just tune in to our channels to participate.
THERE IS NO REGISTRATION NEEDED!
If you have a Facebook account please join, watch and interact at 6:00 PM EST (NYC), 6:00 PM (Puerto Rico) AST by pressing the following link
https://www.facebook.com/creativejusticeinitiative
You can also watch and interact on YouTube at 6:00 PM EST (NYC) 6:00 PM (Puerto Rico) AST by pressing the following link
https://www.youtube.com/channel/UC72PAwyTeZM09w9L1YakXPA
If you don't do social media and prefer entering our website you can also watch on our page at 6:00 PM EST (NYC), 6:00 PM (Puerto Rico) AST by pressing the following link
https://creativejustice-initiative.org/conversations/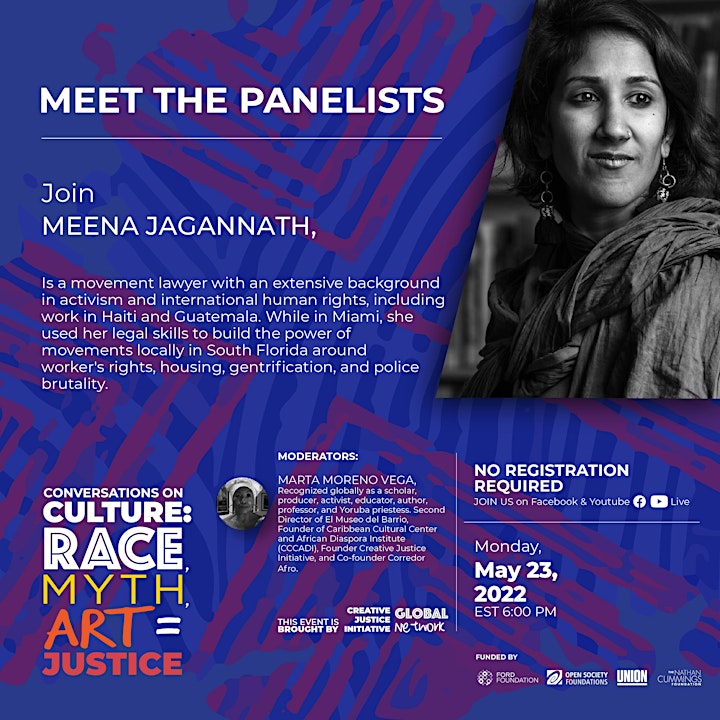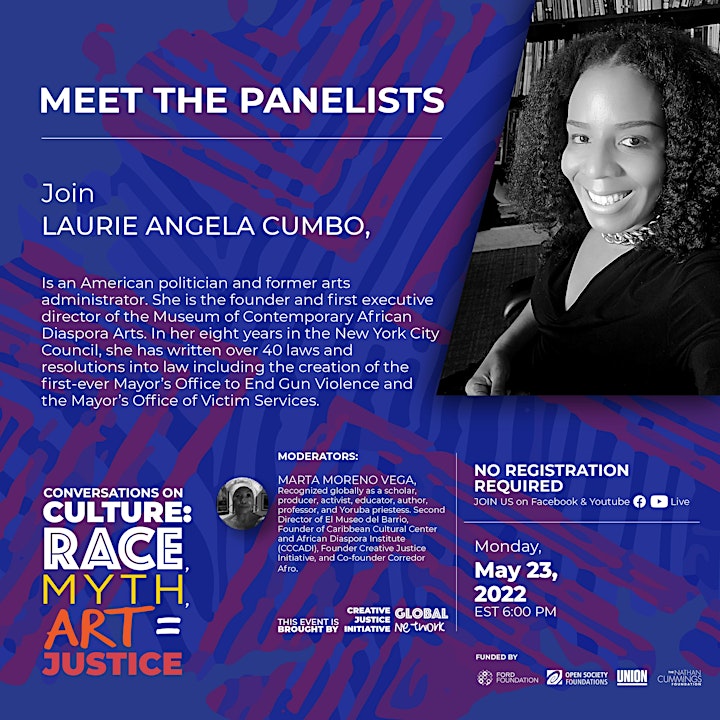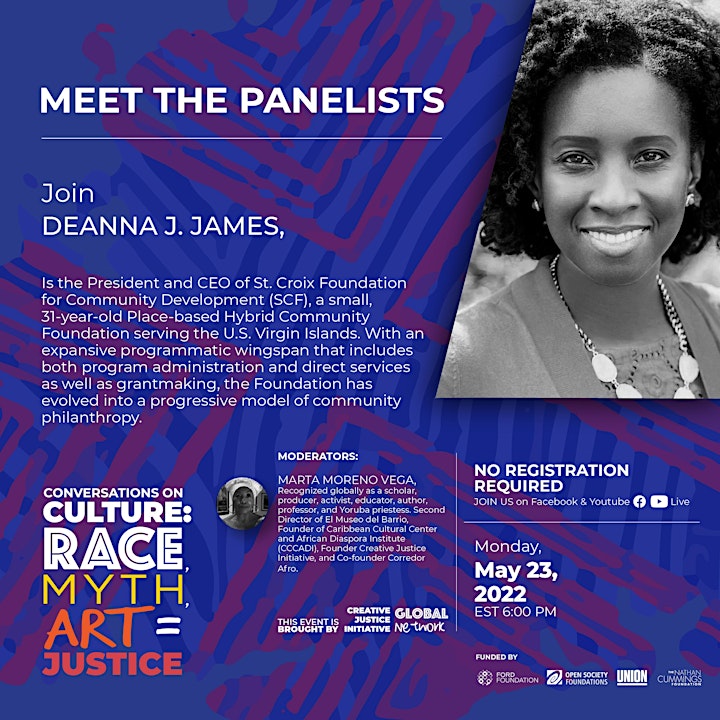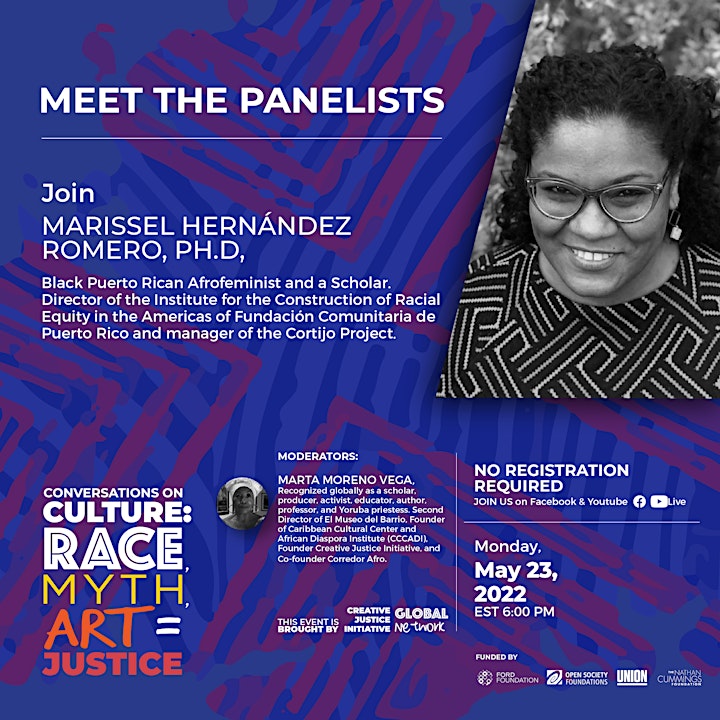 The CONVERSATIONS are designed to address the systemic injustices that continue to oppress and limit the possibilities of the majority of the nation's Black, Afro Latin, Latinx, Native, Asian, LGBTQIA+/Two Spirit, People with Disabilities, and economically poor White communities. Our commitment and actions will continue to create the society promised by the Constitution of the United States built on the humanistic democracy principles of the Iroquois Nation.
We will be honored and humbled by your virtual presence and participation.
JOIN US VIA FACEBOOK LIVE, YOUTUBE LIVE, and our WEBSITE!
Dr. Marta Moreno Vega, President, and Founder, Creative Justice Initiative