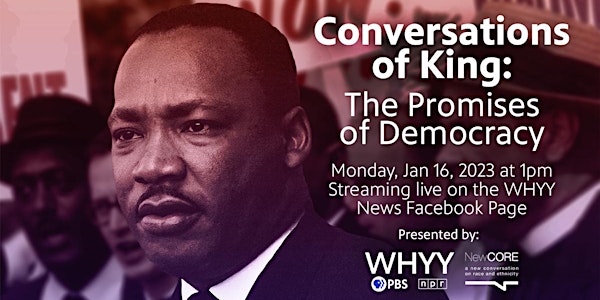 Conversations of King: The Promises of Democracy
60 years ago, Dr. King urged Americans to make real the promise of democracy. Will that promise be kept for all Americans?
About this event
In 1963, Dr. Martin Luther King Jr urged Americans to make real the promise of democracy. 60 years after his "I Have a Dream Speech," many Americans say that democracy is under threat, though they disagree as to why.
This disagreement reflects the polarization that dominates American politics. From vaccines to voting, common ground appears to be crumbling under the weight of dissent.
Insurrectionists stormed the capitol in 2021 with hopes of stopping Congress from certifying the presidential election. Armed militia have sprouted at polling places across the country, which some voters see as a form of intimidation. And political candidates are sowing doubt on election results before a single ballot has been cast.
What promises of democracy are most needed for the 21st Century? And how can such promises assure free and fair elections, while engendering benevolent public policy and economic opportunity for all?
Join WHYY and NewCORE on MLK Day as we reflect on Dr. King's vision for democracy and enumerate the steps citizens and governments need to take to safeguard it.