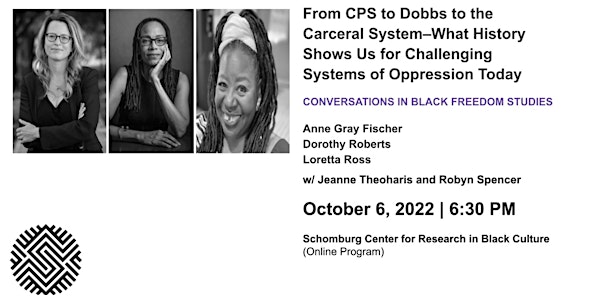 Conversations in Black Freedom Studies: Challenging Systems of Oppression
Scholars discuss the devastating effects of the carceral system
About this event
VIRTUAL PROGRAM
Join us for our next Conversations in Black Freedom Studies, featuring Anne Gray Fischer, Dorothy Roberts and Loretta Ross, who will be conversing about the devastating effects of the carceral system.
This panel of leading authors, educators and activists looks beyond today's headlines to analyze how larger histories of environmental policies, child welfare agencies, broken windows policing and attacks on the rights of birthing people reflect interlocking systems of oppression. This panel will point to historic and contemporary means of resistance in the fight to build a more just world.
VIRTUAL PROGRAM | This program will be streamed on Youtube. You must register with your email address in order to receive the link to participate. Please check your email shortly before the discussion to receive the link.
PRESS | Please send all press inquiries (photo, video, interviews, audio-recording, etc) at least 24-hours before the day of the program to Leah Drayton at leahdrayton@nypl.org.
Conversations in Black Freedom Studies is supported is supported by the Schomburg Center for Research in Black Culture and the City University of New York (CUNY) Graduate Center. Additional support is provided by Deutsche Bank Americas Foundation.
THE SPEAKERS
Anne Gray Fischer is a historian of the twentieth-century United States whose research and teaching explores histories of gender, sexuality, and race; law enforcement and the state; and feminist activisms in the modern United States. Her book, The Streets Belong to Us: Sex, Race, and Police Power from Segregation to Gentrification, is a history of sexual policing between Prohibition and the rise of broken windows policing in the 1980s.
Dorothy Roberts, an acclaimed scholar of race, gender and the law, is the University of Pennsylvania's 14th Penn Integrates Knowledge Professor with joint appointments in the Departments of Africana Studies, Sociology, and the Law School, where she holds the inaugural Raymond Pace and Sadie Tanner Mossell Alexander chair. She is also founding director of the Penn Program on Race, Science & Society in the Center for Africana Studies. Roberts' path-breaking work in law and public policy focuses on urgent social justice issues in policing, family regulation, science, medicine, and bioethics. Her major books include Fatal Invention: How Science, Politics, and Big Business Re-create Race in the Twenty-first Century (New Press, 2011); Shattered Bonds: The Color of Child Welfare (Basic Books, 2002), and Killing the Black Body: Race, Reproduction, and the Meaning of Liberty (Pantheon, 1997). She is the author of more than 100 scholarly articles and book chapters, as well as a co-editor of six books on such topics as constitutional law and women and the law.
Loretta Ross is a visiting associate professor at Smith College. Since beginning her academic career in 2017, she has taught at Hampshire College, Arizona State University and Smith College as a visiting professor of clinical practice teaching courses white supremacy, race, and reproductive justice.She has co-written three books on reproductive justice: Undivided Rights: Women of Color Organize for Reproductive Justice; Reproductive Justice: An Introduction; and Radical Reproductive Justice: Foundations, Theory, Practice, Critique.
All books will be available for purchase from the Schomburg Shop by the date of the event.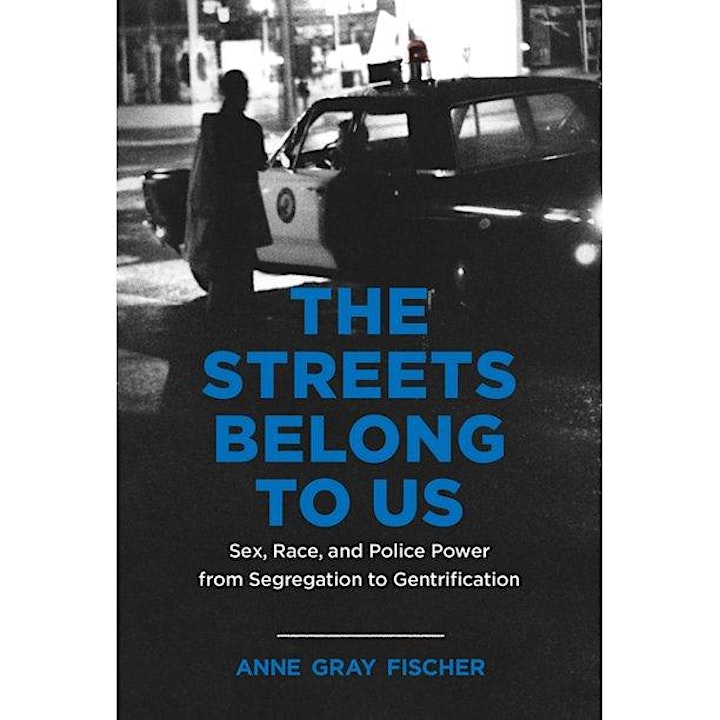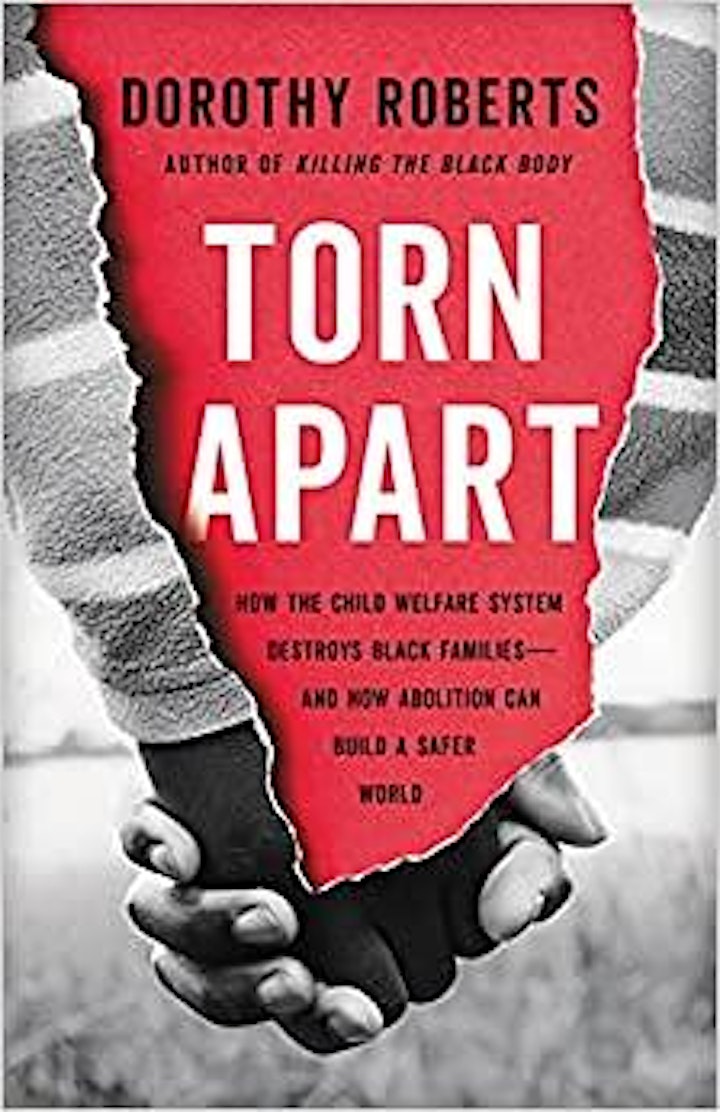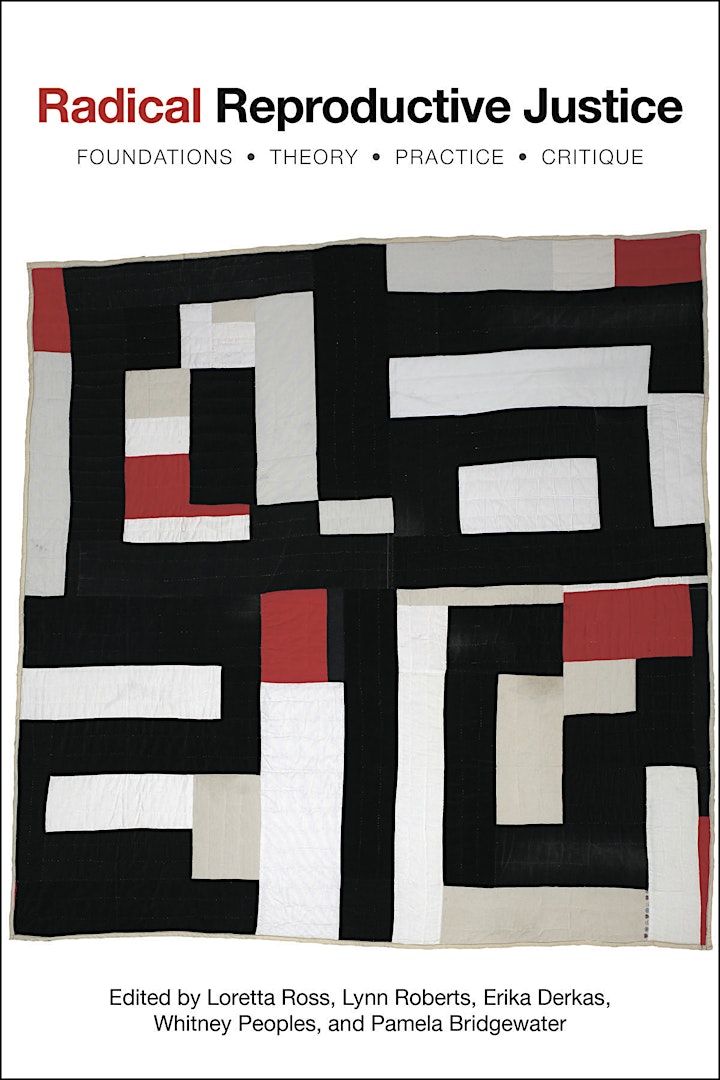 PUBLIC NOTICE AND DISCLAIMER
This Program uses a third-party website link. By clicking on the third-party website link, you will leave NYPL's website and enter a website not operated by NYPL. We encourage you to review the privacy policies of every third-party website or service that you visit or use, including those third parties with whom you interact with through our Library services. For more information about these third-party links, please see the section of NYPL's Privacy Policy describing "Third-Party Library Services Providers" at https://www.nypl.org/help/about-nypl/legal-notices/privacy-policy.
During this Program, you will be using third-party platforms such as Zoom and YouTube, for the purpose of communication. We encourage you to review the privacy policies of every third-party website or service that you visit or use, including those third parties with whom you interact with through our Library services. This service may collect some personally identifying information about you, such as name, username, email address, & password. This service will treat the information it collects about you pursuant to its own privacy policy, which can be found here: Google Privacy Policy, Zoom Privacy Policy, YouTube Privacy Policy. For more information about these third-party links, please see the section of NYPL's Privacy Policy describing "Third-Party Library Services Providers" at https://www.nypl.org/help/about-nypl/legal-notices/privacy-policy.