Conversations About Ethics: Empathic Distress or Compassion Fatigue?
About this event
Monday, Nov. 15, 2021: "Conversations About Ethics" featuring Roshi Joan Halifax, PhD
Two free virtual events
Noon - 1:30 p.m. CST: "Exploring Integrity and Moral Suffering in Caring for the Critically Ill"
7:00-8:30 p.m. CST: "Outcomes of Witnessing Suffering: Compassion Fatigue or Empathic Distress?"
Roshi Joan Halifax, Ph.D., a Buddhist teacher, Zen priest, anthropologist and pioneer in the field of end-of-life care, is the featured speaker for "Conversations About Ethics."
The global COVID-19 pandemic intensified already-high levels of stress and burnout among medical professionals, raising concerns about "compassion fatigue." But Dr. Halifax believes what we are seeing is not compassion fatigue but empathic distress, which occurs when we identify too strongly with someone who is suffering. When someone in a helping profession like medicine is overwhelmed by the suffering of others, they may go numb, abandon others to protect themselves, and experience symptoms of stress and burnout. Dr. Halifax believes the antidote is compassion, which meets suffering with an appropriate response, calling forth attentional balance; caring and unselfish intention and insight; and ethical action. All of this supports medical professionals' own wellness, which is crucial to providing the best possible care to patients.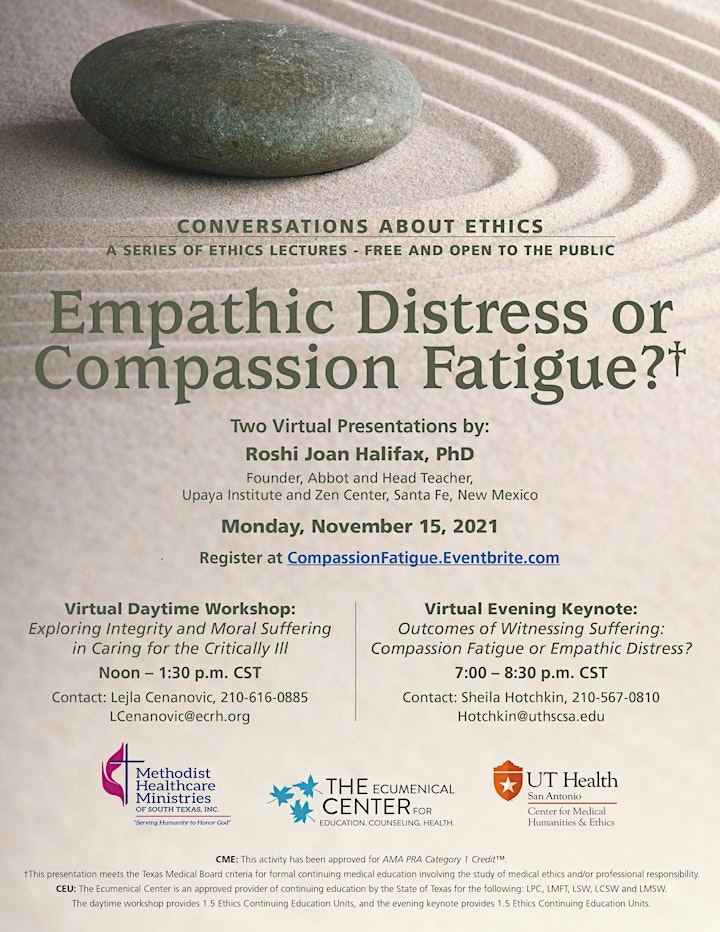 Organizer of Conversations About Ethics: Empathic Distress or Compassion Fatigue?