Recent developments in AI improve user interaction and its potential. Learn how Conversational AI is revolutionizing user experience.
About this event
More sophisticated AI solutions are gaining adoption by businesses due to an increased ability to process information faster than humans. This not only means better user engagement, but can also lower costs, improve customer satisfaction and drive new revenue.
Join ai4biz on Tuesday, October 13th at 6pm to learn how Conversational AI is revolutionizing companies capabilities in markets spanning mobile access, telemedicine, call centers, interactive help and maybe eventually air traffic control, self driving cars and interactive business services. Indications of potential value include:
Cognitive agents can quickly access relevant information to help human staff answer customer service queries with greater accuracy and speed.
Automated services deliver a strong ROI when compared to the cost and manpower required to operate a massive 24-hour human staff.
Multinational companies use conversational AI to get things done around the clock. It also helps companies struggling to offer 24/7 service across geographies and meet customers' expectations for assistance on demand.
Gartner predicts that by 2021, 25% of enterprises across the globe will have a virtual assistant to handle support issues. 30% of customers expect to see a live chat option on your website. Three out of 10 consumers would give up phone calls to use messaging.
MODERATOR:
Jerry Hartanto's passion is driving business outcomes through technology. He focuses on advanced analytics (AI/ML/DL in particular) because these enable better, faster decisioning making, which is at the heart of all business challenges. Currently, he is part of DataRobot's AI Success team, where he collaborates with business SMEs, data scientists, and engineers to drive AI use-case roadmaps, prioritization, and operationalization for tangible business benefits.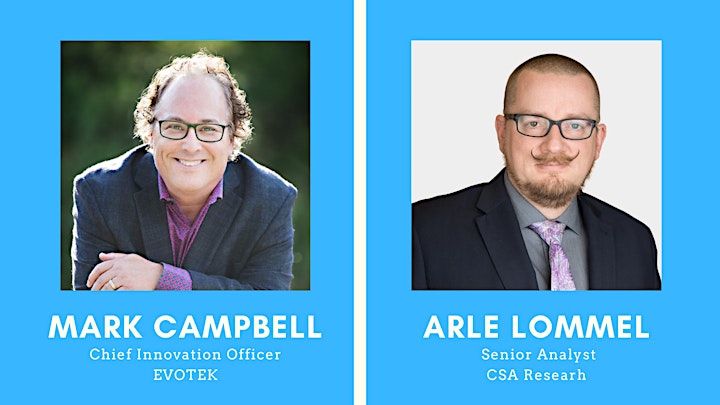 SPEAKER:
Mark Campbell, Chief Innovation Officer at EVOTEK, derives insights from the venture and startup communities to enable technical executives to identify, evaluate and leverage emerging technologies. His 30 years of US and international experience allow him to cut through the buzzwords in his frequent presentations, webinars, articles and podcasts. He authors IEEE's 'IT Innovation' column, serves on the board at Capstone IT and Tower Financial Partners; and is an executive advisor and emerging technology evangelist to hundreds of senior leaders. Mark has held leadership roles at Trace3, DIRECTV, HP, BEA Systems, MCI, and Ford Aerospace and earned a Bachelor's of Science in Computer Science and Mathematics from Adams State University, a Master's of Science in Systems Engineering from Colorado Technical University and holds several patents.
NEW SPEAKER ADDED!
Arle Lommel, senior analyst at CSA Research, will discuss the challenges that deploying conversational AI across language boundaries raises in terms of culture and the technical difficulty of locating suitable training data that require care and planning from the earliest stages of development.
Despite the very real promise of cognitive and conversational agents to improve the customer experience and promote engagement between brands and their customers, the reality is that these advantages today are available to a relatively small percentage of the world's population because the technologies behind them are largely developed for English, Chinese, and a handful of other languages. Even large, tech-savvy enterprises struggle to find the data needed to develop AI-driven services for customers who speak most of the world's languages.

ABOUT ai4biz
ai4biz.org is a non-profit community geared toward the A.I. business professionals providing:
Learning & rethinking: understand possibilities, drive/utilize new strategies.
Networking and connecting: meet people and organizations that help you.
Alignment & synergy: business, government, academia and people working in concert.
Creative engagement: learn/discuss issues and opportunities that matter.
Our goal is to share hard-earned lessons from real-world use-cases, engage panelists and members in fact-based discussion, and provide access to like-minded people and organizations. Participants will be companies, government, educators, partners, service providers, and clients from the SoCal region.
There is no cost to be a member.
Join our community on LinkedIn www.linkedin.com/groups/13876537
Special thanks to our first sponsor, Minne Analytics. If you would like to help us grow by being a sponsor, please contact brent.collins@ai4biz.org
MinneAnalytics is a nonprofit organization serving the data science and emerging technology community in Minnesota, the Upper Midwest, and beyond by providing accessible, authentic, and engaging events. We facilitate the sharing of knowledge and ideas among analytics professionals across business, technology, and decision science through our industry-specific conferences and educational events.