Description
"Conversation With The Streets" | IS A MOVEMENT
With the "Conversation With The Streets" movement,
we believe in an unconventional way of reaching out, healing, and educating!
---
SEPTEMBER 2019 PANEL RELEASED | DINNER WILL BE SERVED
BLACK LEADERS UNITE
Andre' L. Taylor, Activist and Motivational Speaker
Jay Morrison, CEO, Entrepreneur, and Real Estate Expert
Nuri Muhammad, Nation of Islam, Student Minister, Indianapolis, Indiana
This event is sponsored by the organization, NOT THIS TIME, with support from the Mayor's Office of Seattle, Seattle Neighborhoods, Seattle Foundation, The McCaney Project, and Savren Marketing.
THIS EVENT IS FREE AND OPEN TO THE PUBLIC!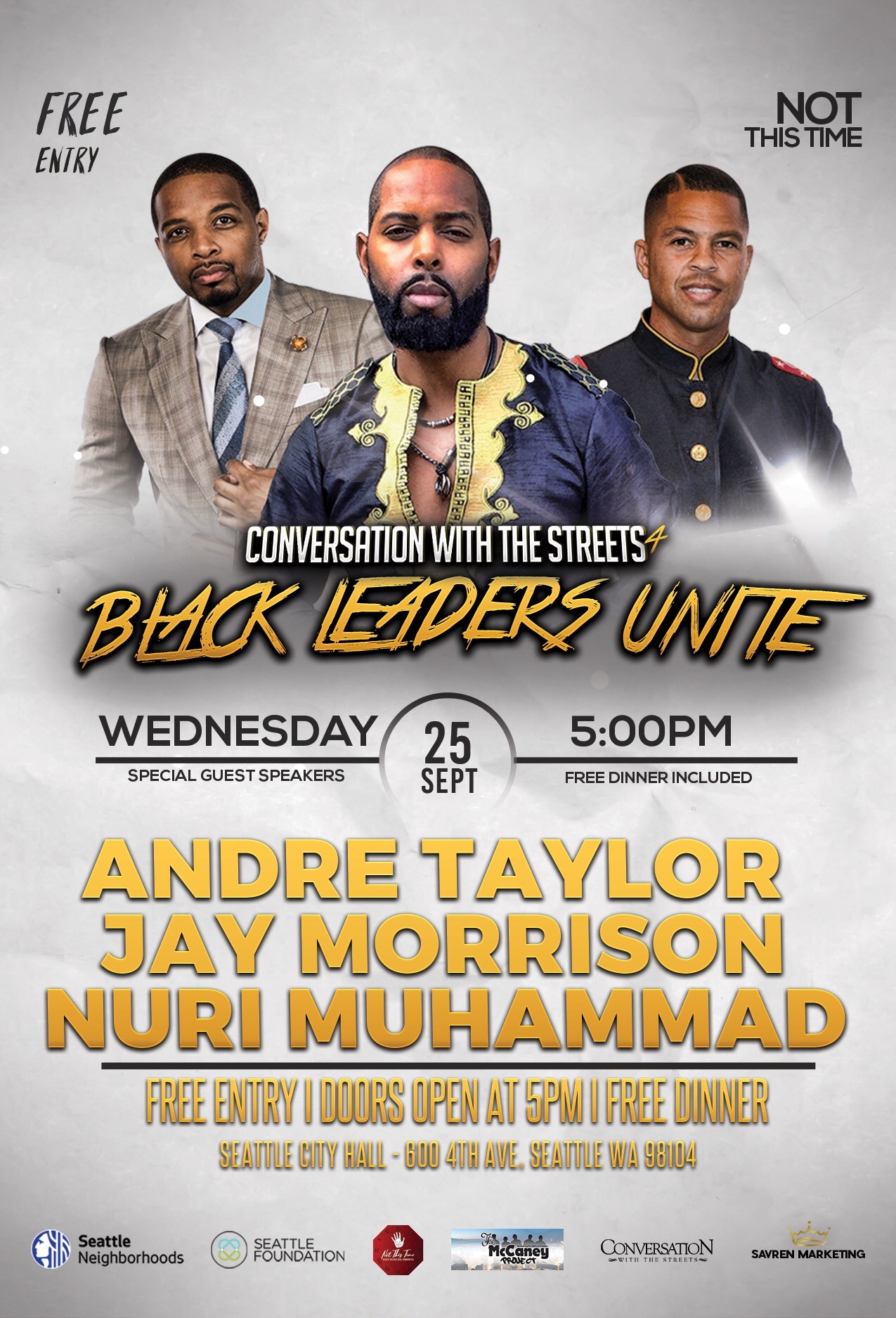 Organizer of "Conversation With The Streets" | Seattle, Washington | September 2019
Not This Time!  is a community organization focused on reducing fatal police shootings, changing the laws that govern the use of force, and rebuilding trust between our communities and the police who are sworn to protect and serve us. We were founded in February, 2016, and incorporated as a non-profit organization in Washington state later that year.
Mission:
To educate the community, empower them to change policy and stand with the families impacted by police violence.
Vision:
Our vision is to further the knowledge and experience of Not This Time to empower and educate the community
Values:
We value dialogue because we bring community and decision-makers to the table. We engage the community and value their truth. We believe in fairness and justice
Who we serve:
We serve communities that are impacted and silenced by systemic violence, especially police violence.