Conversation & Discussion with Sean K. Ellis - Trial 4 Netflix Series
A conversation with Sean K. Ellis and discussion about the Netflix Documentary, Trial 4, led by Prof. Stephanie Roberts Hartung
About this event
This Zoom event is organized by the Needham Diversity Initiative. We expect Mr. Sean K. Ellis and one of his attorneys Jillise McDonough, Esq to attend.
Sean K. Ellis, a former Needham High student was arrested at age 19 for the 1993 murder of a Boston police officer. The documentary tells the full story behind his arrest, prosecution and eventual release after 22 years when a judge deemed he had not received a fair trial.
Sean Ellis and one of his attorneys, Jillise McDonough, Esq. will be attending. Prof. Stephanie Roberts Hartung, a board member of the New England Innocence Project, will lead a discussion on this event.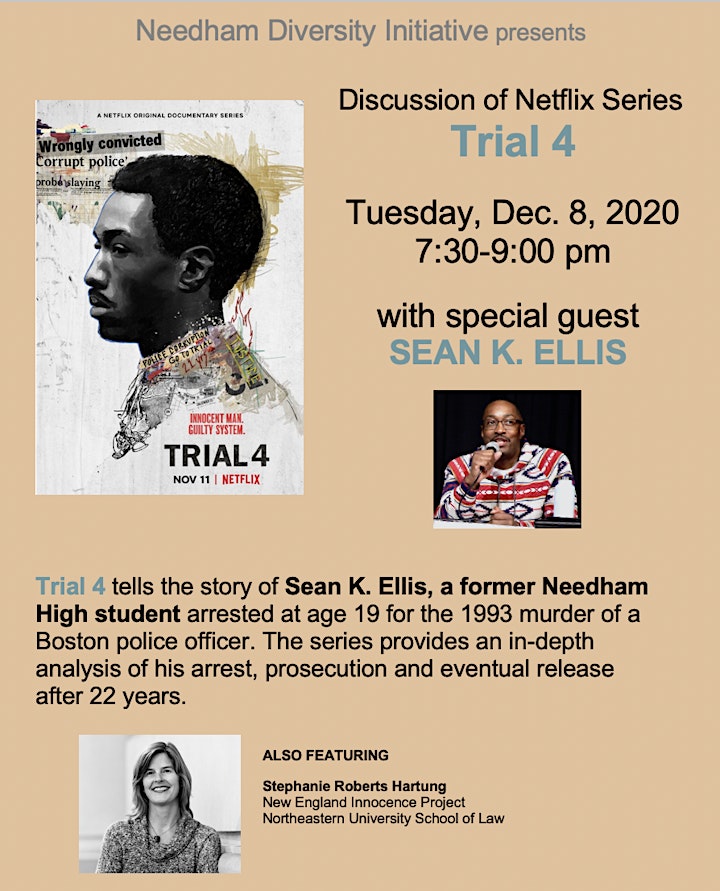 Organizer of Conversation & Discussion with Sean K. Ellis - Trial 4 Netflix Series
Needham Diversity Initiative, Inc., is a grassroots organization of people whose mission is to create a welcoming town. Our hope is to explore, foster, strengthen, and celebrate Needham's diversity of race, religion, sexual orientation, gender, ethnic identity, socioeconomic status, ability, and age. Needham Diversity Initiative, Inc., organizes events throughout the year to advance its mission. These events include the annual Needham Diversity Summit in October, the annual Needham Martin Luther King, Jr., Day Celebration in January, speakers, films, and performers.
www.needhamdiversity.org