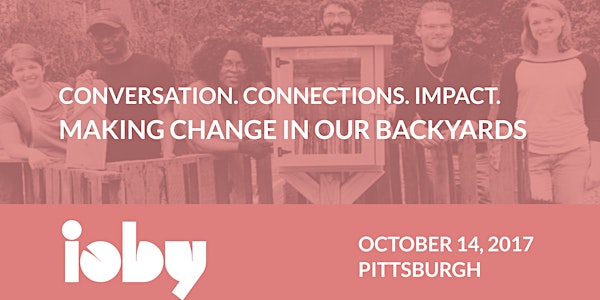 Conversation. Connections. Impact: making change in our backyards
When and where
Location
Hill House Association's Kaufmann Center 1825 Centre Avenue Pittsburgh, PA 15219
Description
Conversations. Connections. Impact: Making change in our backyards, an ioby convening in Pittsburgh.
ioby's first-ever convening in Pittsburgh will celebrate neighbors who are building and investing in positive local change that creates a future for all in Pittsburgh. Learn from our city's resident leaders who are raising funds with ioby, and share your hopes for your neighborhood.
The program will feature an interactive PLACE IT! workshop by James Rojas, an urban planner, grassroots activist, and artist who facilitates hands-on community visioning sessions to help residents connect and develop ideas together about equitable public space.
We can't wait to have you with us!
Questions? Please contact dana@ioby.org, or 917.817.2070
Program Schedule:
12:00 - 1:00 Hill District Walking Tour (Come along for this tour to hear from local ioby project collaborators and long-time neighborhood leaders - Please email dana@ioby.org if you plan to attend this special part of the day)
2:00 - 2:25 Arrivals, Welcome, and Intros
2:25 - 3:05 James Rojas hands-on PLACE IT! group workshop, Part 1 (Build your favorite childhood memory)
3:05 - 3:10 Break and Announcements
3:10 - 4:20 ioby Leader Panel Presentations and Discussion (hear successes, challenges and strategies for making positive change on the ground in Pittsburgh from project leaders working on murals, community gardens and more - as well as from an ioby coach who can also share some tools and tricks)
Panelists include:
Dwayne Barker, Fineview & Perry Hilltop Community Pride Project
Lisa Freeman, Manchester Growing Together Farm
Ramo Lord, Exploring Labor's Safety and Health Concerns
Barbara Rudiak, South Side Community Murals
Tacumba Turner, Allendale Acres, where we 'eat to live'
Linda Wallen, Pigeon Positivity
Dominique Williams, ioby Leader Success Strategist
Eleanor Williams, Northside Resource Mall
4:20 - 5:00 James Rojas hands-on PLACE IT! group workshop, Part 2 (Build your vision for an ideal Pittsburgh)
5:00 - 6:00 Food, Drink, Mingle and Share Project Ideas