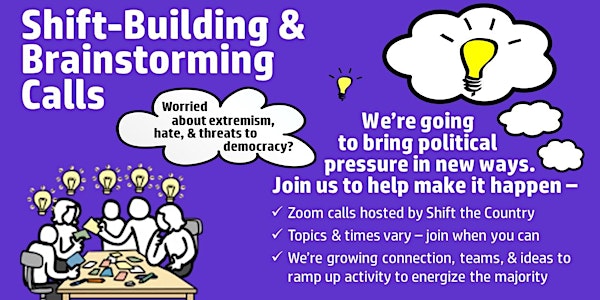 Conversation & Connection Hangout
Shift-building & brainstorming calls to create new kinds of pressure, strategies, & action to change this country's trajectory.
When and where
Date and time
Friday, February 3 · 12 - 1pm PST
About this event
TODAY'S FOCUS: Conversation & Connection Hangout. Informal, Casual Online Zoom Get-Together & Hang-Out.
Join in on this call for connection, solidarity, support, & sharing for whatever's going on up in this country this week. We can listen, we can share stories, we can talk about ways people can help. We can do questions or talk about how the Shift the Country 5 Things are set up to help us navigate this time, and to foment transformation. The main point is to get connected and to meet people interested in keeping this democracy.
DAILY CALLS: These are basically working calls with whoever shows up; and places for connection, community, and coalition-building. We're brainstorming, putting ideas together, figuring out how to make them work, and going about doing that. Join us.
Every day's call is planned to build on what we've built up to that point... and to take it further, or to develop something new.
Calls may focus on hot news items or on urgent issues. Content will vary daily depending on who joins, any speakers, what we've done before, and priorities.
Bring your brain, your skills, your experience, your sense of cooperation, your patience, your ideas, & your flexibility.
Bring your friends, & share this around.
These Zoom calls are open to all who register.
Call times vary to cover a range of schedules & time zones.
We'll spin off volunteer working groups as we get traction in a particular area; those events will also be announced.
Calls planned for 1 hour or less, with an extra 30-minute cushion at the end if needed.
Register for individual daily events. Zoom details will be sent by email as you register, so you just need to make sure you're signing on to the right Zoom event on the right day.
Support this brand-new nonprofit's work by donating through an Eventbrite registration ticket, or contribute on the website or on ActBlue to support this work. Donations are not tax deductible.
BIG PICTURE: Shift the Country is set up to help us all navigate instability, to revitalize the democracy, and to change our country's trajectory. Shift the Country has a unique 5 Thing approach to energize a coalition of the majority of Democrats, independent voters, and ex-Republicans into a more coordinated, larger movement and phenomenon like those that have successfully countered authoritarianism in other countries. We can collectively counter fascism, hatred, bigotry, intolerance, and extremism while we're at it.  We can advocate and fight differently for the country we wish to see in the world; for the shift we want to see. 
About the organizer
Energize the Majority
Shift the Country has tools to help hold this democracy together, and to get it to work better for everyone. This organization is here to energize the majority of voters by catalyzing activity, engagement, and coverage; and by helping people to drive the narrative. We make shift happen with our 5-part approach. Shift the Country helps us all take on cynicism, apathy, and dis-empowerment. We can collectively get voters fired up to vote for what the US could be if the actual majority was able to govern this democracy without the minority party removing our rights, interfering with our ability to vote, blocking progress, and blocking investments in Americans and US communities. Website here. Substack here.