About this Event
You can pre-order you book at thepalmbeachbookstore.com and have it available for pick-up at the event or prior to the event. Only books sold by The Palm Beach Book Store are eligible to be signed at the event, if you purchase the book from us prior to December 19th please hold on to the receipt.
New York – In his new book, What It Takes: Lessons in the Pursuit of Excellence, Stephen A. Schwarzman, Chairman, CEO and Co-founder of Blackstone, uses stories from his 50-year career in business to show readers how to make an impact as a leader, learn and adapt from failures, build thriving teams, and generally achieve success in both work and life. Schwarzman shares practical lessons learned over a career that includes creating one of the world's largest investment firms — a company that itself has helped grow hundreds of businesses around the world in support of pensioners and other leading investors. Powerful anecdotes and lively storytelling bring Schwarzman's hard-learned lessons to life for the reader, regardless of their familiarity with Blackstone or the world of finance.
Schwarzman's entrepreneurial instinct emerged at an early age while folding handkerchiefs in his family's linen shop in Philadelphia and stayed with him through his schooling, early days as an investment banker and eventually the launch of Blackstone. At every stage of life, he earned himself a reputation for solving big problems and making the impossible happen. Schwarzman's story is an empowering, entertaining and inspiring book that provides any reader, regardless of industry, discipline or level of experience, with a practical blueprint for how to think about ambition and scale, risk and opportunity and, most importantly, how to achieve success through the relentless pursuit of excellence.
"My career has taken me around the globe and afforded me the opportunity to interact with everyone from students to CEOs, heads of state, policymakers and leading philanthropists," says Mr. Schwarzman. "Over the years, the frequency of these conversations has increased and I find myself answering the same questions about 'how I did it' – how I built Blackstone into what it is today; how we helped transform hundreds of companies into success stories; what we learned from our mistakes; how we evaluate risk; and how I've applied the lessons I've learned to my philanthropic and public service activities. I decided to write this book to help address these questions for as many people as I can. What It Takes is a useful guide for anyone looking to increase their personal impact and perform to their maximum potential."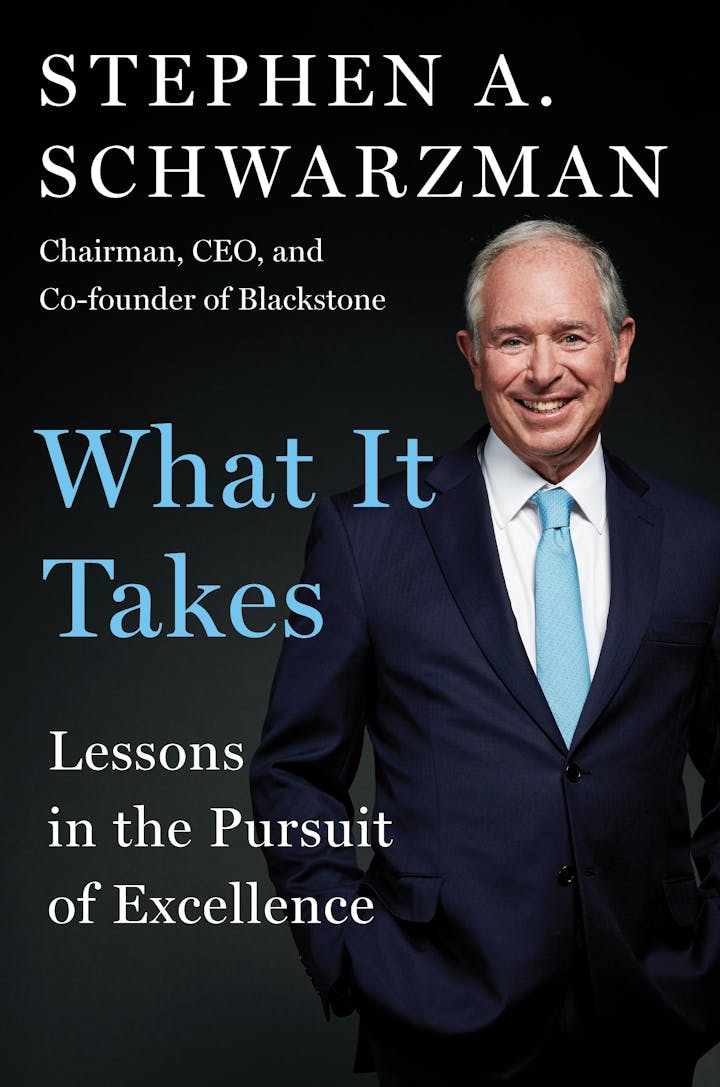 Please note that this is a standing room only event.