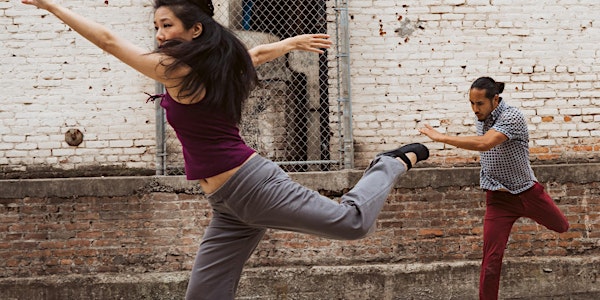 Multiple dates
Convergent Waves: Boston
Be the first to experience Convergent Waves: Boston, a new site-responsive, multimedia experience by Lenora Lee Dance.
Date and time
April 21, 2022 · 7pm - April 23, 2022 · 9:30pm EDT
Location
Pao Arts Center 99 Albany Street Boston, MA 02111
Refund Policy
Contact the organizer to request a refund.
Eventbrite's fee is nonrefundable.
About this event
Immerse yourself in a dance event which celebrates the contributions of activists and non-profit leaders and reclaims space by eliciting stories of community agency, resilience, and transformation. Inspired by rich narrative, this work represents a powerful call for community oriented development in the face of rapid change, making a collective statement for the preservation of community as neighborhoods across the country inhabited for generations face cultural erosion, loss of businesses, and displacement through gentrification. Convergent Waves: Boston highlights successes in preserving the cultural fabric and accomplishments of these communities.
This is Lenora Lee Dance's first performance in Boston. Convergent Waves: Boston will be the first iteration which will continue to shed light on the stories of displacement and gentrification in communities across the country, touring to San Francisco (June 9, 2022), Los Angeles (spring 2023), and New York City (fall 2023).
Please Note Filming:
Film crews will be present at the Friday 4/22 7:00 pm and Saturday 4/23 7:00 pm and 8:30 pm performances and post show discussions.
By participating in this event, attendees consent to being recorded and authorize Lenora Lee Dance, ArtsEmerson, BCNC (Pao Arts Center) to use the footage and photographs in print, digital or web-based format for its promotional and archival purposes. Footage may also be used in this performance and subsequent performances.
Accessibility:
This is a roaming performance with limited seating for those with access needs. Wheelchair accessible. Please contact arts@bcnc.net for access needs.
Covid-19 Protocol:
In accordance with other performance venues in the City of Boston, Pao Arts Center's will continue to require proof of vaccinations for entry into any performance or scheduled public program (drop – in gallery visits are exempt). Masks will continue to be required for entry into Pao Arts Center.
Location:
Pao Arts Center, 99 Albany Street , Boston MA 02111 (Boston Chinatown)
Times:
April 21 - 23, 2022, 7:00 pm - 8:00 pm and 8:30 - 9:30 pm
Performances will begin on time, please arrive early.
Post-performance discussion after Saturday, April 23, 8:30 pm show
Run time 60 minutes with no intermission
Ticket fee is non-refundable unless canceled by Pao Arts Center.
About Lenora Lee Dance
Lenora Lee Dance (LLD) integrates contemporary dance, film, music, and research and has gained increasing attention for its sustained pursuit of issues related to immigration, incarceration, global conflict, and its impacts, particularly on women and families. The company is directed by San Francisco native Lenora Lee, who has been a dancer, choreographer and artistic director for the past 24 years in San Francisco, Los Angeles and New York. She has been an Artist Fellow at the de Young Museum, a Djerassi Resident Artist, a Visiting Scholar at New York University 2012-2016, an Artist in Residence at Dance Mission Theater, a 2019 United States Artists Fellow.
LLD creates works that are both set in public and private spaces, intimate and at the same time large-scale, inspired by individual stories as well as community strength, at times crafted for the proscenium, or underwater, or in the air, and at times are site-responsive, immersive and interactive. For the last 14 years, the company has been pushing the envelope of large-scale multimedia, and immersive dance performance that connects various styles of movement and music to culture, history and human rights issues. Its work has grown to encompass the creation, presentation and screening of films, museum and gallery installations, civic engagement and educational programming. www.LenoraLeeDance.com
ARTISTS
Vijay Iyer (music compositions, recordings) Described by The New York Times as a "social conscience, multimedia collaborator, system builder, rhapsodist, historical thinker and multicultural gateway," composer-pianist VIJAY IYER is one of the leading music-makers of his generation. His honors include a MacArthur Fellowship, a Doris Duke Performing Artist Award, a United States Artist Fellowship, a Grammy nomination, and the Alpert Award in the Arts. His most recent album, a trio session with drummer Tyshawn Sorey and bassist Linda May Han Oh titled Uneasy (ECM Records, 2021), was named Best New Music in Pitchfork and was hailed by the New Yorker as "a triumph of small-group interplay and fertile invention."
Francis Wong (music) was dubbed one of "the great saxophonists of his generation" by the late jazz critic Phil elwood. Few musicians are as accomplished as Wong: for over two decades he has performed his innovative brand of jazz and creative music for audiences in North America, Asia, and Europe. A prolific recording artist, Wong is featured on more than forty titles.
Tatsu Aoki (music) is a prolific composer, musician, filmmaker, and educator. Based in Chicago, Aoki works in a wide range of musical genres, ranging from traditional Japanese music, jazz, experimental and creative music. Aoki studied experimental filmmaking at the School of the Art Institute of Chicago and is currently an adjunct Full Professor at the Film, Video and New Media Department, teaching film production and history courses. To this date, Aoki has produced and appears in more than 90 recording projects and over 30 experimental films.
Naoko Brown (dance – Boston) is a native of Nagoya, Japan. At the age of six, she was introduced to the world of classical ballet by Michiko Matsumoto. She continued her training with Barbara Banaskowski Smith in Lansing, MI. While there, she performed with the students of the National Ballet School of Gdansk in Poland, as well as students from Vaganova Ballet School in St. Petersburg, Russia. Brown received her B.F.A. in Dance from The Boston Conservatory. While there, she performed works by Daniel Pelzig, Sean Curran, Lar Lubovitch and José Limón. She also attended the Boston Ballet School Summer Dance Program, Ballet Intensive from Moscow, and was a full scholarship recipient at Summer Stages Dance in 2012. She has performed with Michiko Matsumoto Ballet, Urban Nutcracker, Zoé Dance, Contrapose, Prometheus Dance and Jo-Mé Dance. She is currently a faculty member of The Boston Conservatory at Berklee, Walnut Hill School for the Arts Community Dance Academy as well as Boston Ballet.
IJ Chan (陳加恩) (dance – Boston) is a dance artist and educator from Boston, MA. She has dedicated her life to training and performing intensively in multiple dance genres and under many choreographers. In her own choreographic work, IJ is interested in intersecting and exploring the Asian-American narrative. She is committed to bringing quality performing arts instruction to low-income and minority youth populations within Boston. She also works as a freelance graphic designer, visual artist and seamstress.
Lynn Huang (dance - San Francisco)Trained in modern dance, ballet, and Chinese dance, Lynn has performed with Lenora Lee, Erin Malley, & Philein Wang in San Francisco, and HT Dance Company, Dance China NY & Ella Ben-Aharon/Sahar Javedani in NYC. She studied at Minzu University Dance Conservatory in Beijing, China on a Fulbright fellowship and graduated magna cum laude from Barnard College of Columbia University.
Flora Hyoin Kim Han (dance – Boston) is a Korean-American dancer, choreographer, and dance educator. Since earning her B.F.A. in Dance from the University of Wisconsin-Madison in 2014, she has worked with The Click, Prometheus Dance, Jenna Pollack, Lenora Lee Dance, beheard.world, Jennifer Lin, Deborah Abel Dance Company, Lorraine Chapman, and Urbanity Dance. Flora is currently an Assistant Professor of Dance at the Boston Conservatory at Berklee, a Lecturer of Dance at Brandeis University in Fall 2021, a senior faculty at Urbanity Dance and Coastline Ballet Center. Flora's artistic vision is to bring inclusivity, empowerment, and joy to individuals and communities through the power of dance.
Johnny Huy Nguyen (dance - San Francisco) is a second generation Vietnamese American multidisciplinary dance artist based in Yelamu (aka San Francisco). His practice is centered on the body, recognizing its power as a place of knowing, site of resistance, gateway to healing, and crucible of imagination. Drawing from fluency in multiple movement modalities rooted in a street dance foundation, he weaves together dance with text, ritual, performance art, and other mediums to navigate the intersections between the personal and the political. He has appeared in the works of Lenora Lee Dance, KULARTS, and Embodiment Project and has performed nationally in Oregon, Boston, and NYC. His work has been presented by APAture Festival, the United States of Asian America Festival, and SOMArts, and his most recent solo work, Minority Without A Model, premiered in 2021. IG: @johnny.huy.nguyen
Convergent Waves: Boston is supported by ArtsEmerson, Pao Arts Center, and by generous individuals. The creation, presentation of and production residency for Convergent Waves: Boston was also made possible by the New England Foundation for the Arts' National Dance Project, with lead funding from the Doris Duke Charitable Foundation and The Andrew W. Mellon Foundation. This project is supported in part by an award from the National Endowment for the Arts. To find out more about how National Endowment for the Arts grants impact individuals and communities, visit www.arts.gov.
Special Thanks to: Asian Community Development Corporation, Carmen Chan, Chinatown Community Land Trust, Chinese Historical Society of New England, Susan Chinsen, Ken Eng, Stephanie Fan, Amy Guen, Isabella Stewart Gardner Museum, Harry Lee, Paul Lee, Tunney Lee, Angie Liou, Lydia Lowe, Cynthia Soo Hoo, Cynthia Woo, and Cynthia Yee.
Photo: Lynn Huang, Johnny Nguyen, by Robbie Sweeny
For more details visit: www.paoartscenter.org.
About the organizer
Through arts, culture, and education, the Pao Arts Center brings together community members across generations to reclaim a critical piece of Chinatown history and to create healthy families and vibrant communities. In partnership with Bunker Hill Community College, BCNC opened the Pao Arts Center in 2017 to be Chinatown's first community-based arts center and Boston's newly dedicated Asian American and Asian immigrant cultural space.
The Pao Arts Center sits on a historically significant piece of land, Parcel 24, where hundreds of Chinatown residents were displaced in the 1960s in order to build a highway on ramp. The reclamation of this land as a place to celebrate and explore Asian culture represents a powerful shift towards community oriented development in the face of rapid change.