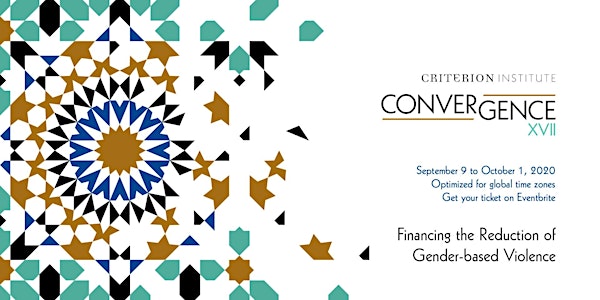 Convergence XVII: Financing the Reduction of Gender-based Violence
Convergence XVII is going virtual!
About this event
For the past two years, the Criterion Institute has been in deep collaboration with experts in finance, policymaking and philanthropy to figure out how we can use finance to address the reduction of gender-based violence. As this current context continues to escalate, there is no more critical time than NOW to address this issue. We need to immediately move from ideas and intent to ACTION.
CONVERGENCE XVII IS A GLOBAL CALL TO ACTION
A Digital Conference Experience Optimized For Global Time Zones
Our goal: Architect solutions together that leverage the power of finance to reduce gender-based violence.
__________________________________________________________________________________________________________________________
What is Convergence XVII?
A digital conference experience gathering experts from around the world to create action plans through deep conversation as facilitated by the Criterion Institute.
When is it?
Wed, September 9, 2020, 9:00 AM to Thu, October 1, 2020, 8:00 PM EDT
The schedule is spread out over 17 days and session times are optimized for multiple time zones to accommodate our global guest list. Time zones we are optimized for: EDT, PDT, GMT, IST, ICT and AEST.
Who is attending?
60 participants from around the globe in multiple time zones. Leaders working across sustainable finance, gender-based violence prevention, as well as institutional leaders who can move action forward, such as philanthropists, government actors, and investment firms.
What does your ticket include?
Your ticket gives you access to the full program of Convergence XVII, which includes:
A customized month-long schedule based on your survey answers and interests.
Invitations to a minimum of five (5) of our core Conversations with 8-12 participants only.
Optional programming and meetings throughout the month.
Access to Workplace, our online "digital venue" and content hub where you can find white-papers, research, key documents for conversations and more.
You will also be able to digitally connect and network with other participants on Workplace as there are direct messaging and video conferencing features.
What is the time commitment for Convergence XVII participants throughout September?
Once each final schedule is designed, each participant will have a minimum of 10 hours in conference:
Minimum of 10 hours for curated programming: Conversations, kick-off, closing, regional sessions
Optional programming: 4.5 hours of other sessions: Context sessions, weekly round-up sessions.
Other time: Networking, reading and sharing thoughts in the Workplace Hub.
We are designing each schedule to include programming from our three (3) experience pillars: Context, Connections, and, of course, Conversations
__________________________________________________________________________________________________________________________
__________________________________________________________________________________________________________________________
Our signature convening, Convergence, will take place virtually, with sessions scheduled during September. This unique gathering of catalytic change-makers will bring together leaders and pioneers from philanthropy, finance, government, and the social sector to move forward specific and tangible ideas to leverage the power of finance to address gender-based violence. 
We are committed to designing an interactive, personalized experience to move forward ideas for using finance as a way of reducing gender-based violence. We are also remaining true to the foundations of Convergence as we plan the in-depth, collaborative experiences for the participants.
On September 9th we will host a kick-off meeting, and then programming will continue throughout the month. Sessions are being designed around ideas driven by the participants and aligned with their schedules. Through the programming, we will connect participants with other members of the ecosystem who we think will be able to collaborate to turn ideas into action.
What happens each Convergence is transformational: a diverse and talented set of people spends time in deep conversations, getting to insights and innovations, finding ways to collaborate, connecting dots, and clarifying our path forward.
We will delve into insights and ideas for using finance to address gender-based violence, looking at growing demand among asset holders, designing products and services that address the issue, and building the field.
By registering for Convergence XVII, you will be joining leaders and pioneers from philanthropy, finance, government, and the social sector. Please join us!