Description
Big data comes with big myths. Convergence, a full-day seminar, focuses on busting through those myths and getting to the truth so you can make informed decisions. Learn from executives, practitioners, myth busters, and technical experts how to solve real-world problems by harnessing disruptions in data, artificial intelligence, cloud, containers, and edge technologies.
Areas of Focus:
Use cases, artificial intelligence, data analytics, edge analytics, analytics in cloud, hybrid and multi cloud, containers, microservices, data and cyber security, intelligent applications, global event systems, Hadoop and friends, IoT transformation
---
---
AGENDA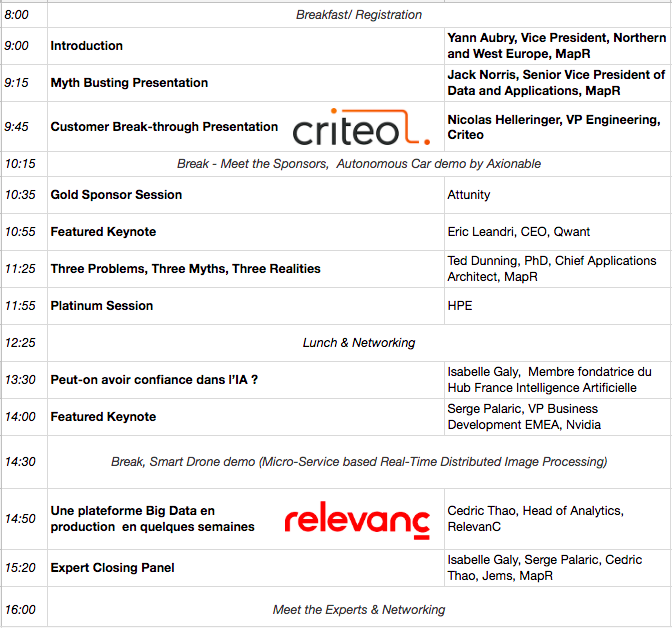 ---
---
Featured Speakers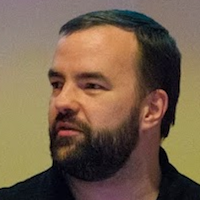 Nicolas Helleringer, VP engineering / Head of SRE at Criteo
Nicolas Helleringer est chez Criteo vice-président pour le pôle SRE (Site Reliability Engineering) qui gère l'infrastructure logicielle (Chef, Hadoop, Kafka, NoSQL, CI/CD) et les opérations dans la R&D de cette licorne française.
Entre 2000 et 2007, il a participé à la construction de la plateforme mappy.com en tant qu'architecte réseau et base de données. Il est également le co-concepteur du géocodeur de mappy.com et de la recherche en logique floue de celui-ci.
Au cours de ses missions de conseil chez NovaCodex entre 2008 et 2013, il est intervenu sur les fonctionnalités géographiques de Lucene puis d'Hibernate Search.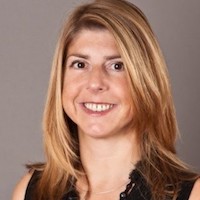 Isabelle Galy, COO, CNAM Learning Lab

Directrice opérationnelle d'une chaire partenariale sur le Futur du travail
Spécialiste des écosystèmes numériques et de la transformation
Enseigne le Droit des technologies innovantes (numérique, IoT et IA) à
la Sorbonne, à l'EICnam et à l'ECE
Coordinatrice du Cluster IA
Membre fondatrice du Hub France Intelligence Artificielle
Cofondatrice de IoTa, le rendez-vous du droit des objets connectés et
intelligents
Membre fondatrice de Cyberlex, Association des juristes de l'Internet
Cedric Thao, DataScientist at RelevanC
Cedric est lead DataScientist chez relevanC. Il est notamment en charge de l'administration du cluster et de l'optimisation du workflow. relevanC propose aujourd'hui une gamme de services largement plateformisées pour valoriser la donnée online et offline. Ces services reposent sur des technologies tels que Hadoop, Kubernetes, Elasticsearch.
Auparavant, il a travaillé sur des problématiques de machines learning pour des grands groupes sur des sujets comme la détection de fraude, le churn, l'upsell, etc.

Ted Dunning PhD, Chief Application Architect at MapR Technologies
Ted Dunning is Chief Application Architect at MapR and has years of experience with machine learning and other big data solutions across a range of sectors. Ted was the chief architect behind the MusicMatch (now Yahoo Music) and Veoh recommendation systems. He built fraud detection systems for ID Analytics (later purchased by LifeLock) and he has 24 patents issued to date plus a dozen pending. Ted has a PhD in computing science from the University of Sheffield and is active with open source projects as committer, PMC member, mentor and currently serving as a board member for the Apache Software Foundation. When he's not doing data science, he plays guitar and mandolin. He also bought the beer at the first Hadoop user group meeting.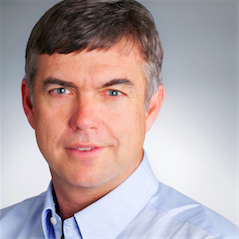 Jack Norris, Senior Vice President Data & Applications at MapR Technologies
Jack drives understanding and adoption of new applications enables by data convergence. With over 20 years of enterprise software marketing experience, he has demonstrated success from defining new markets for small companies. Jack's broad experience includes launching and establishing analytic, virtualization, and storage companies and leading marketing and business development for an early-stage cloud storage software provider. Jack has also held senior executive roles with EMC, Rainfinity (now EMC), Brio Technology, SQRIBE, and Brain and Company. Jack earned an MBA from UCLA Anderson and a BA in Economics and honors and distinction from Stanford University.
---
---
Featured Sessions

Title: Peut-on avoir confiance dans l'IA ?
Speaker: Isabelle Galy, COO, CNAM Learning Lab
Description: Chaque révolution technologique repose la question de la confiance, l'IA n'échappe pas à la règle. Sans cette confiance l'IA ne pourra pas se développer.
Mais peut-on avoir confiance dans les IA ? Est-ce une problématique d'éthique des concepteurs ? De l'ordre de la responsabilité des utilisateurs ? Quid des datas ?
---
Title: Three Problems, Three Myths, Three Realities
Speaker: Ted Dunning, PhD, Chief Applications Architect, MapR
Description: This session explores the hottest problems customers are struggling to sort out given the advent of many new breakthrough technological tools. It also addresses conventional wisdom and myths and highlights the reality around three hot issues with best practice guidance and recommendations for each.
---
Title: Expert Closing Panel
Panelists: Isabelle Galy, Serge Palaric, Cedric Thao, Jems, Ted Dunning, Jack Norris, John Omernik

Abstract: Turn ideas from the day into your own practical course of action. This panel of experts applies the insights from the day's sessions to real-world challenges by engaging the audience in a spirited discussion.
---
---
Presented by: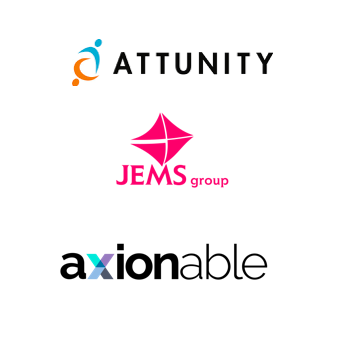 AUTHORIZATION: By registering for this event, you are authorizing MapR to (i) provide contact information including your name, your company's name, address, email address and phone number to MapR, MapR sponsors, the event center and any service vendor contracted to conduct work for the MapR Event, and (ii) contact you about MapR products and services.