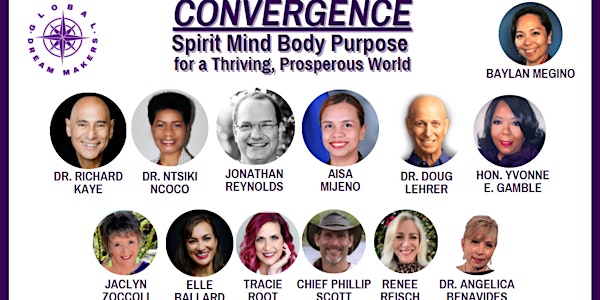 CONVERGENCE: Global Dream Maker Leadership Summit Spring 2022
Global Dream Maker Leadership Summit Spring 2022 focuses on CONVERGENCE: Spirit, Mind, Body, Purpose for a Thriving, Prosperous World
Refund Policy
Contact the organizer to request a refund.
About this event
CONVERGENCE: Spirit, Mind, Body, and Purpose to Thrive & Prosper
REAL CHANGE Starts with NEW Ways of Thinking
- About You
- About Your People
- About Your Organization
- About Your Community
- About the World
- About the Future
The Intangibles of Being A Leader Today
are what you will tap into during this summit.
We will discuss
How Leaders can make the intangible shifts needed to:
- Attract and Retain Good People
- Create a People-First environment
- Build a culture of Empowering communication
- Be and grow Better Leaders
- Bring your inspiration full circle into your work and your personal life
AS YOU
* Refocus on Purpose, Vision and Values
* Take New Directions
* Deepen Individually
* Bring All Parts of Your Organization Forward
* Navigate Change to Transform
* Expand Your Lifework to Empower the Whole.
Find How to Stop the Struggle
as our Summit Speakers share views and wisdom gleaned from life's many challenges and lessons through Good Times and Bad.
Join us in exploring ways that Spirit, Mind, Body and Purpose Converge and can be expressed in your life and organization every day.
In today's transformative times, access tools and information to lead with vision, purpose and integrity.
Elevate your life and your organization to Thrive and Prosper!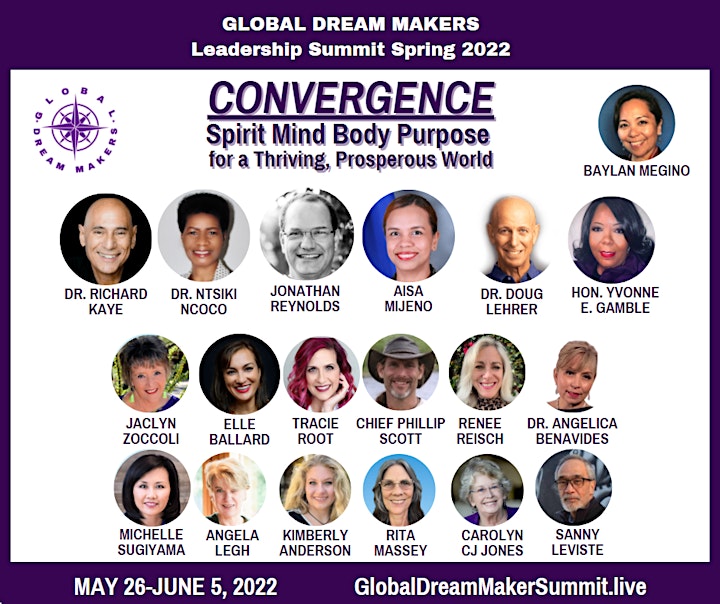 May 26 - June 2 Speaker Summit
** Registrants can access replays thru June 5th **
May 28 & June 25 Masterclass:
"Design Your Dream Maker Matrix(tm)"
with Baylan Megino
OUR SPEAKERS
DR. RICHARD KAYE at RichardKaye.com
Author of The Secret of Empowering Negotiation
*
DR. NTSIKI NCOCO at NtsikiNcoco.com
High Performance Culture Leads to Transformation & Growth
*
JONATHAN REYNOLDS of MindfulLifeMindfulWork.com
Mindful Relationships Align Purpose and Performance
*
AISA MIJENO at DLSL.edu.ph
The Impacts of the Pandemic on MSMEs in Asia and Their Responses
*
DR. DOUG LEHRER at QuantumHealingMastery.com
3 Secrets to Activate Your Power to Heal Your Body, Emotions and Life Prosperity
*
HON. YVONNE E. GAMBLE of SanPeteFinancialGroup.com
Finances & Financial Wealth: Mindset Convergence
*
JACLYN ZOCCOLI at JaclynZoccoli.com
Taking Passion to Purpose
*
ELLE BALLARD at ElleBallard.com
What Does It Mean To Be A Global Authentic Woman?
*
TRACIE ROOT at TracieRoot.com
Be B.O.L.D. In Your Business to Thrive & Prosper in Your Life
*
CHIEF PHILLIP SCOTT of AncestralVoice.org
The Medicine of Leadership
*
RENEE REISCH at ReneeReisch.com
Finding Your V.O.I.C.E.
*
DR. ANGELICA BENAVIDES of B-Global.net
Your Life is a Legacy: Leading Generations
*
MICHELLE SUGIYAMA of Mindful-Eating.com
Mindful Eating for Productivity, *Health & Happiness
*
ANGELA LEGH at AngelaLegh.com
Raising An Emotionally Resilient Child
*
KIMBERLY ANDERSON at KimberlyACoaching.com
The Power of Your Story
*
RITA MASSEY of HigherLifeHealing.com
Staying True to Your Vision in the Midst of Chaos
*
CAROLYN CJ JONES at CarolynCJJones.com
Recognize & Release Resentment for Inner Peace
*
SANNY LEVISTE of Aguaterra.com
Lessons from a Hummingbird on Martial INSTINCT
*
BAYLAN MEGINO of GlobalDreamMakers.com
Create Your Life Designed to Thrive and Prosper
* * * * * * * *
JOIN US!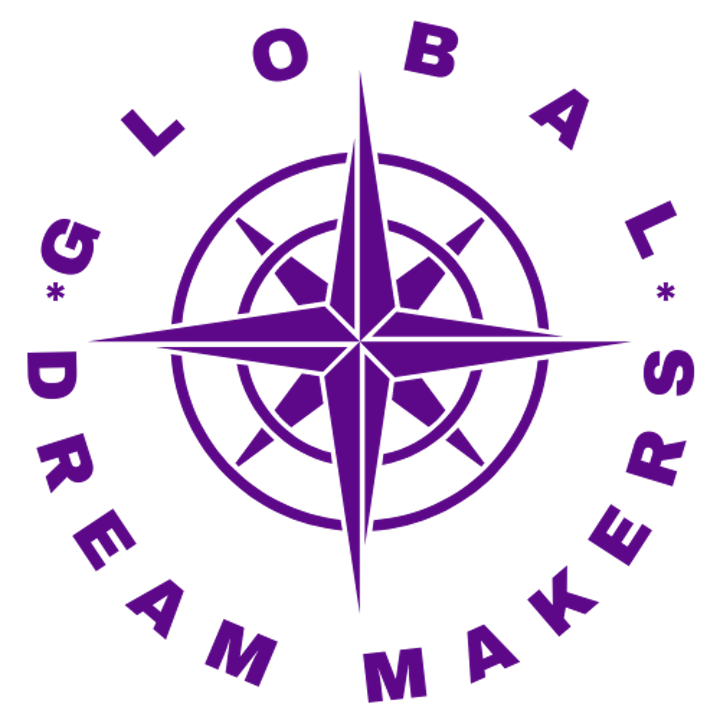 About the organizer
Global Dream Makers are part of a Movement started to support people in creating their dreams. Founded by Baylan Megino, our talks, workshops and retreats help you define and design your answer to the question, "What's Your Dream?" You Have a Choice!