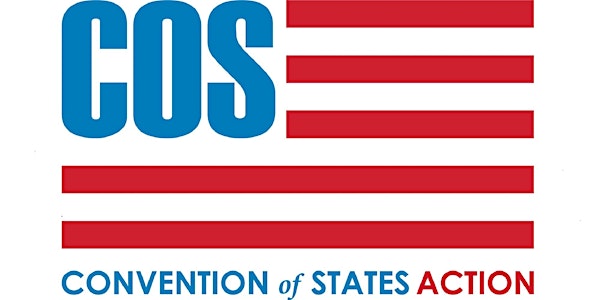 Convention of States Wilmington NC Townhall 2023
Learn about COS, get national and NC COS progress updates, hear our plan to pass the COS resolution this year. Get your questions answered.
Date and time
Wednesday, March 15 · 6:30 - 8pm EDT
Location
Hannah Block Historic USO/Community Arts Center 120 South 2nd Street Wilmington, NC 28401
About this event
No question our country is in trouble: +31 trillion dollars in debt (and growing), an out-of-control executive branch expanding federal power, a feckless Congress politicizing every issue while treating states as if we were merely departments of the federal government, and career politicians serving only themselves.
Thanks to our nation's Founders, an Article V convention of states provides a way to bypass Congress to propose constitutional amendments. To do that, 34 state legislatures must pass COS resolutions. 19 states have already done so. It is past time for North Carolina legislators to use the power vested in them by our Founders to rein in an out-of-control federal government.
North Carolina COS volunteers just completed an historic campaign effort in the 2022 election cycle. Join us at this exciting Town Hall event to learn what the COS effort is all about nationally and in North Carolina, why it's important to the future of our federal republic, and how you can help pass the COS resolution in the 2023 legislative session.
Our special guests will be COS co-founders Mark Meckler and Michael Farris. Michael Farris is a recognized constitutional scholar, former President of the Alliance Defending Freedom, and has recently returned to COS as a Sr. Advisor.
Learn more here about the Convention of States Project. If you have signed the petition, that's great. If not, you can do that here and navigate to Take Action.
This event is free, and we expect a packed house. Doors open for registration at 6:00 and the program will be from 6:30-8:00 p.m.
Bring your friends, neighbors, relatives and co-workers! They are welcome.
Questions? Contact Hugh McWilliams at hugh.mcwilliams@cosaction.com or call/text at (571) 345-8770.
Agenda
6:30 PM - 8:00 PM
Wilmington COS Townhall Agenda
---
● Welcome & introductions ● COS basics ● Why a COS is needed ● Overall mission of COS ● Legislative update nationally & here in NC ● Primary objections answered ● Q and A ● Call to Action ● Closing
Frequently asked questions
Why Do We Want to Call a Convention of States?
What is a Convention of States?
How Do the State Legislatures Call a Convention of States?
How Realistic is Calling a Convention of States?
Can Congress Block a Convention of States?
Art V says Congress CALLS the Convention. Does Congress control it and Choose Delegates?
How Do States Choose Their Delegates?
What Happens at a Convention of States?
How are Proposed Amendments Ratified?
How Do We Know HOW a Convention of States Will Work?
Is a Convention of States Safe?
If Fed Officials Ignore the Current Constitution, Why Would They Adhere to an Amended One?
What is the Plan? (Part 1)
What is the Plan (Part 2)