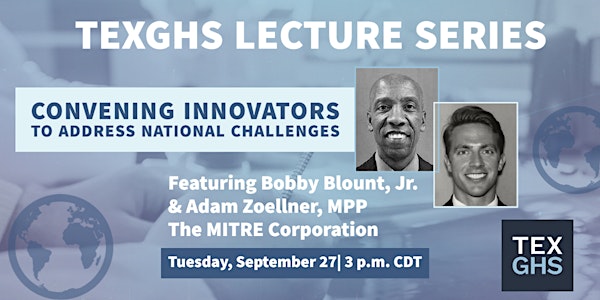 Convening Innovators to Address National Challenges
Join TEXGHS for our free monthly lecture series, featuring representatives from the MITRE Corporation.
About this event
This enlightening presentation will showcase how The MITRE Corporation's public service responsibilities is driving innovation of emerging technologies as well as key national domains including health. MITRE is helping small businesses, industry, and other innovators overcome barriers to finding and implementing solutions needed by our Government sponsors.
Join TEXGHS for an in-depth discussion on how to successfully accelerate health innovation by connecting people and data to change the health system and improve the care experience, led by Bobby Blount Jr. and Adam Zoellner, MPP, from the MITRE Corporation.
**The TEXGHS lecture series is offered to the public as a free resource. If you wish to support our collaborative work in pursuit of global health security, please consider making a donation.
About the Speakers
Bobby Blount Jr. is an engineer currently serving as the MITRE Corporation's Texas Workplace Innovation Director and the San Antonio Site Leader. In these positions, he generates impact by identifying and implementing new sources of diverse talent, new partnerships, and new markets. He establishes strategic partnerships with universities and small businesses to support innovation, research, and work force development in artificial intelligence, cyber, health and other emerging areas.
Adam C Zoellner, MPP (Health FFRDC Portfolio Lead at MITRE): A bioengineer from the University of Illinois with healthcare industry experience at leading companies including Pfizer, Zimmer, and Epic, he obtained a Master of Public Policy degree at the Johns Hopkins Bloomberg School of Public Health to aid the nation's health reform effort. A believer in the power of technology and science to improve lives, he seeks consensus through evidence. Adam has supported MITRE's Health Policy and Health Enterprise Modernization divisions over the past 7 years to align innovative technology and policy for better public health.