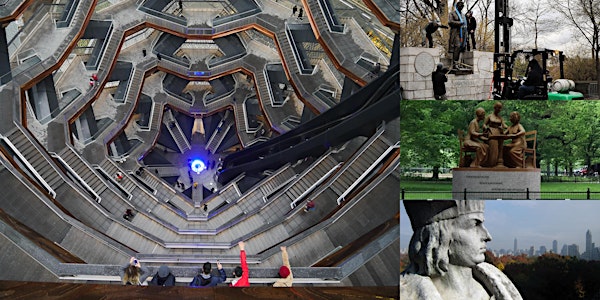 'Controversial Public Art in New York City' Webinar
Can't make it live? Register and get access to the full replay for one week! New York Adventure Club | www.AdventureClub.com
About this event
It's a great honor to be raised on a pedestal and dominate a public urban space — but when values and legacies change, a once-revered public display can become offensive and intolerable. From sculptures installed against public opinion to statues of outdated role models, it's time for a discussion around NYC public art pieces that have rubbed New Yorkers the wrong way, for better or for worse.
Join New York Adventure Club as we explore the past, present, and future of New York City's most controversial art pieces.
Led by Sylvia Laudien-Meo — art historian, museum educator, and NYC tour guide — this virtual journey around NYC will include:
The role public art has in defining our sense of identity and values as a metropolis, and why having an ongoing debate about these pieces is important
Past NYC artworks that have been controversial, and which ones were (and weren't) removed
A look at the most controversial sculptures in today's public spotlight, from The Vessel to Christopher Columbus statue at Columbus Circle
Proposed projects to add artworks to the city's displays, as well as ones being considered for replacement
Afterward, we'll have a Q&A with Sylvia — any and all questions about controversial public art are welcomed and encouraged!
Can't make it live? Don't worry, you'll have access to the full replay for one week!
See you there, virtually!
*Immediately upon registering, you will receive a separate, automated email containing the link to join this webinar
**For the best possible viewing experience, please ensure you're using the latest version of your internet browser — Google Chrome is the most compatible. Exact technical requirements and a webinar user guide will be shared in the automated confirmation email upon registration.
***A full replay of the experience will be available to all registered guests for up to a week
About Sylvia
Sylvia Laudien-Meo is a freelance Art Historian who works in and around the city in various capacities, specializing on Modern and Contemporary art, with a strong focus on Public Art. She teaches art history at Fairleigh Dickinson University and has been working as a museum educator at MoMA, the Guggenheim and the Jewish Museum for over many years, engaging visitors in conversation based, interactive art experiences of permanent collections and changing exhibitions.
For the Municipal Art Society, UFT, Brandeis Univ., and private clients, she has been touring the city for over 20 years, exploring art and architecture, parks, neighborhoods and history. Working in various different capacities gives her a unique opportunity to make intriguing connections and weave together the complex perspectives that make out the tapestry of our fascinating city.
SLM holds a Masters Degree in Art History (with minors in History and American Studies) from the Joh. Gutenberg University in Mainz, Germany, as well as a Tourism degree from the EST in Paris France.
Testimonials
"Sylvia is a gifted guide with so much knowledge. Her virtual tours are so detailed and replete with so many visuals." -Marion
"I liked the variety of sculptures and the stories of how they came to be as well as what's going to happen to them if they are going to be removed such as teddy Roosevelt at the museum of natural history. This was a real education." -Sharon
"Great information. Very knowledgeable and well organized presenter" -Olga
"It moved along and was very interesting. She added slides that gave us background that was terrific. I do some walking tours in the city and I really liked the pace of this one. At a time when we are isolated in our homes, this was a terrific outlet!!! THANK YOU. I will be back." -Ed
"This currently 'hot' issue was incredibly well and interestingly presented." -Sylvia
"Very knowledgeable speaker and very current information." -Lygeia
"Very interesting thoughts involving history but within the last one hundred years." -Ruth
"I liked Sylvia!!!! And I actually learned a lot not only about the art itself but also the subjects too." -Noelle
"Well researched, well presented, and "impartially" presented vis-a-vis what the 'controversy' could be without 'taking sides'" -Leon
"A fair and thoughtful presentation on sensitive subject matter." -Diane
"Sylvia's presentation! She was very well informed and enthusiastic about the topic." -Jill
"The presenter was very knowledgeable and had lots of excellent material." -Margarita
"Sylvia always bring so much information and research into her talks, she's terrific as a presenter." -Claudia
"I especially enjoyed discussion where the art itself or the artist was the source of the controversy." -Eve
"Syliva provided a well rounded view and multiple perspectives on these controversial pieces of public art." -Lindsay
"I grew up in NY and knew many of the places talked about but there was so much more. Best class I've ever taken and I've taken many." -Carol
"Good/important subject matter and good visuals and coverage" -Leon
Disclaimer
By attending a New York Adventure Club experience, you accept our terms of service.
Categories: Virtual, Art & Entertainment