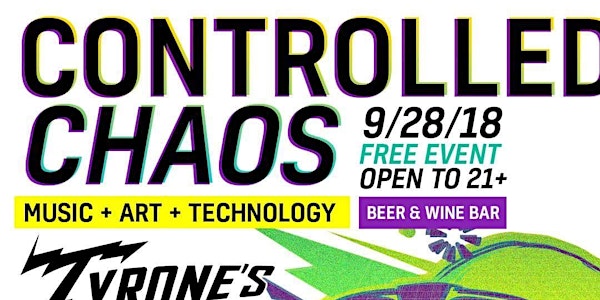 Controlled Chaos: Music | Art | Technology
When and where
Location
Castle Steps Games 716 Colorado Avenue Santa Monica, CA 90401
Description
FOLLOW US AND FIND OUT HOW TO DOWNLOAD YOUR FREE CCC CRYPTO-TOKEN:
TWITTER @event_chaos

INSTAGRAM @controlledchaosevents
Controlled Chaos Events are pop-up interactive creative spaces featuring live painting, virtual reality, and live music. Through these events we are building a community that bridges the worlds of creativity and technology as well as supporting artists, both up-and-coming and established. In addition to community building and launching a new type of entertainment platform, our events are focused on supporting non-profits that deal with the arts. This month we again will be supporting the non-profit, Yes I Can, which works with autistic young adults who wish to pursue careers in entertainment.
This month we are focusing on hometown LA talent with our line-up as follows:

The musical guests will be the high-energy hip-hop/multi-genre act, Tyrone's Jacket, the extraordinarly dope hip-hop flavors from DJ Ry Toast, the futuristic EDM musician NK Riot, the raw rock blasting from Antenna the End, and the feel good reggae rasta vibes flowing from Roots of Mine. Also an amazing DJ set from the blazing Low-End Freq, DJ Kalipzo!

Live art created by:
*Teachr @teachr1
*Jimmy Ovadia @artofjimmyovadia
*Phil Bourque @pbourque77
*Amber Brady @girlfishart
*Cameron Schuyler @cameron_schuyler
*Thomas Clark @skatehead
*Nathaniel Mares @rasmares
*Mr MK Ultra @mrmk_ultra
*Rick Rodriguez @ibelieveinasone
*David Marple @marpleart
*Time Bomb Art @timebombart
*Stoney Eyed Studios @stoneyeyestudios
*Destroy All Design @destroyalldesign
VIP from 8PM-9PM

Parking Is Available at Fisher Hardware next door to Castle Steps Studios.

Huge thank you to our sponsors and partners!
"Yes I Can" Unity Through Music & Education
Controlled Chaos Mission Statement
Founded by a collective of professional musicians, artists, and purveyors of technology, Controlled Chaos is curating a new type of interactive experience which brings the audience directly into the creative process. From live painting, to hands-on VR, to a musical line-up organized by an independent record label or boutique management company, Controlled Chaos will offer a wide range of experiences and voices that are rarely seen together in one collaborative space.
The event is being built with a focus on both social interactivity and awareness, as well as independent artist support, by integrating fundraising for educational non-profits that focus on the arts while also giving the artists an opportunity to directly sell their creations which were made during the course of the event. At Controlled Chaos artists, musicians, and audience members will come together to create the event collaboratively while experiencing new technology presented by cutting edge programmers and companies who are bridging the gap into the future by integrating our analog existence into the digital world.
Controlled Chaos, as its name indicates, is a unique event that guides the audience through a creative journey that reflects our universal existence…where control is an illusion and entropy is the key to creativity!