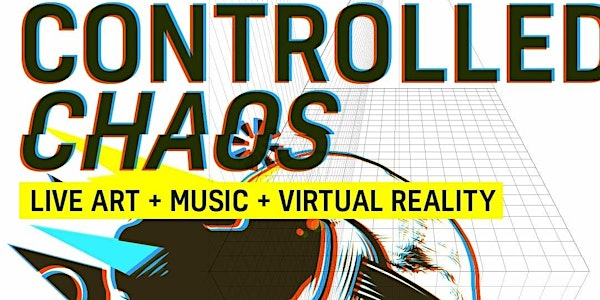 Controlled Chaos: Music Art Technology
When and where
Location
Castle Steps Studios 716 Colorado Ave Santa Monica, CA 90401
Description
EVENT IS 21+
Controlled Chaos Event is a pop-up interactive creative space featuring live painting, virtual reality, and live music.
Musical guests will include Toys of the Masses artist Clark Chimp, up-and-coming singer/songwriter, Chandler, underground hip-hop freestyle master, KnowMadik, celebrating their record release of their brand new LP mixing new wave rock music, Brand, and DJ 20Twenty and DJ Spex with an opening DJ set!
Live painters include Al Scholl, Amber Crouch, Amber Jahn, Cameron Schuyler, Timoi, George Utrillo Angulo, Isaac Pelayo, Jimmy Ovadia, Kitty Cutshall, Krystal Dyer, Enrique Gallegos JR.
The night will culminate in an open musical freestyle hosted by the creative collective, The JamNation, who will bring the audience into the musical journey by inviting them to join the stage and contribute to the creative process.
Castle Steps Studios will provide the virtual reality experiences that will ultimately tie together the musical and artistic vibes of the space, creating an overall cohesive experience.
All event proceeds will go to the non-profit "Yes I Can" Unity Through Music & Education, an organization focused on training and placing autistic youth into job opportunities within the entertainment industry.
VIP Entrance Starts at 8pm!
Parking Is Available at Fisher Hardware next door to Castle Steps Studios.

Huge thank you to our sponsors and partners!
"Yes I Can" Unity Through Music & Education
Controlled Chaos Mission Statement
Founded by a collective of professional musicians, artists, and purveyors of technology, Controlled Chaos is curating a new type of interactive experience which brings the audience directly into the creative process. From live painting, to hands-on VR, to a musical line-up organized by an independent record label or boutique management company, Controlled Chaos will offer a wide range of experiences and voices that are rarely seen together in one collaborative space.
The event is being built with a focus on both social interactivity and awareness, as well as independent artist support, by integrating fundraising for educational non-profits that focus on the arts while also giving the artists an opportunity to directly sell their creations which were made during the course of the event. The night will culminate in an all-around jam being guided by The JamNation, a musical collective that has a monthly residency at The Rainbow Bar in Hollywood. At Controlled Chaos artists, musicians, and audience members will come together to create the event collaboratively while experiencing new technology presented by cutting edge programmers and companies who are bridging the gap into the future by integrating our analog existence into the digital world.
Controlled Chaos, as its name indicates, is a unique event that guides the audience through a creative journey that reflects our universal existence…where control is an illusion and entropy is the key to creativity!