About this Event
This Historic Jonesborough Dance Society will present Contrathon XXVI on Sunday Sept 1, 2019 at Serenity Knoll Farm, 542 Bacon Branch Road, Jonesborough. All events at Serenity Knoll Farm.
The guest performers will be the Baba Yaga's Stew & Playing with Fyre with David DiGueseppe.
The callers are Tim Klein & Seth Tepfer
The event runs from 11:00am-11:00pm with a dinner break from 4:30-6:00pm
The Waffle Brunch Gone Wild will be open from 8am-10:30am and is included in the price.
Sunday Morning Yoga workshop will be offered at 9:30am.
Cost for Contrathon XXV is $40. Student ticket $35. Snacks provided all during the event.
Cost for all Contrathon XXVI events is $80. Student ticket $40.
Other events leading up to Contrathon XXVI include:
Friday Contra Dance 7:30-10:30pm (Serenity Knoll) with followed by Blues Dance.Saturday Waltz Workshop with Scott Baxla (1:30-3:00pm at Serenity Knoll)
Saturday Waltz 3:00-5:00pm (Serenity Knoll) with snacks providedSaturday Night Contra 7:30-10:30pm followed by Techno Contra 11:00pm-1:00am
Camping is FREE at Serenity Knoll. Flush toilets and outdoor showers are available.
10 full student scholarships are available on first come first serve basis. Apply with event organizer by email (wileyman2@msn.com) or call David Wiley at 423-534-8879
Anyone can volunteer. Please check in with organizers to get assignments.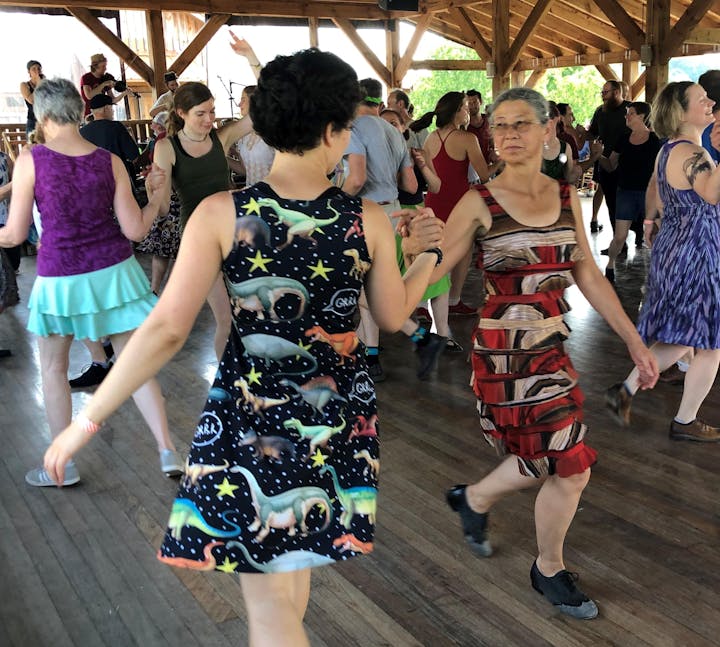 Contra dancers at Contrathon XXV at Serenity Knoll