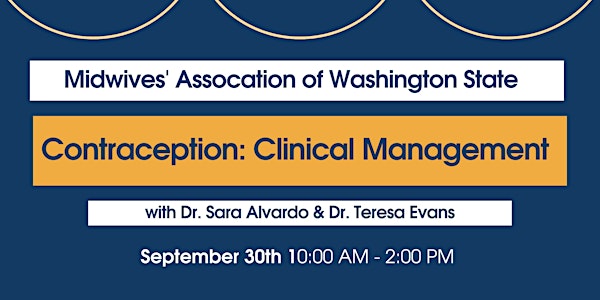 Contraception: Clinical Management
Clinical considerations for prescribing hormonal contraceptive methods and contraceptive devices.
About this event
This information-packed webinar will give an overview of clinical considerations for the Licensed Midwife when prescribing hormonal contraception and contraceptive devices. Speakers Sara Alvarado (she/they), ND, LM and Teresa Evans (she/her), ARNP-CNM, ND will teach the audience how to safely prescribe, including consideration of pre-prescription metrics, risks and benefits, contraindications, and follow-up of oral birth control pills, depot, IUDs (hormonal and non-hormonal), vaginal ring, and Nexplanon.
Recording and CEUs will be available only to confirmed registrants for sixty days following the event. The event recording will be emailed within 5 days of the live event. Be sure to register even if you cannot attend the live event!
Learning Objectives
By the end of this program, participants will be able to:
Describe how to properly prescribe and manage the following contraceptive methods: oral birth control pills, Depot, IUDs (hormonal and non-hormonal), vaginal ring, and Nexplanon.
Identify key risks and benefits of the above contraception methods.Identify major and relative contraindications of the above contraception methods.
Identify standard follow-up for above contraceptive methods.
Identify when to refer out for contraceptive care.
Sliding Scale Ticketing
Green Bottle is a sliding scale model that is inclusive of various financial experiences. It was developed by intersectional herbalist Alexis J. Cunningfolk and is an economic justice tool that enables participants to adjust payment based on access to resources.
In order to help people participate regardless of their ability to pay, we are offering this event on a sliding scale. This sliding scale is offered in the hopes of creating greater accessibility, equity, and economic justice.
Please review the Green Bottle model and reflect on your personal financial experience in order to self-determine your ticket price.
The 1st bottle corresponds to a price between $100-$125, the "true cost" of a webinar. If you would like to include a financial donation to help students or others access these webinars, please consider choosing a ticket price at the $125 or higher level.
The 2nd bottle corresponds to a price between $50- $75
The 3rd bottle corresponds to a price between $25 and a full subsidy.
Please be mindful that if you purchase a price at the lowest end of the scale when you can truthfully afford the higher ticket prices, you may be limiting access to those who truly need financial flexibility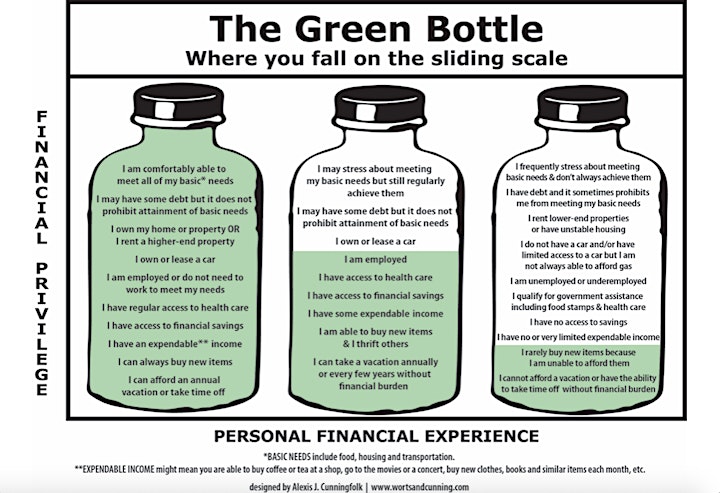 CEUs
4 MEAC CEUs have been applied for this event. CEUs are free for MAWS members and cost $15 for non-members. Please indicate if you would like CEUs at registration by selecting the CEU add-on.
All registrants requesting CEUs will be required to fill out the "CEU Test & Evaluation" survey, which will be available to you on the day of the event.
Recording
The webinar recording will ONLY be available to those who have registered prior to the start of the event. The recording link will be emailed to registrants within 5 business days hours of the webinar and will be available for sixty (60) days. Participants who view the webinar after the live event are still eligible for CEUs.
Resources & Accessibility
Automatic live captioning will be available during this event. The recording of the event includes an audio transcript.
If barriers to your attendance exist, please let us know by emailing the MAWS Conference Committee at maws.conference.committee@gmail.com. We are happy to work with you to provide services such as:
Internet access
Translation services.
Captioning
Note-taking and/or note-sharing.
Other
MAWS Refund Policy
Updated January 2020
The cancellation and refund policy applies to in-person and webinar events. We recognize cancellations will occur and we endeavor to make our policies as fair as possible to the participant and the Organization.
Cancellations greater than 14 days before the event will receive a full refund on event fees, less an administration/catering charge of $25.
Cancellations 7-14 days before the event will receive a 50% refund on event fees, less an administration/catering charge of $25.
Cancellations 1-6 days before the event are not eligible for a refund.
Partial refunds for leaving before the event conclusion will not be given
Transferring registration from one person to another is not available.
Refunds will be applied to the same credit card which was used to register.
If both an in-person and webinar option is available for the event, you can transfer one type of registration to the other by contacting the organizer at least 24 hours in advance of the event. The catering fee will be applied when changing from webinar to in-person and will not be refunded when changing from in-person to webinar.