Description
The Second Annual
Contra
Dance
and Auction returns,
Friday, November 6th
,
7-10pm
!
The legendary Billy Fischer will be calling the
dance
, with local beer and wine on tap, hors d'oeuvres from your favorite
New
Haven
restaurants, and exciting auction items.
Help us celebrate the hard work and harvest of 2015!
Why Contra Dance?

A Contra Dance is a 300-year-old New England folk tradition, similar to a square dance. There is a caller who calls the moves as participants dance in lines. Contra Dancing is a traditional New England way to celebrate the harvest season.
Buy your tickets early to save time at the door and be automatically entered to win a dinner for two at Zinc New Haven.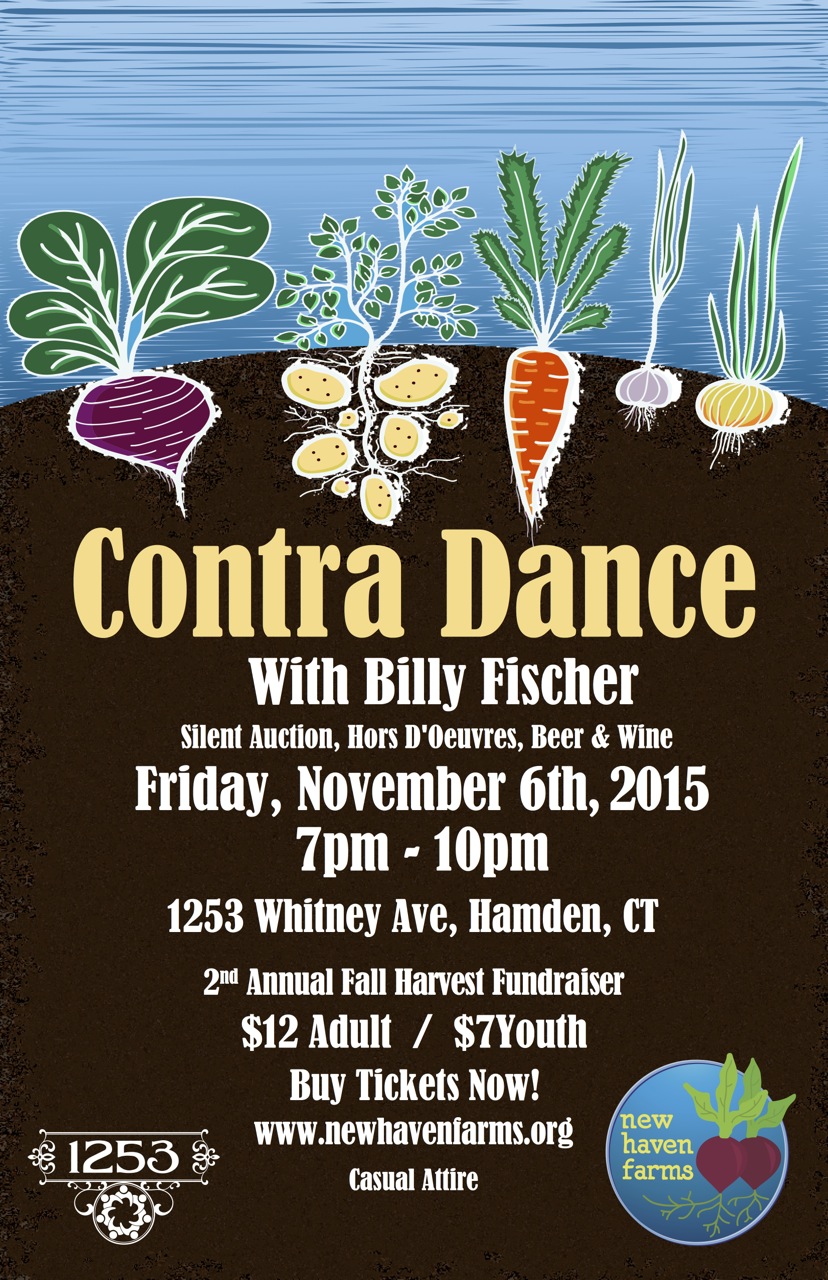 Start Bidding on our Silent Auction NOW by following the link here.
ALCOHOL POLICY: PLEASE BRING YOUR ID
We are selling delicious local beer for $5 a glass and wine for $6. You will only be served if you show your ID at the doo
r and receive a wristband.

PARKING: Parking is limited at 1253 Whitney. Overflow parking is available at 60 Putnam Street - behind the Board of Ed. Building. Just a block from 1253 Whitney.

UBER PROMOTION: We're thrilled to have partnered with the on demand transportation provider Uber, to help get you to our upcoming Contra Dance with ease! Uber is a safe, reliable, and affordable way to get around Connecticut, seamlessly connecting riders to drivers through a mobile application.

Follow these simple steps to get $20 off your ride:

1) Download the free Uber iPhone/Android App (or sign up atuber.com/go/ContraDance15)
2) Enter your information in the Uber app and promo code ContraDance15 when you sign up.
3) Request a ride 5 - 15 minutes before you need one. $20 will be applied towards your first ride on uberX, uberXL, uberBLACK, or uberSUV.

Questions? Check out uber.com/connecticut or email supportConn@uber.com.