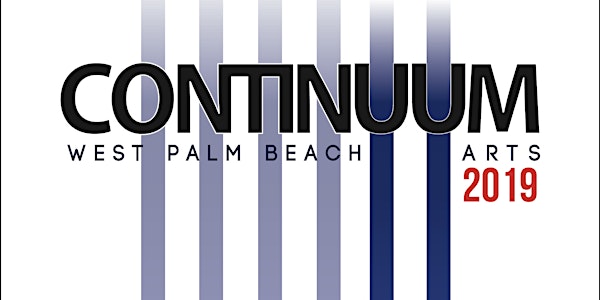 Continuum WPB Arts 2019
When and where
Location
Old Mac Fabric Building 426-428 Clematis Street West Palm Beach, FL 33401
Refund Policy
Refunds up to 1 day before event
Description
NOTE: Because if the glitches on the sight, we had to create individual tickets on Eventbrite. Please see the link.
https://www.eventbrite.com/d/fl--west-palm-beach/continuum/?q=continuum&mode=search&lc=1
We are back in the downtown West Palm Beach area bringing you all the great things that CONTINUUM WPB arts has always provided. Each day will have its own vision that makes this art fair an unique experience. All charitable contributions go to the No More Starving Artists Foundation.
The gallery is open to the public for free January 11-19, 2019 12:00pm-9:00pm (or to 10:00pm)
Thursday, January 10, 2019 7:30pm- 10:00pm Black Tie Fundraiser Gala for the No More Starving Artists Foundation
You are invited to join us at the grand opening of CONTINUUM WPB Arts & charitable fundraising event.
Music entertainment: JM & The Sweets
Food Provided: by SubCulture Group Restaurants
Charitable organization: No More Starving Artists Foundation
Attire: Formal/Cocktail, Sneakers optional
Friday, January 11, 2019 6:00pm-10:00pm Artists Awards Ceremony and Artist Talks
Artist award ceremony. Artist must be present to win.
Saturday, January 12, 2019 12:00pm-9:00pm Young Masters of CONTINUUM Day
All day activities for your artists to learn from professional artists.
Age 14-18. Must have Parent consent. Younger must be accompanied by an adult.
The presentation will be about fluid acrylics, manipulating the paint with different techniques and tools.
6:00pm Student Art Presentation
Sunday, January 13, 2019 11:30am-2:00pm Meet the Curators and Brunch & Lecture
Spend your afternoon attending a panel discussion of art professionals who service the art community.
Moderator Barbara Cheives
Panelists
Dr. Kahlil V. Moses, DC – chiropractor and art collector
AJ Brockman- artist and founder of The Lake Park Art District & Kelsey Cares
Suzanne Redmond-Founder of the podcast The Left Brained Artist
Carla Trivino- fine art photographer, reporter for Palm Beach Post, Palm Beach Daily News & Holatv10
J Love Gironda- artist, art teacher, content coordinator for Art Hive Magazine
Brunch provided by Subculture Group's Howley's & Subculture Coffee
Tuesday, January 15, 2019 12:00pm-2:00pm Artists Lunch & Lecture
Thursday, January 17,2019 7:00pm-10:00pm Quarter Auction Fundraiser
A quarter auction is part raffle, auction, fundraiser and sales bingo-style event. A great opportunity have fun, raise money for a deserving charity and win affordable art while patronizing the artists' booths. - hosted by Cecily Mathis of the Jewelry Jamboree Quarter Auction.
Join us for the artists' marketplace displaying moderately priced items by CONTINUUM's exhibiting artists.
Charitable event to benefit No More Starving Artists Foundation
Enjoy an evening of art and music entertainment by DJ Cole .
So what do you need to attend?
2) A few dollars to buy you paddles & raffles.
3) Friends to have a good time w/.
4) Self determination that you are going to win
5) Compassion to want to help a charity
Friday, January 18, 2019 7:00pm-10:00pm Live Music and Entertainment
Saturday, January 19, 2019 5:00pm-10:00pm Melange presents the Body Painting Competition & Runway Show
2017 & 2018 Champion-Becky Osborne
2015 champion-Georgette Pressler