Description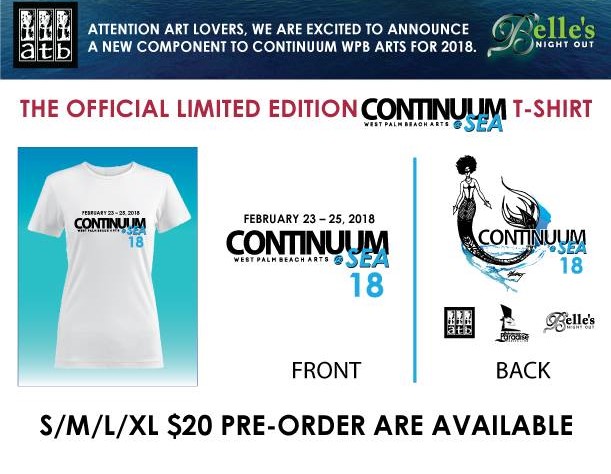 Get Your Custom Continuum @ Sea 2018 Group T-Shirt Today!!!!!
Plus sizes available for $25.00 2X - 4X
Come Celebrate & Toast With Us
For CONTINUUM's 5th Anniversary @ Sea!!!
ATTENTION ART LOVERS
WE ARE EXCITED TO ANNOUNCE A NEW COMPONENT TO CONTINUUM WPB ARTS FOR 2018.

ATB Fine Artists & Designers LLC, in partnership with Belle's Night Out will be presenting CONTINUUM at Sea: an extension of CONTINUUM's fine & marketplace art for a two-day cruise on the Bahamas Paradise Cruise Line-February 2018.
This is an opportunity to acquire art from participating contemporary artists
GROUP RATES!!!!!
HUGE SAVINGS!!!!!
TRAVEL AGENT CONTACT: DJT TRAVEL SERVICES
1-800-472-5358 MST
WWW.DJTDREAMSVACATIONS.COM
DJTTRAVELSERVICES@GMAIL.COM
VIP PACKAGE FOR ALL GUESTS INCLUDES A MEET THE ARTISTS WINE AND CHAMPAGNE RECEPTION
BAHAMAS EXCURSIONS: SNORKELING, JEEP ADVENTURE, GLASS BOTTOM BOAT, EAST END CAVE TOUR & MORE...
KIDS CLUB 10 YEARS & UNDER MUST BE POTTY TRAINED
EVENT HOSTED BY: ANTHONY BURKS SR., TRINA SLADE BURKS
ATB FINE ARTISTS & DESIGNERS, LLC
CONTACT: 561-727-9173
CYNTHIA SIMMONS, BELLE'S BASKETS, LLC
BELLE'S NIGHT OUT
CONTACT: 561-856-6118