Continuous Professional Development - The Teacher I'd Like to be

Thursday, February 28, 2019 from 2:00 PM to 3:30 PM (EET)
Event Details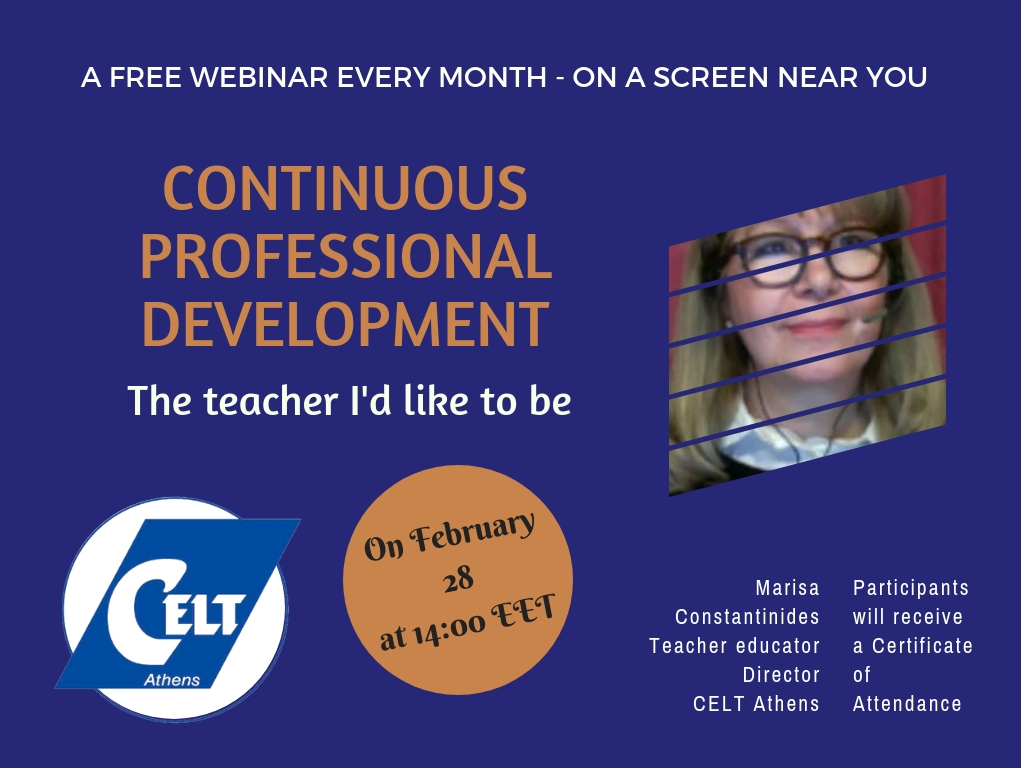 "Feeling stuck, the niggling sense that something is not working, leaving your class and wondering why something didn't go as planned, can be caused by a number things but is all too frequent to ignore."
In the era of internet opportunities, professional development is easier than ever before, so how does one choose what is of actual benefit or of use towards promoting their knowledge and skills as teachers?
In this presentation, I hope to share some of the good suggestions and solutions followed by colleagues around the world. 
Join me on Thursday the 28th and share your experiences as well! Register here on eventbrite to be added to our webinars mailing list and receive timely notifications 
The time is EET and there are only 100 seats avaiable.  
log in here https://celtathens.adobeconnect.com/teacherdevelopment/
Organizer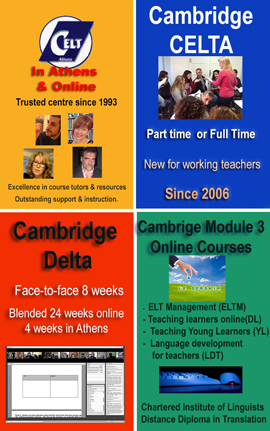 CELT Athens was founded in 1993 and is an established International Teacher Development Centre widely known for its role and contribution to the improvement of Foreign Language Education locally and internationally. To date, more than 2,500 Foreign Language teachers, directors of studies and administrators have trained on CELT courses. CELT trainees come from around the globe (the United States, the United Kingdom, Australia, Egypt, France, S.Africa and, of course, Greece!)  to start or revitialise their teaching career. Many now hold posts of responsibility in various countires.
CELT Athens offers a variety of face-to-face and online courses leading to prestigious inernational qualifications.
These courses include the Cambridge CELTA Certificate course  for new teachers which is offered both part time and full time.
For experienced teachers, the Cambridge DELTA Diploma is offered both face-to-face as an intensive course in Athens as well as by distance, via online webinars in our virtual classroom. 
Centre for English Language & Training, 3 G.Gennadiou Street, 106 78 Athens, Greece
Tel +30 210 3302406 | +30 210 3301455 | Fax +30 210 3301202|  E-mail:  info@celt.edu.gr